Sony PlayStation E3 2017: God of War, Detroit, Spider-Man, Days Gone - all news, trailers and games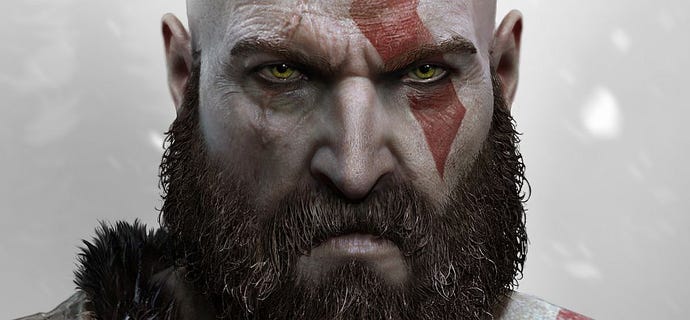 PlayStation had the final conference slot of E3 2017. Did Sony bring enough PS4 games to make us forget everything else that happened this week?
Sony's E3 2017 presser kicked off with the traditional musical opening number led into a trailer for Uncharted: The Lost Legacy - which looked great, but the Twitch stream had sound issues and we could not hear a single thing. Never mind, the linked trailer there is fine.
Next up was word that Horizon Zero Dawn is getting an expansion this year. It's called The Frozen Wilds. Banuk content? Called it.
Moving on rather quickly, we felt, Sony pushed on for a lengthy gameplay demo of Days Gone, its Sons of Anarchy slash The Walking Dead post-apocalyptic adventure. We saw lush environments, and stealth gameplay involving throwing rocks, setting traps and shanking baddies. It's all looking a bit The Last of Us, except a big horde of zombies came and that was spectacular in its own unique way. Out hero escaped up into a treehouse and rescued his pal, via the medium of cinematics. Then a zombie bear appeared. We love zombie bears.
At this stage Sony's Shawn Layden arrived. He promised the show would be "all about games". Yes, I mean, that's why we're here, Sonytron.
The first of these promised games was Monster Hunter World, coming to PS4 in early 2018. It's about damned time a Monster Hunter game got major support on home consoles in the west.
Next up was what looked like a Shadow of the Colossus remaster, coming in 2018. You may be asking: do we need to play this game again? And the answer is: yes, child. Yes we do.
Marvel vs Capcom Infinite followed. You can see the MCU influence is really important, which makes a lot of sense given Capcom wants to sell billions of copies of everything. There's a story demo available for download today.
A new Call of Duty WW2 was up next and, well, what can you even say about it. It happened. Watch it. It's this year's Thing, innit.
A familiar theme fired up and we were a bit puzzled until we realised Skyrim VR is a thing. It must have been left out of Bethesda's show yesterday because it's not releasing this year.
We moved into a VR showcase with new announces Starchild, Bravo Team, The Inpatient and Moss. Most notably, there was also Master of the Deep: Final Fantasy 15. That's a VR fishing mini game. Amazing.
Having tried our patience a bit Sony moved right on to a God of War showcase. We saw some story stuff hinting at the relationship between Kratos and son, and also some combat gameplay - although it was all in a montage rather than a proper walkthrough.
Detroit: Become Human popped up next with a lengthy trailer. Was it cinematic or gameplay? With Quantic Dream, there's probably no difference. What a beautiful looking thing.
Destiny 2 closed out this part of the showcase. After a dramatic cinematic segment featuring everyone's new favourite Cabal leader, the trailer lovingly detailed Destiny 2's PS4 exclusive content, which includes the exotic sniper rifle Borealis, a strike and more.
Leading into Insomniac's Spider-Man, Layden emphasised that this one is a "true PlayStation exclusive". The trailer started off with cinematic footage before moving into gameplay, which is exactly what we wanted to see. It looked a bit Arkham-like, but with more liberal use of bullet time slowdown to compensate for Spidey's very quick movements and famous sense and reflexes. Later things got a bit more unique, with a sequence of web-slinging in pursuit of a helicopter.
And that, to our surprise, was it - perhaps Sony has taken criticism of its lengthy shows to heart? maybe it got sick of people saying it fills E3 with games that won't be out for years? Perhaps it heard the cries of my poor, paralysed buttocks?? We may never know.
Post conference updates
In the wake of the livestream, Sony quietly made a number of announces, and threw a stack of new trailers out. These probably would have padded the stream out considerably and caused ever so many complaints, but there - you can't win either way, can you?
The most important news was an update on PS4 hardware sales: there are now 60 million PS4 consoles in the wild, and software sales are eight times that. Sony also had some pretty nice engagement numbers to share, so we're all looking forward to Microsoft's response, although it will almost certainly stay silent.
A new Gran Turismo Sport trailer was actually released during the pre-show, and unfortunately does not narrow down the autumn release window at all.
Sony sensibly buried Knack 2 in the non-streamed trailer dump, since the first one is still a painful memory. See if the new gameplay can win back your wounded heart.
Everybody's Golf was likewise quietly trailered, as was Housemarque's absolutely gorgeous Matterfall.
Sony also revealed two new social or party games, an initiative it's calling PlayLink. These owe a lot to Jackbox games and Telltale's Crowdplay, which means they look really fun.
As well as Shadow of the Colossus, which was very welcome, Sony had a couple of other new-old-games: LocoRoco 2 and Undertale are coming to PS4.