Is Red Dead Redemption 2 coming to Nintendo Switch? A Brazilian listing says it is
Red Dead Redemption 2 could be on its way to the Nintendo Switch, if this listing is to be believed.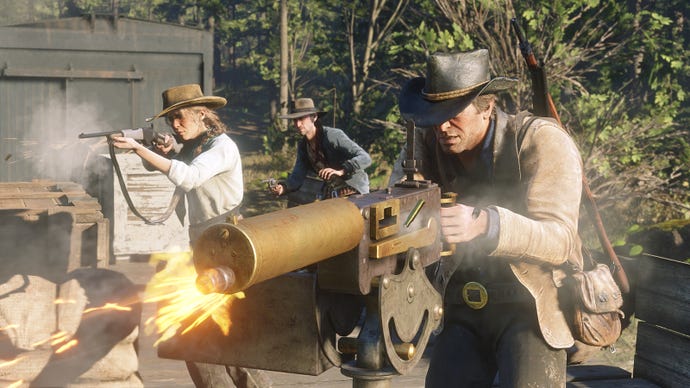 Everyone's favourite way to learn about upcoming video game releases, rating boards, are in the news again thanks to an updated listing about Red Dead Redemption 2.
The Rockstar game's page on Brazil's government rating board now includes Nintendo Switch among its supported platforms, alongside the existing PC, PS4, and Xbox One. This is not a new, separate listing for Switch, however.
The listing, which was spotted by Twitter user necrolipe, has very limited information. It includes the date the rating was published, which is September 12, 2018. That means it was submitted just before the release of the PS4/Xbox One versions in October of the same year.
Despite that, all platforms are included in the listing - even the PC version, which came out November of the following year. According to necrolipe, mention of the Switch was only recently added - though we have no way of verfying that.
Checking Internet Archive reveals that an update was made to the site on September 25, but we're unable to see whether or not that was to add Switch as a platform.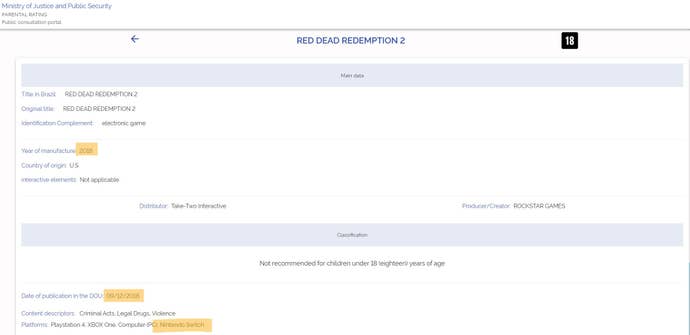 Rockstar recently brought a port of the original Red Dead Redemption, and its Undead Nightmares DLC to Nintendo Switch and PS4. It's possible the company managed to get Red Dead Redemption 2 to run Switch, though the visual and performance sacrifices may be too great.
What's more likely, assuming Red Dead Redemption 2 is indeed on its way to a Nintendo platform, is that the game is coming to Switch 2. The upcoming console, which has yet to be officially announced, is said to be comparable in power to PS4/Xbox One - the two platforms Red Dead Redemption 2 originally launched on.
Thanks, Eurogamer.