Ni no Kuni: Cross Worlds codes for September 2023
Make your Ni no Kuni adventure even more fun with these codes.
4th September, 2023: We checked for new Ni no Kuni Cross Worlds codes.
Ni no Kuni is a series of role-playing games that are deeply-inspired by the likes of Studio Ghibli. Now, a new spin-off from the series has arrived on mobile (and PC) in the form of Ni no Kuni Cross Worlds. The new title is an open world JRPG. The game features animations done by Studio Ghibli themselves, as well as music from the composer behind the beautiful scores that accompanied Howl's Moving Castle and Spirited Away, Joe Hisaishi. During the game, you'll find yourself in a virtual reality game known as Soul Diver, and before long, you wake up and the city is in flames. It's your job to get to the bottom of what's happened in Ni no Kuni Cross Worlds.
Solving the mystery at hand will feel a little less daunting with the help of freebies, and fortunately, Netmarble are regularly releasing new codes for Ni no Kuni Cross Worlds to help with players' adventures. From useful items to less useful, but cute, cosmetics, here is everything you need to know about Netmarble's Ni no Kuni Cross Worlds codes.
Latest Ni no Kuni codes
1STANNIVDEVGIFT: Choice Summon Coupon x11, Inventory Slots Expansion +20
devthanksnino: 4 Star Weapon Chest
ARCANACAMP: Arcana Tent Exchange badge, and Firepit Exchange badge
CAMPINGEVERMORE: Alpaca Exchange badge, and Camping Chair Exchange badge
LUCKYDIVER: 10x two-star Varnish Chests, and 10x Bean Pods
TWENTYAWESOME: 50,000 Gold
SUPERTEN: 1x Super Star Pose Chest
1KOLCROSSWORLD1 – 50,000 Gold
1NINOKUNIOBT25MAY1 – 50,000 Gold
1CATCH3POLARIN1 – Equipment Summon Coupon 1 & Sweet Drink 2 & Aroma of Focus 2
1CATCH4SPARKEE1 – Familiar Summon Coupon 1 & Costume Summon Coupon 1
1CATCH2RAMBUNCTUS1 – Costume Summon Coupon 1 & Sweet Drink 1 & Aroma of Focus 1
1CATCH1PENGUICORN1 – Costume Summon Coupon 1 & Sweet Drink 2 & Aroma of Focus 2
ENTERCROSSWORLDS: Special title, and a cat hat
ninobonus4u: Familiar Summon Coupon 10
TOThalloween: EP4 Dice Event Rewards
3rdNinolivethanks: EP3 Dice Event Rewards
NEWSTART2023: 10 Familiar Summon Coupon
hellosouldivers: 50,000 Gold
tfwninolive: 50,000 Gold
ninokunilivegift: 50,000 Gold
platypawsgift: 200,000 Gold
platypawswithu: Energy Drink 5 & Sweet Drink 5 & Territe Aroma 5
cuteplatypaws: 4 Star Familiar Capsule
greatgamenino: Costume Summon Coupon 5
lovefamiliars: Familiar Summon Coupon 5
ninogoodluck: Equipment Summon Coupon 5
funnyninominiquiz: Costume Summon Coupon 5
lucky7ninoquiz4u: Familiar Summon Coupon 5
guessquizthankyou: Equipment Summon Coupon 5
shinegoldgift4u: 80,000 Gold
Kluuhappygift: 50,000 Gold
KluuGold4U: 50,000 Gold
Kluulovesnino: 50,000 Gold
livesharethanks: 200,000 Gold
enjoyninowithlive: Energy Drink 5 & Sweet Drink 5 & Territe Aroma 5
sharefriendsnino: 4 Star Familiar Capsule
enjoywithfriends: x5 Energy Drink, x5 Sweet Drink, x5 Territe Aroma
higgledysgoldgift: 50,000 Gold
guesswho5nino: x5 Costume Summon Coupon
mini10guesswho: x5 Equipment Summon Coupon
happy100thanks: 4* Familiar Capsule
higgledyshappy100: 50,000 Gold
ninokunigiftforyou: 30,000 Gold
thankyou100nino: 200,000 Gold
Higgledysluckypot: 50,000 Gold
happy100nino: x5 Jelly Bottle
Thankyou4Ninolive: EP2 Dice Event Rewards
100ninoguesswho: x5 Familiar Summon Coupon
FINEKINGDOM: Freebies
D5SOULDIVE555: Freebies
WELCOMETOCW: 2x Sweet Drinks, 2x Aroma of Focus, and 1x Energy Drink
How to redeem codes in Ni no Kuni Cross Worlds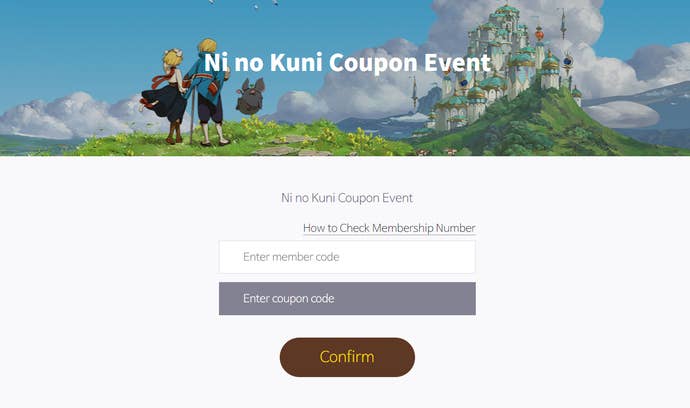 In the Android app
Once you have completed the tutorial, you'll be granted the ability to redeem codes from within the app. It's quite simple though, just follow these steps:
Open the Settings menu in-game.
Select 'Misc', the bottom option of the Settings menu.
Select 'Coupon Code'.
Select the relevant Coupon Event.
Input your chosen code and confirm.
On the website
For all other devices you'll need to head over to the Ni no Kuni Coupon Event page and submit your account code (PID) and your chosen coupon code. Be careful though, the rewards will only be given to the character you next log-in with, so choose wisely. You can find your PID by:
Hitting the hamburger menu in the top-right
Clicking the cog at the bottom of the screen
Clicking 'Account' on the left
And then tapping the 'Copy' button next to the 'Account Code (PID)' box
Viola! The freebies are all yours to keep - use them wisely, and be sure to check back for more Ni no Kuni Cross Worlds codes soon.
---
Want more anime freebies? Check out our list of working Genshin Impact codes, Honkai Star Rail codes and Tower of Fantasy codes. If you need a hand with other mobile games head to our Street Fighter Duel codes, Pokemon Unite codes, RAID Shadow Legends codes, State of Survival codes and Street Fighter Duel Tier List pages.