Marvel's Spider-Man 2 cinematic trailer lovingly renders every inch of Venom
A feast for the eyes.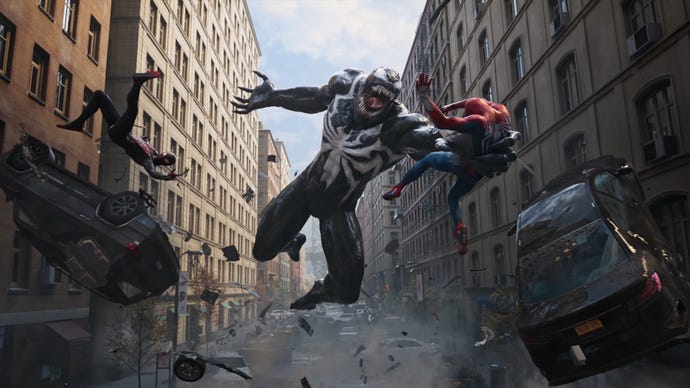 A fancy new cinematic trailer for Marvel's Spider-Man 2 has been shared by PlayStation, and boy does it make Venom look good.
If you need more than just 19 inches of Venom, the latest trailer for the upcoming Spider-Man 2 should do just the trick. Insomniac are clearly gearing up for release now, with the sequel finally releasing in just over two weeks time.The trailer is obviously leaning heavily into the dramatics, showing off an action packed fight between our dual Spider-Mans and Venom (who is very obviously going to be Harry Osborne, but let's not think about that too hard right now).
It also features both Peter and Miles grappling with that classic Spider-Man conundrum, "responsibility," the two of them assuring themselves that they are in fact the titular superhero. Nice trailer overall, and definitely gives that strong imposing feeling that Venom deserves.
As well as this new trailer, PlayStation also revealed a new bundle for Spider-Man 2 yesterday which packages a PS5 with a digital copy of the game. According to Kotaku, the bundle will cost $560, and while there isn't an official price in pound sterling just yet, that roughly equates to just over £460. Don't hold me to that price though, different markets obviously price things differently.
If you're looking forward to heading back into New York to get back to web swinging and fighting crime, you might want to be careful where you spend your time online. Copies of the game have apparently already made their way into some players hands early, leading Insomniac to put out a warning about potential spoilers, and asking those that have seen them not to share them. With the game releasing October 20, there's still a little bit to go, so if you're able to maybe log off for a bit.