Lords of the Fallen, a Souls-like RPG, is learning the worst lessons from games as a service
Lords of the Fallen is many things, but I don't believe one of those is an ongoing, live service game.
About two weeks ago, Hexworks, developer of the flawed but ultimately worth playing Lords of the Fallen, made an unusual announcement. The studio shared a roadmap for the game, just after the Halloween event had ended.
The roadmap is vast – especially seeing as it only covers 2023. It not only confirms two more events before the year's end, it also reveals new content in the works; such as spells, quests, armour sets, and even animations. If you're confused reading this, you're not alone.
Lords of the Fallen is a Souls-like action RPG. Though it can be played with and against other players, it – like so many games that share the sub-gere – is generally meant as a solitary experience. Developers take great care in crafting levels that invite exploration, and pose a certain level of challenge that works best when a single player is going through them.
Alongside the news, Hexworks released a statement from studio head Saul Gascon, which makes the roadmap's existence even more bizarre. Gascon said the team is "proud of the open relationship we're fostering with our community," specifically calling out the improvements already made to the game since launch, and those that will arrive before the end of the year.
That's another thing Hexworks proudly stuck to the roadmap graphic: the sort of fixes you certainly don't need to brag about. I'm talking about things like performance improvements, save file corruption fixes (!), tweaks to co-op behaviour, and the wise decision to balance PvE and PvP differently.
For the developer to make a big deal out of having quality of life improvements in the works, and lump those in with actual new content is a little dishonest, but not unusual. Diablo 4 has been doing quite a bit of that, and so many other games have; even ones you don't think of as GAAS. But why are stability, performance, and other crucial fixes on a roadmap – of this or any other game? Fixing core issues of the game should not be something you flaunt on a flashy roadmap as something players should look forward to.
There's an arguably more dangerous addition to the roadmap that really calls into question whether Hexworks truly understands what kind of game it's made.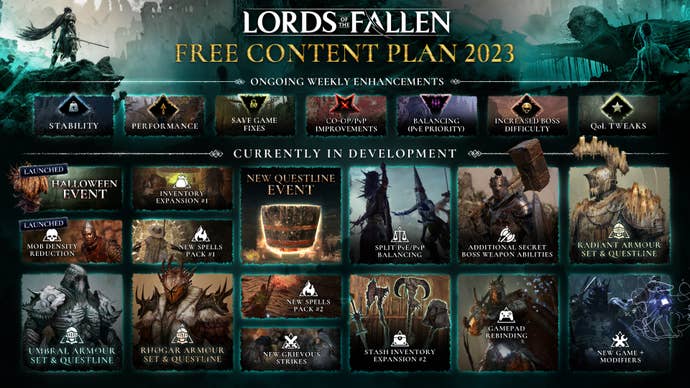 In our Lords of the Fallen review, I wrote about how often the studio's design and balance decisions had me wondering whether the developer failed to understand why Souls-likes are challenging (a common pitfall), or if it just didn't know any better.
The positioning of this roadmap makes that even harder to gauge. How could Hexworks not realise that balancing PvE and PvP separately was essential? The roadmap also proudly boasts about making bosses harder - a change that recently rolled out. A few of the major bosses in Lords of the Fallen were "easy" because they didn't have a lot of movements to anticipate, or offer mechanics deep enough to engage with. The patch simply boosted their health and damage, which is going to make fights more tedious, if anything.
In writing this story, I went back and started a new character on PC. I noticed an immediate difference in performance, but also in the much-discussed enemy density topic. The opening areas are, indeed, more manageable, thanks to fewer enemies around every corner, and a decent reduction to the number of snipers, their awareness, and range.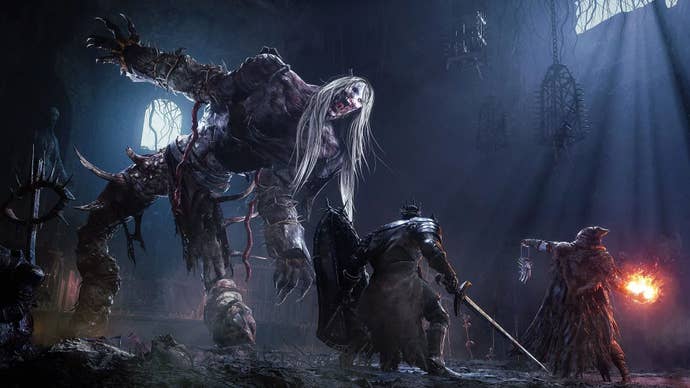 In that sense, Hexworks' approach is successful. That "open" relationship has resulted in a better game in certain areas, and I would argue worse in others. The point is that Lords of the Fallen is not the kind of game that should follow that path. Game balance, performance improvements and such are always welcome, but core design decisions should be held to.
A Souls-like is not an evolving game, and I have yet to see any example to the contrary. So much of those games' makeup is often carefully-crafted, with a lot of thought behind it. But it's becoming clearer every day that is not the way Hexworks views its creation. I don't want to return to Eldern Ring a year later to find that much of the way it plays has changed, and I don't want the same for Lords of the Fallen. This is not Destiny or The Division, nor should it be.