Hellblade's Budget Required Ninja Theory to Use Their Own Boardroom as a Motion Capture Studio
All you need are some lights and poles to build your own makeshift motion capture studio.

This article first appeared on USgamer, a partner publication of VG247. Some content, such as this article, has been migrated to VG247 for posterity after USgamer's closure - but it has not been edited or further vetted by the VG247 team.
Last year's Hellblade: Senua's Sacrifice from developers Ninja Theory was a budget hit. Made on a micro budget of under $10 million with a small team of around 20 people (compared to 100 employees for a triple-A project from Ninja Theory), the game was a big return on investment.
In fact, during today's Hellblade talk "Breaking Through: Psychosis and the Making of Hellblade" at this year's Game Developer's Conference, Commercial Director Dominic Matthews revealed that the team squeezed as much as they could out of their itty bitty budget. They even filmed all motion capture locally, rather than going through more expensive means.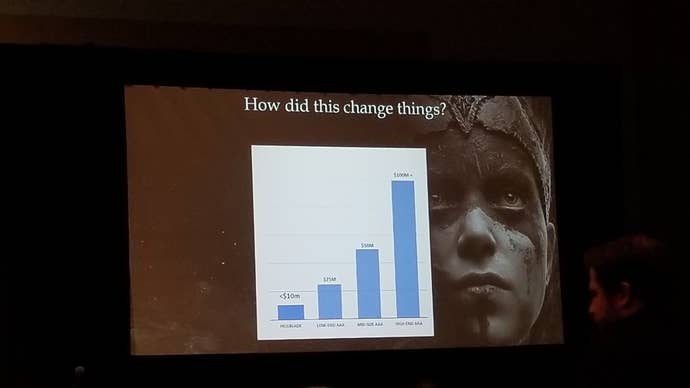 "Every scene we shot in [Hellblade] was shot in our boardroom," Matthews told the crowd at GDC 2018. "Normally we would fly to the U.S. or New Zealand to use purpose built motion capture studios, but that wasn't possible with our budget." And so, the makeshift boardroom studio in which all the uncomfortably lifelike motion capture of Hellblade was born. Ninja Theory even bought poles from IKEA and lights from Amazon to make the magic happen. Rather than spending money on renting out space within a massive studio constructed for the sole purpose of motion capture, they were able to finesse a lot out of a lowly boardroom in its stead. And judging from the final project, it worked out pretty well.
Even with a vastly smaller budget and team than past games, Hellblade ended up being both a critical and commercial success for Ninja Theory. It was even one of our favorite games of 2017. Hopefully Hellblade's success will pave the way for other studios to experiment and follow suit with their own experimental side projects.
Reporting and photos contributed by Matt Kim.