Harry Potter: Wizards Unite Brilliant Event goes live July 3, and has you finding magical beasts from the Forbidden Forest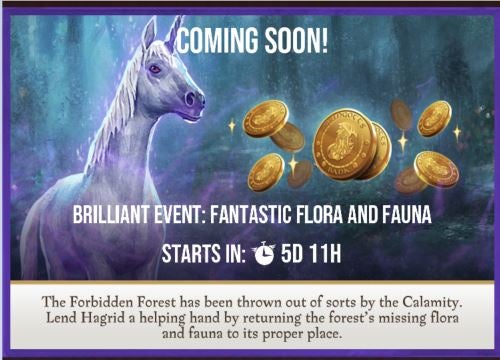 Harry Potter: Wizards Unite's Brilliant Event will go live at 6PM UK time on July 3. That's 7PM in central Europe, 1PM Eastern, and 10AM Pacific.
The Brilliant Event has caused a bit of confusion since Wizards Unite's recent release, with a section of event-specific foundables appearing in the game's Registry with no real description of how to get them.
However, if you tap on the calendar in the bottom right of your device's screen and navigate to the "Special" tab of the assignments menu, you can now see an in-game timer counting down to the event.
Once the event drops, the special Foundables will only be available for a limited time. They feature a range of magical beasts from the Forbidden Forest on the outskirts of Hogwarts, some of which played big roles in the stories.
It looks like there are unicorns like the ones Voldemort was drinking the blood of in the Philosopher's/ Sorcerer's Stone, Aragog or his eight-legged freaky brethren, and Buckbeak the hippogriff from The Prisoner of Azkaban.
Judging by the image alongside the timer, it looks like the Brilliant Event will be a good opportunity to earn some extra galleons as well as find unique Foundables.
Until then though, you can keep fighting Fortresses, trapping Traces, casting masterful spells, and brewing your own potions - complete with Master Notes.
Harry Potter: Wizards Unite is published by Niantic games, best known for Pokemon Go, and developed in collaboration with WB Games San Francisco under the recently established Portkey Games label.
Although the game had a strong start financially, reports suggest that player numbers were significantly down from Ninantic's previous game.
Harry Potter fans have another big game to look forward to as well, with Warner Bros reportedly also working on a fully-fledged 3D RPG set in the wizarding world.