Harry Potter Wizards Unite Back to Hogwarts event kicks off with new Brilliant Foundables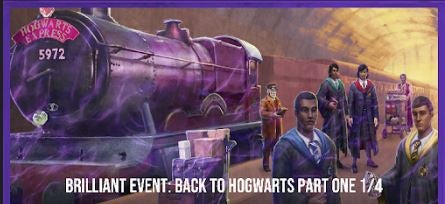 The latest Harry Potter Wizards Unite event has dropped in-game. This time The Calamity has made off with the Hogwarts Express, along with all the students and artefacts inside.
The first part of the Back to Hogwarts event is available in game for a week, and you can face off against the special event Foundables by tapping on the glowing purple icons that appear as you walk around.
There are two sets of Brilliant Foundables to place in your registry: Brilliant Platform 9 3/4, which includes people like Hogwarts students and the Trolley Witch from the Express, and Brilliant Hogwarts Gates Foundables, so be on the lookout for thestrals, carriages, and the Sorting Hat.
A lot of the encounters are buffed up versions of ones that you often meet as you play, so breaking the Brilliant version of the Hufflepuff student out of ice is much tougher than the regular battle.
Along with the sets of Foundables are a fresh suite of challenges - Special Assignments - to take on. These have you returning specific Foundable Fragments, like the Brilliant Slytherin Student in the first set.
Completing these Special Assignments not only grants you XP and Points for your Registry, but coveted Restricted Section books to level up your Profession and vanity items for your account.
The challenges aren't too tough this time around; some players were having trouble tracking down common dark wizards for the last event. Eager beavers over at the Harry Potter Wizards Unite subreddit have already posted the full list, which you'll find below.
The most difficult parts will be to track down the specific fragments, and the High Foundables, that you need. High severity Foundables are often seen as the ones with glowing streams of light shooting out of the top of them.
These challenge lists were collated by user Virodoran, who magicked them out of the game's files:
Set 1
Recover 2 Brilliant Slytherin Student Foundable Fragments
Collect 2 ingredients or Portmanteaus on the map
Return 3 Foundables of any family
Set 2
Recover 2 Brilliant Hufflepuff Student Foundable Fragments
Obtain 3 Portkeys by unlocking Portmanteaus
Dine at Inns 5 times
Set 3
Recover 2 Brilliant Ravenclaw Student Foundable Fragments
Use 6 Potions
Perform 5 Great Spell casts
Set 4
Recover 2 Brilliant Gryffindor Student Foundable Fragments
Return 5 High Foundables
Complete 4 Wizarding Challenges
This isn't the only event on the horizon for Harry Potter Wizards Unite. After a week's rest at the end of this first part, the second part of the Back to Hogwarts event will begin in two weeks time on around August 28, 2019.