Fortnite's delayed jetpacks arrive today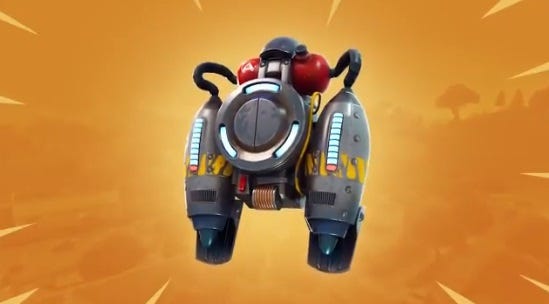 Jetpacks are finally coming to Fortnite. Today! Blimey.

Epic Games has confirmed that the long-delayed jetpacks will be coming to Fortnite today as part of the 4.2 patch.
Instead of updating at 8am GMT, you can expect Jetpacks along with a new Limited Time Mode to go live from 12pm GMT. That's a slight error though, as it should probably read 1pm GMT.
Strap in and blast off with Jetpacks in the v4.2 Content Update. ?

Available tomorrow, May 22 at 8am ET (1200 GMT). No downtime.

— Fortnite (@FortniteGame) May 21, 2018
Original story: After Fortnite's jetpack update was unceremoniously delayed, it looks like we're a couple of weeks away from finally seeing it come to the game.
Following a planned February release, Fortnite's jetpacks were delayed, and replaced with the hunting rifle instead. "We identified some issues with it and we wanted to make sure those were all sorted out before we release it," explained Fortnite's systems designer, Eric Williamson, in an update at the time. But after dataminers had a good old root around in the latest update, it looks like jetpacks are back on the agenda for Week 5.
FNBRLeaks found files suggesting that jetpacks will be coming to battle royale and an upcoming Limited Time Mode in Week 5.
"Close quarters combat with Shotguns & Jetpacks!" reads the LTM description. "If you find a jetpack, double-tap the jump button to take off. Keep the button held down to apply thrust. Make sure to land before it runs out of fuel!"
Fortnite's Week 4 challenges have also leaked, and they're not easy. A change to trap damage is going to make things tougher, and players will be required to reach the centre of the storm circle three times in a single match, so that'll be something to look forward to.
If you need a hand with any of the previous weeks' challenges, you can check out our full guides to them all below:
Week 4 Challenges: search between a bench, ice cream truck and helicopter, and more
Week 3 Challenges: search rubber duckies and more
Week 2 Challenges: dance in front of film cameras and more
Week 1 Challenges: search 8 F-O-R-T-N-I-T-E letters and more