Far Cry Primal - How to Upgrade Takkar's Village
Recruit specialists and build huts.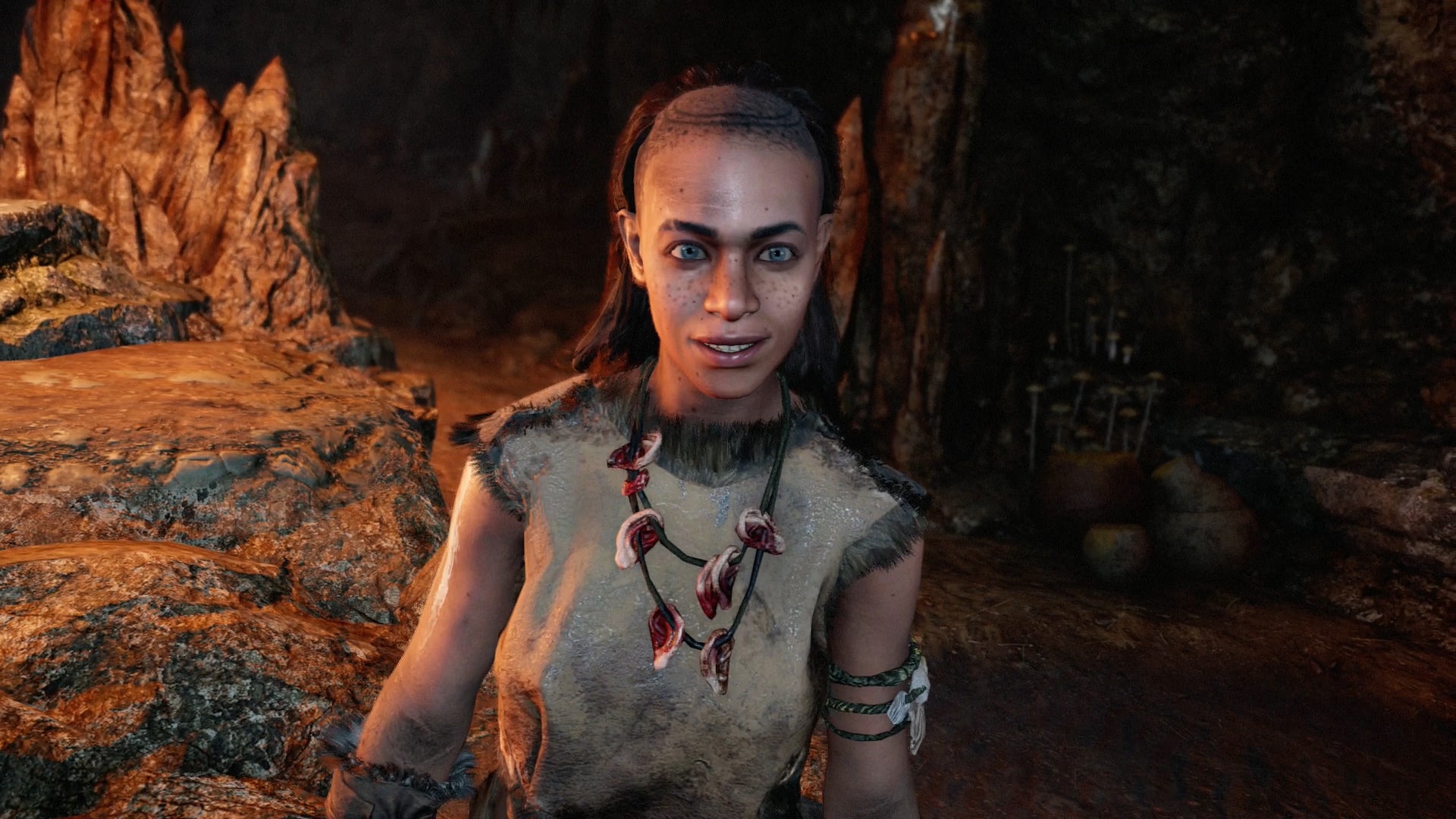 This guide will help you to build and upgrade your Village in Far Cry Primal. This mechanic is directly tied to the specialists that you recruit to join you, including Tensay, Wogah, Sayla, Jayma, Karoosh, Dah and Roshani. Each of these specialists are found on your map after completing Tensay's Beast Master mission, and can be brought back to your Village at any time.
Of course, bringing them back actually has a lot more benefits than just upgrading your Village. For example, bringing Wogah back will reward you with the Grappling Claw in Far Cry Primal, while recruiting Tensay will give you the White Wolf and Owl in Far Cry Primal. Be sure to snag them all as soon as you can.
Building Specialist Huts
After you bring a specialist back to your Village, they'll show up on your HUD as a way point. You can then go to their location and find a stone marker that is used to build or upgrade their hut. If you stand close to the marker, you'll see what resources are required for each new level. As you might expect, building a hut is quite simple and requires very common materials, but the second upgrade will require a rare animal skin.
Requirements and Rewards
To give you a good example of what it takes to build and upgrade huts, and what rewards you can expect to gain from doing so, we'll use Sayla as an example. You should note, however, that if you pause your game you will see a Village tab. If you select this tab you can hover your cursor over any specialist, seeing what you need to collect in order to perform the next upgrade of their hut. This can even be accessed while you are out and about, meaning you can focus on collecting what is needed when you're in the area, rather than making a special trip.
For Sayla, her level one hut will only require the following resources.
4 Alder Wood
3 Slate
2 Reeds
2 Deer Skins
These materials can be found in about five minutes, and that's a fairly common theme when building a specialist's first hut. Once you build that hut you will unlock Sayla's missions, Gathering Skills from your Skills menu, Food Recipes, items in your Reward Stash, and 1,500 XP. Not a bad haul for five minutes of Takkar's time.
If you want to build the level two upgrade for her hut, you will need far more resources.
35 Alder Wood
20 Slate
20 Reeds
4 Mammoth Skins
40 Villagers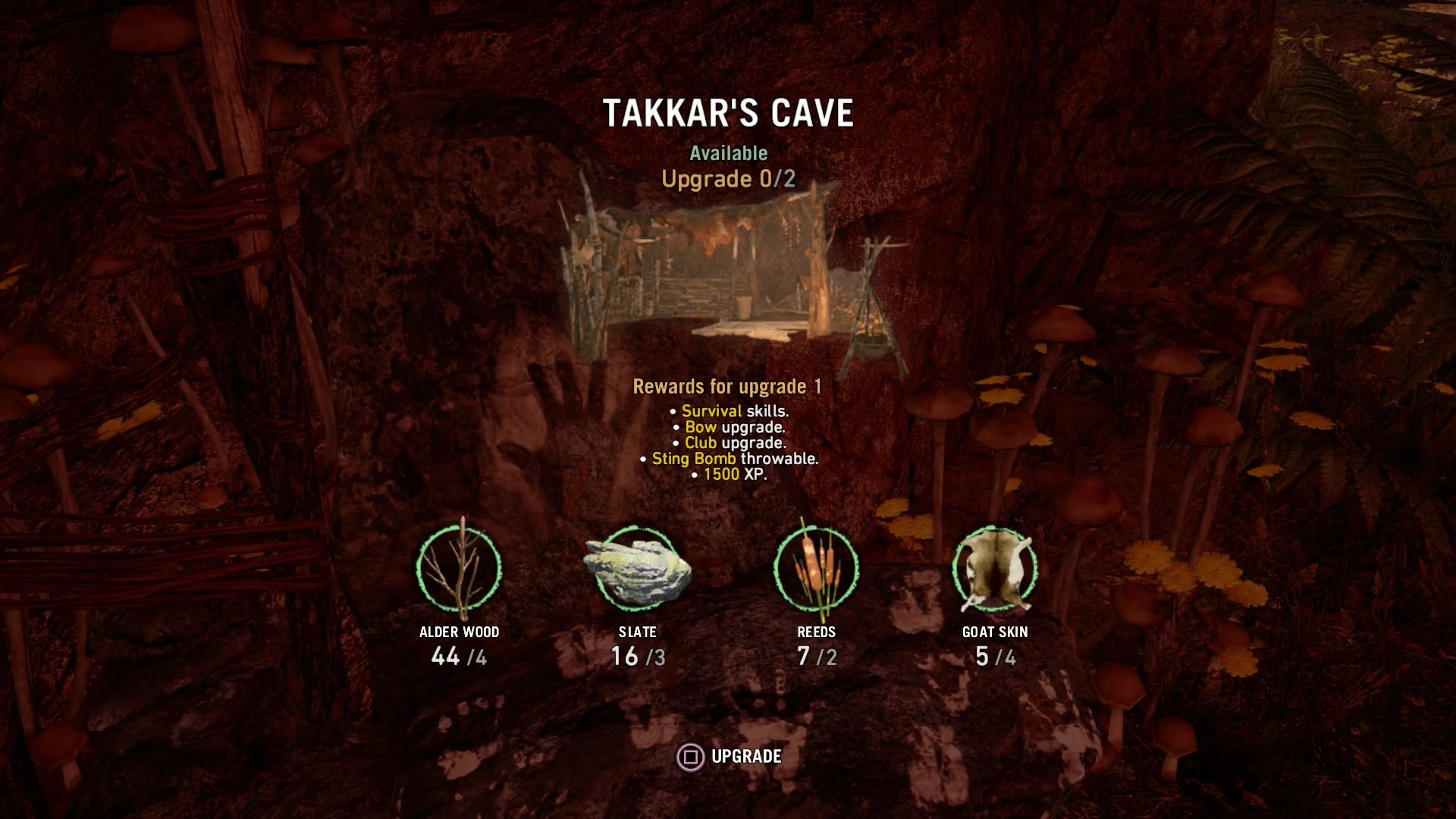 As mentioned, each level two upgrade (regardless of the specialist) will require a rare skin, as well as your village having a total population of 40. The rewards for fully upgrading Sayla's hut include more Food Recipes, rare items in your Reward Stash, and a whopping 3,000 XP.
Just like we mentioned earlier, we're not going to list each hut and what you need to upgrade it. This info is easily found in game using the Village menu. Just make sure that you keep tabs on what you need while you're roaming around Oros. You never know when you're going to spot that rare animal that you need to kill and skin for your next upgrade.
To get a full list of all the guides and tips we've been working on, be sure to browse through USgamer's Far Cry Primal Walkthrough and Guide.