Elden Ring wins another award, this time Best Game Writing at The Nebulas
Another win for one of 2022's biggest games.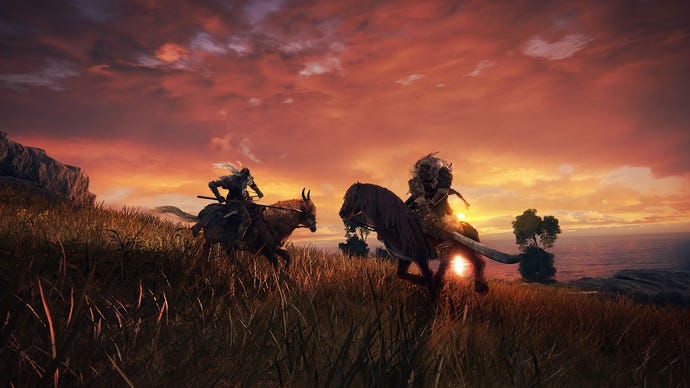 Elden Ring has won the Nebula Award for the Best Game Writing category, beating out the likes of some other top contenders.
The Nebula Awards, an awards group that recognises some of the best science-fiction and fantasy writing each year, were held earlier this week, and like it has every year since 2018, the Best Game Writing category was part of the lineup this year. You probably won't be surprised to hear that Elden Ring took home the award, given it won the game of the year award at both the Game Developers Choice Awards and The Game Awards.
There weren't actually a huge range of big name games up for the awards, with Elden Ring being nominated amongst other titles like Horizon Forbidden West, Vampire: The Masquerade - Sins of the Sires, Pentiment, Stray, and Journeys through the Radiant Citadel.
The Nebulas are given out by the Science Fiction and Fantasy Writers Association, a nonprofit composed of science fiction and fantasy writers. George R. R. Martin, who helped out on the story for Elden Ring in an incredibly ambiguous way, has actually won an award from them before, in 1973 and 1979, making this his third win. So this might be a slightly bigger deal for director Hidetaka Miyazaki, as it's his first Nebulas win (thanks, PCGamer).
Elden Ring joins the likes of Hades, The Outer Worlds, and Black Mirror: Bandersnatch (who won in 2020, 2019, and 2018 respectively) as winners of the Best Game Writing award. The category does also nominated tabletop games, as the TTRPG Thirsty Sword Lesbians won in 2021.
Earlier this year, FromSoftware announced that some DLC, titled Shadow of the Erdtree, is on the way, though we know basically nothing about it other than what it's called. All we know is it's in development, not even when it might come out, so you'll just have to hold tight for now.