DJ Hero 2 out in October, according to DLC for original [Update]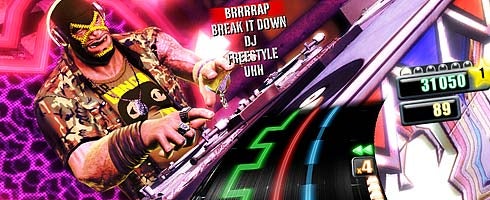 Update: Right on cue: the game's just been formally announced. More details soon.
Proper bo, innit. DJ Hero 2 will released in October according to a blurb for DLC for the original game.
A mix, which was available on Xbox Live Marketplace for free until yesterday, mentioned the details. The DLC is also, in fact, a part of the main setlist of DJ Hero 2.
Said remix involves Lady Gaga's Just Dance vs Deadmau5's Ghosts 'N Stuff. DJ Shadow and David Guetta are already involved with the game, according to the artists themselves.
The October date for the sequel comes as no surprise, though: VG247 learnt of it back in March from a leaked list.
Full details on the DLC are below:
"DJ Hero is giving you a taste of the never before heard mixes that will be released with DJ Hero 2 this October. For a limited time only, download 'Just Dance' by Lady Gaga vs. 'Ghosts 'n' Stuff' by Deadmau5. This one is on us! But you gotta get it by June 7th and then it's gone until DJ Hero 2 releases this Fall."
The official DJ Hero site has been updated to say that "big news" is coming today. Official reveal is on the cards, then?
Thanks, CVG.