DJ Hero 2 getting two DLC packs in November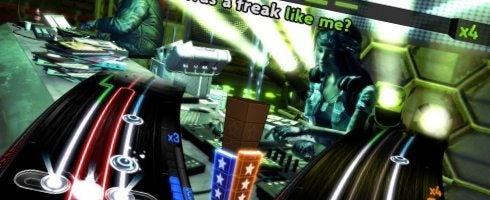 Activision has announced it will drop some DLC for DJ Hero 2 in November.
The first pack to be made available on November 2 (Nov. 4 on PS3) will be the Hit Makers Mix Pack which includes:
Usher ft. will.i.am - "OMG" (Remix by FSG)
Rihanna ft. JAY-Z - "Umbrella" Mixed With Marvin Gaye - "Let's Get It On"
Big Boi & Cutty - "Shutterbug" Mixed With Mark Morrison - "Return of the Mack"
Then there's the Electro Hits Mix Pack hitting November 16 (Nov. 18 PS3):
LMFAO - "I'm In Miami Trick" Mixed With Green Velvet - "Shake & Pop"
Steve Aoki ft. [[[Zuper Blahq]]] - "I'm In The House" (Remix by FSG)
SMD - "Hustler" Mixed With Technotronic - "Pump Up The Jam"
Activision also plans to release a compatibility update for the game, which will allow you to play previously released DLC from DJ Hero 1 in the sequel.
Both packs will run you 640 MSP/$7.99 each, and will be made available on Wii for 300 WP each as singles.
DJ Hero hits stores on October 19 and 22 in the US and UK, respectively.