CoD Warzone: What are Special Weapons? | How to unlock the Nail Gun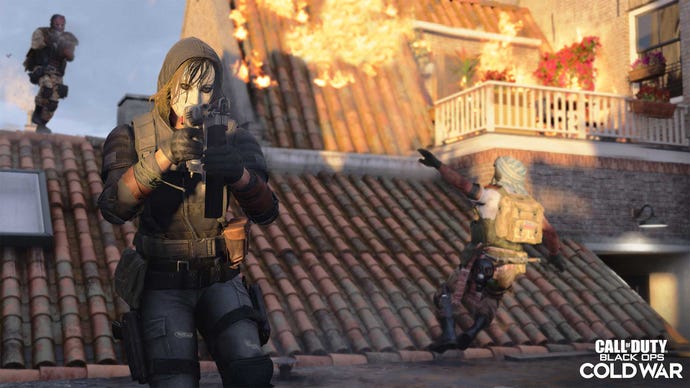 The Nail Gun is a new weapon introduced in Call of Duty: Warzone's fourth season. While (somewhat oddly) classed as an SMG in Warzone, it's undeniably unique — looking and feeling more like an improvised weapon than the specialist equipment CoD players are used to.
Unfortunately, the unlock criteria for the Nail Gun has been causing some confusion. In order to get your hands on this intriguing "slow firing power tool" you need to get eliminations with Special Weapons — but Warzone isn't all that forthcoming about what exactly that means.
What are Special Weapons in Call of Duty: Warzone?
In what's presumably an oversight on the part of the Warzone's developers, there's no way of finding out what's considered a Special Weapon in-game. Somewhat counter-intuitively, the information can actually be found in Call of Duty Black Ops: Cold War.
The Special Weapons category from BOCW — which contains all the weapons that don't fit neatly into one of the game's main categories — does in fact carry over to Warzone, but isn't explicitly alluded to. Fortunately, you can still complete the Nail Gun unlock conditions using the weapons from this category, even if the game isn't willing to tell you what they are.
For the benefit of anyone unable to check BOCW for themselves, the following weapons are classed as Special Weapons in Warzone and can be used to unlock the Nail Gun:
M79 Launcher (secondary weapon)
R1 Shadowhunter Marksman Rifle (primary weapon)
Ballistic Knife (secondary melee weapon)
You might find that the Ballistic Knife and R1 Shadowhunter are locked to you if you haven't satisfied their own set of unlock requirements beforehand. You should, however, have access to the M79 no matter what, meaning that you can unlock the Nail Gun using just that if you wish.
How to unlock the Nail Gun in Call of Duty: Warzone
The unlock criteria for the Nail Gun is as follows: "Get 5 eliminations with Special Weapons in 15 different completed matches."
This is the same criteria in Warzone as in BOCW, since the latter features respawning and more game modes to allow you to maximise your chances of success.
For Warzone players who don't own BOCW, it's recommended that you try to unlock the Nail Gun — or indeed attempt any gameplay feat — in Plunder rather than Battle Royale mode. This way you get to choose some weapons for your loadout and also have unlimited respawns, which should make things easier.
For more on Warzone, see our guide to crashing satellites using Sat-Link stations in the Ground Fall event.
Or check out our page on the best Warzone loadouts for Season 4.