You can't turn off Battlefield 2042's server-filling AI, and you can't play with them offline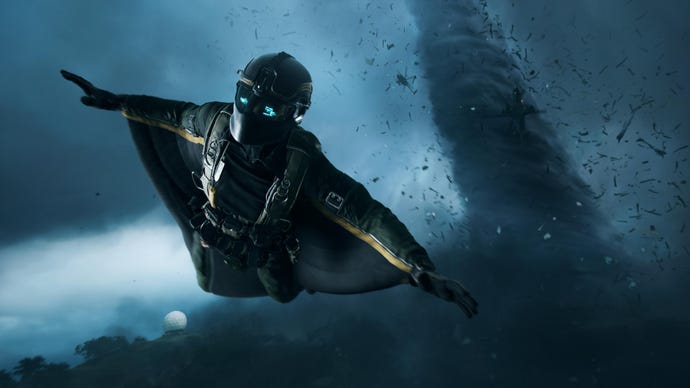 Bots designed to "backfill" Battlefield 2042's 128-player servers cannot be turned off, and you will not be able to play with them if you're offline, EA has said.
The downside of having up to 128 players in your game, it turns out, is that sometimes you're going to have fairly empty lobbies that need bots to fill them. We already knew that Battlefield 2042 would use bots to pad out emptier servers, but in a recent update on the game, developer DICE has revealed that you have no option of turning the bots off.
"You will not experience more AI soldiers than players unless the match is still filling-up, or almost empty," DICE said in a blog post, before explaining that real players will replace AI bots as they join the match.
If you're not too keen on going head-to-head with AI, there are at least some upsides. First off, AI cannot become Specialists (meaning they'll just be generic enemies) and secondly, they cannot use Specialist abilities reserved for human players. Reading between the lines, they're cannon fodder.
"You will see [AI soldiers] undergoing certain tasks such as using the vehicle call-in system and engaging with vehicles, or capturing objectives," DICE explained.
"Whilst they can't use the Wingsuit, they do have the intelligence to decide between engaging with you via enemy fire, flanking, throwing grenades or even reviving a downed squad mate."
Your robot allies may not be ideal if you want to experience the full teamwork Battlefield is known for as a series, but at least it means that solo or co-op play becomes possible for you if you just want to jump into a private server.
And, let's be honest, around launch and for some months after, you aren't really going to encounter that many empty servers – especially not since cross-play and cross-progression are in the works for Battlefield 2042. Also, because of technical limitations, Xbox One and PS4 versions of the game cut server sizes down to 64 players.
Battlefield 2042 releases on October 22 for PS5, PS4, Xbox One, Xbox Series X/S, and PC. Those who pre-order Gold and Ultimate Editions for PlayStation or PC can access the game as early as October 15.