Scorn brings its fleshy world to PS5 later this year
No specific release date as of yet, though.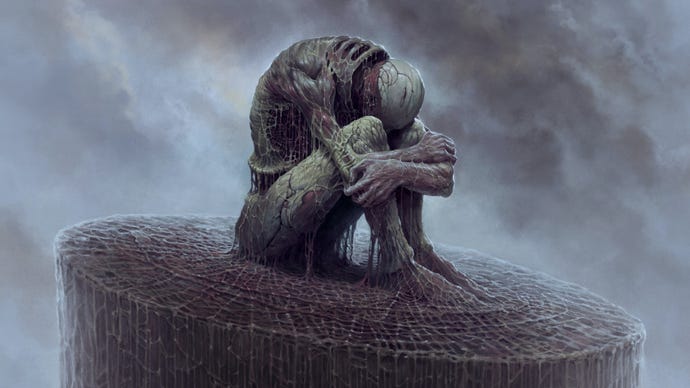 Last year's previously Xbox-exclusive, HR Geiger inspired survival horror game Scorn is making its way to PS5 later this year.
After a very lengthy development period, Scorn finally released on Xbox Series X/S and PC last year, with reviews being a bit mixed, though mostly on the positive side (including our own). Now, as revealed over on the PlayStation Blog, Scorn is making its way onto the PS5, offering up the decidedly fleshy game up to a whole new audience. While the game only has a vague release window of "later this year," the blog did go into some details behind the port, including how the DualSense controller will offer a new experience.
Watch on YouTube
"As we were developing the game for PlayStation 5, we finally had the opportunity to tap into the potential of the DualSense wireless controller to immerse you even further in this twisted world," writes technical artist Jovan Vučković in the blog post. "It allows us to deepen the player's immersion and to let the whole world "breathe" in a new way. Since there is no spoken dialogue in the game, we have put a strong emphasis on environmental storytelling, hence haptics are a great addition to this peculiar audio-visual experience."
The post also notes that the controller's adaptive triggers will behave differently depending on the different weapons or tools used, as they all have a "subtle, but different feeling of weight." You'll also find that the light bar will correspond to your health in-game, to give you a stronger idea of how you're faring, considering how minimalistic Scorn's UI is.
Collectors will also be happy to hear a physical version of the game will also be coming to PS5, specifically a deluxe edition that includes a digital artbook, a digital copy of the soundtrack, and a steelbook.
Scorn will be available on PS5 later this year, and is currently available on Xbox Series X/S and PC.