Rockstar planning its biggest ad blowout ever for Red Dead Redemption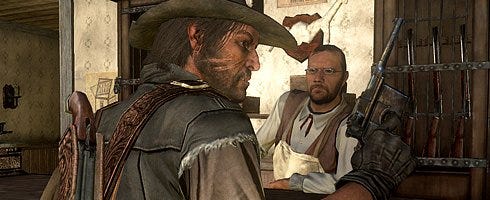 Rockstar's UK general manager, Neil Stephen, has said that Red Dead Redemption is its "most ambitious game ever", and revealed that the marketing push for it is the firm's biggest yet.
Speaking with MCV, Stephen revealed that not only will the Western's ads grace movie theaters, but high traffic websites like YouTube as well.
"This is our most ambitious game to date and our biggest UK release this year," Stephen told MCV in it's weekly online edition. "We are spending a larger proportion of our TV budget pre-launch than we ever have before to ensure Red Dead Redemption is established as a massive triple-A title.
"For the first time as a company, we will be running an on-screen cinema advertising campaign. We think that the cinematic nature of the game makes it a perfect fit for the cinema, and we will be executing a nationwide ad campaign targeting the audiences of Robin Hood, Iron Man 2, and Prince of Persia".
Foyer posters will also support the cinema campaign, allowing customers to download content from the game via Bluetooth.
The publisher has also signed deals with Gamespot, IGN, Microsoft, LoveFilm and YouTube for free movie downloads and Xbox Live content.
"The game has garnered an incredibly positive reception from the gaming and lifestyle press with many outlets placing Red Dead Redemption as a possible game of the year contender," added Stephen.
"In terms of sales projections, we are aiming high and as such are focusing more attention on retail channels than ever before. Once the game is released we expect that word of mouth and our massive launch media campaign will propel the game to excellent sales.
"This leaves us with very high expectations for what we think is our next blockbuster gaming franchise."
Game's out on May 18 and May 21 in the US and UK, respectively, for PS3 and 360.
You can check out the latest trailer for it here.