Pokemon Go: Rewards, XP, and unlockable items for every level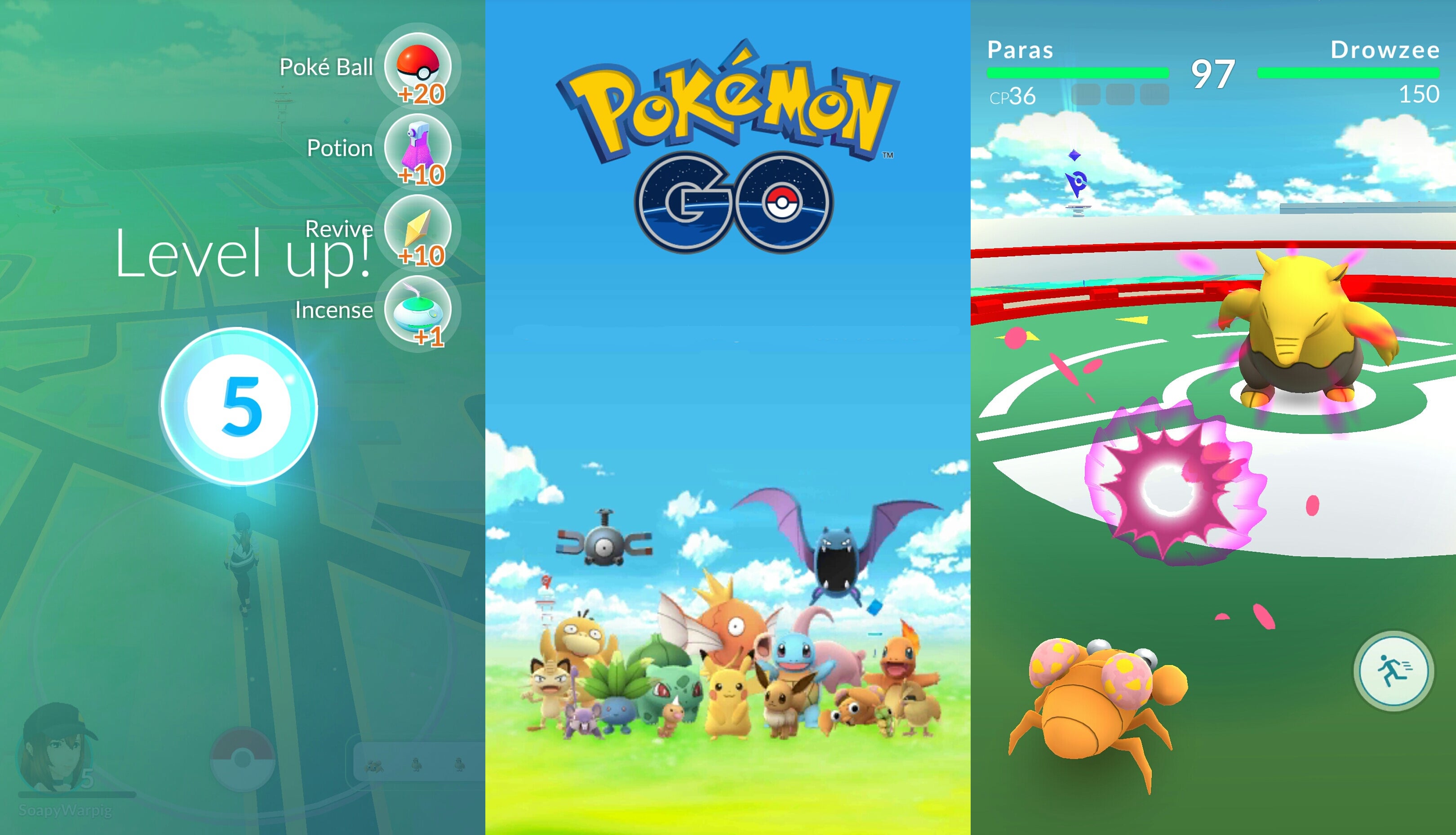 Wondering when you'll get a pair of great balls? Wonder no more - here's a full list of the trainer level up rewards and XP requirements for Pokemon Go.
Pokemon Go is full of useful items to aid you on your journey to become the best trainer on the street, but they're not all available to you at the outset. As well as leveling up your Pokemon you'll also improve your own personal character level - known in Pokemon Go as your trainer level.
Increasing your trainer level has a few benefits - it improves the strength and quality of Pokemon that appear to you out in the wild to catch, plus at certain milestones you'll unlock new in-game abilities and items such as the ability to join a Pokemon Trainer team and take part in gym battles. Most important of all, however, is the fact that you'll get a slew of useful items each and every time you level up.
This is pretty good news, since Pokecoins are scarce (unless, of course, you want to open that wallet of yours...) and you don't want to fritter them away on lucky eggs or lure modules when you'll be inundated with the things after just 10 more XP when you hit the next level. On this page, we're collating a list of the Pokemon Go XP Level Up Rewards with all the key details - the items you'll get and unlock, plus the XP required to hit that level. Here it all is:
| Lvl | XP | Total XP | Unlocked | Item Rewards |
| --- | --- | --- | --- | --- |
| 2 | 1000 | 1000 | | 10x Poke Ball |
| 3 | 2000 | 3000 | | 15x Poke Ball |
| 4 | 3000 | 6000 | | x15 Poke Ball |
| 5 | 4000 | 10,000 | Teams & Gyms Potions Revives | x20 Poke Ball x10 Potion x10 Revive Incense |
| 7 | 6000 | 21,000 | | x15 Poke Ball x10 Potion x5 Revive Incense |
| 8 | 7000 | 28,000 | Razz Berry | x15 Poke Ball x10 Potion x5 Revive x3 Razz Berry Lure Module |
| 9 | 8000 | 36,000 | | x15 Poke Ball x10 Potion x5 Revive x3 Razz Berry Lucky Egg |
| 10 | 9000 | 45,000 | | x20 Poke Ball x20 Super Potion x10 Revive x10 Razz Berry Incense Lucky Egg Egg Incubator Lure Module |
| 11 | 10,000 | 55,000 | | x15 Poke Ball x10 Super Potion x3 Revive x3 Razz Berry |
| 12 | 10,000 | 65,000 | Great Ball | x20 Great Ball x10 Super Potion x3 Revive x3 Razz Berry |
| 13 | 10,000 | 75,000 | | x10 Great Ball x10 Super Potion x3 Revive x3 Razz Berry |
| 14 | 10,000 | 85,000 | Nanab Berry | x10 Great Ball x10 Super Potion x3 Revive x3 Nanab Berry |
| 15 | 15,000 | 100,000 | Hyper Potion | x15 Great Ball x20 Hyper Potion x10 Revive x10 Razz Berry Incense Lucky Egg Egg Incubator Lure Module |
| 16 | 20,000 | 120,000 | | x10 Great Ball x10 Hyper Potion x5 Revive x5 Nanab Berry |
| 17 | 20,000 | 140,000 | | x10 Great Ball x10 Hyper Potion x5 Revive x5 Razz Berry |
| 18 | 20,000 | 160,000 | Pinap Berry | x15 Great Ball x10 Hyper Potion x5 Revive x5 Razz Berry x5 Pinap Berry |
| 19 | 25,000 | 185,000 | | x15 Great Ball x20 Hyper Potion x5 Revive x5 Razz Berry |
| 20 | 25,000 | 210,000 | Ultra Ball | x20 Ultra Ball x20 Hyper Potion x20 Revive x20 Nanab Berry x2 Incense x2 Lucky Egg x2 Egg Incubator x2 Lure Module |
| 21 | 50,000 | 260,000 | | x10 Ultra Ball x10 Hyper Potion x10 Revive x10 Pinap Berry |
| 23 | 100,000 | 435,000 | | x10 Ultra Ball x10 Hyper Potion x10 Revive x10 Nanab Berry |
| 24 | 125,000 | 560,000 | | x15 Ultra Ball x10 Hyper Potion x10 Revive x10 Razz Berry |
| 25 | 150,000 | 710,000 | Max Potion | x25 Ultra Ball x20 Max Potion x15 Revive x15 Pinap Berry Incense Lucky Egg Egg Incubator Lure Module |
| 26 | 190,000 | 900,000 | | x10 Ultra Ball x15 Max Potion x10 Revive x15 Razz Berry |
| 27 | 200,000 | 1,100,000 | | x10 Ultra Ball x15 Max Potion x10 Revive x15 Nanab Berry |
| 28 | 250,000 | 1,350,000 | | x10 Ultra Ball x15 Max Potion x10 Revive x15 Razz Berry |
| 29 | 300,000 | 1,650,000 | | x10 Ultra Ball x15 Max Potion x10 Revive x15 Pinap Berry |
| 30 | 350,000 | 2,000,000 | Max Revive | x30 Ultra Ball x20 Max Potion x20 Max Revive x20 Razz Berry x3 Incense x3 Lucky Egg x3 Egg Incubator x3 Lure Module |
| 31 | 500,000 | 2,500,000 | | x10 Ultra Ball x15 Max Potion x10 Max Revive x15 Nanab Berry |
| 32 | 500,000 | 3,000,000 | | x10 Ultra Ball x15 Max Potion x10 Max Revive x15 Razz Berry |
| 33 | 750,000 | 3,750,000 | | x10 Ultra Ball x15 Max Potion x10 Max Revive x15 Pinap Berry |
| 34 | 1,000,000 | 4,750,000 | | x10 Ultra Ball x15 Max Potion x10 Max Revive x15 Razz Berry |
| 35 | 1,250,000 | 6,000,000 | | x30 Ultra Ball x20 Max Potion x20 Max Revive x20 Nanab Berry x2 Incense Lucky Egg Egg Incubator Lure Module |
| 36 | 1,500,000 | 7,500,000 | | x20 Ultra Ball x20 Max Potion x10 Max Revive x20 Razz Berry |
| 37 | 2,000,000 | 9,500,000 | | x20 Ultra Ball x20 Max Potion x10 Max Revive x20 Pinap Berry |
| 38 | 2,500,000 | 12,000,000 | | x20 Ultra Ball x20 Max Potion x10 Max Revive x20 Razz Berry |
| 39 | 3,000,000 | 15,000,000 | | x20 Ultra Ball x20 Max Potion x10 Max Revive x20 Nanab Berry |
| 40 | 5,000,000 | 20,000,000 | | x40 Ultra Ball x40 Max Potion x40 Max Revive x40 Razz Berry x4 Incense x4 Lucky Egg x4 Egg Incubator x4 Lure Module |
| Level | XP | Challenges | Rewards |
| --- | --- | --- | --- |
| 41 | 6 million | Power up a Legendary Pokemon 20 times Catch 200 Pokemon in a day Win 30 Raids Earn 5 Gold Medals | 20x Ultra Ball 20x Max Potion 20x Max Revive 20x Razz Berry 1x Incubator 1x Premium Raid Pass 1x Rare XL Candy |
| 42 | 7.5 million | Evolve Eevee into every Eevee Evolution Use evolution items to evolve 15 times Use 200 Berries to catch Pokemon Make 3 Excellent Throws | 20x Ultra Ball 20x Max Potion 20x Max Revive 20x Nabab Berry 1x Incubator 1x Premium Raid Pass 1x Rare XL Candy |
| 43 | 9 million | Catch 5 legendary Pokemon Use 500 super-effective charge attacks Earn 100,000 Stardust Earn 5 Platinum Medals | 20x Ultra Ball 20x Max Potion 20x Max Revive 20x Silver Pinap Berry 1x Incubator 1x Premium Raid Pass 1x Rare XL Candy 1x Avatar Pose |
| 44 | 11 million | Battle in the Go Battle League 20 Times Win 30 Trainer Battles in the Great League Win 30 Trainer Battles in the Ultra League Win 30 Trainer Battles in the Master League | 20x Ultra Ball 20x Max Potion 20x Max Revive 20x Razz Berry 1x Incubator 1x Premium Raid Pass 1x Rare XL Candy |
| 45 | 13 million | Defeat 100 Team Go Rocket Grunts Defeat a Team Go Rocket Leader 50 Times Purify 100 Shadow Pokemon Earn 10 Platinum Medals | 40x Ultra Ball 40x Max Revive 2x Lure 2x Incense 2x Lucky Egg 1x Super Incubator 2x Rare XL Candy 1x Elite Fast TM 1x Avatar item |
| 46 | 15.5 million | Hatch 50 Eggs Make 50 Excellent Throws Complete 100 Field Research tasks Take a snapshot of a Pokemon 7 days in a row | 30x Ultra Ball 25 Max Potion 20x Max Revive 25 Razz Berry 1x Incubator 1x Premium Raid Pass 1x Rare XL Candy |
| 47 | 18 million | Win a 3-star raid using only Pokemon with 1500 CP or lower Win 30 raids using a team of all unique Pokemon species Power up 3 Pokemon to max CP Earn 20 Platinum Medals | 30x Ultra Ball 25 Max Potion 20x Max Revive 25 Nanab Berry 1x Incubator 1x Premium Raid Pass 1x Rare XL Candy 1x Avatar pose |
| 48 | 21 million | Receive 10 Souvenirs from your Buddy Pokemon Earn 300 Hearts with your Buddy Pokemon Walk 200km with your Buddy Pokemon Walk 2.5km in a single week 8 times | 30x Ultra Ball 25 Max Potion 20x Max Revive 25 Pinap Berry 1x Incubator 1x Premium Raid Pass 1x Rare XL Candy |
| 49 | 25 million | Do 10 trades where the traded Pokemon were caught 300km or more apart Obtain 50 Lucky Pokemon in trades Send 500 Gifts to Friends Earn 35 Platinum Medals | 30x Ultra Ball 25 Max Potion 20x Max Revive 25 Pinap Berry 1x Incubator 1x Premium Raid Pass 1x Rare XL Candy 1x Avatar item |
| 50 | 30 million | Catch a Legendary Pokemon in your next 5 Legendary Pokemon encounters Make 999 Excellent Throws Defeat a Team Go Rocket Leader 3 times using only Pokemon with 2500CP or lower Reach rank 10 in the Go Battle League | 50x Ultra Ball 50x Max Potion 5x Lure Modules 5x Incense 5x Lucky Egg 5x Super Incubators 2x Rare XL Candy 1x Elite Charge TM 1x Avatar item |