PlayStation Showcase round up - all the game announcements and trailers you may have missed
Miss something from the Showcase? We have you covered.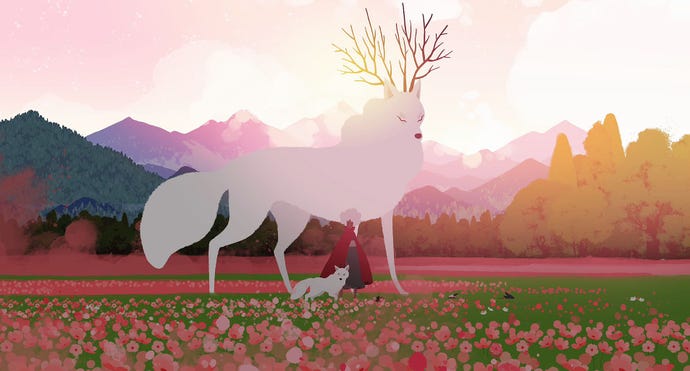 Sony aired its PlayStation Showcase this evening, and all sorts of announcements were made.
You already know about the bigs ones: Bungie's Marathon, Assassin's Creed Mirage, Alan Wake 2's release date, the big gameplay trailer for Spider-Man 2, Metal Gear Solid Delta, Dragons Dogma 2, Ghostrunner 2, and others. But there were announcements made for other games too. That's where this round-up comes in.
One of the titles was Fairgames from Haven Studios. The PvP competitive heist experience features emergent sandbox gameplay, and it is coming to PS5 and PC, and more information on it will be shared at a later date.
The showcase also introduced Concord, a new game from Firewalk Studios. Set in a sci-fi universe, the PvP multiplayer first-person shooter is coming to PS5 and PC in 2024. More on the game will be shared ahead of release next year.
Tower of Fantasy, an immersive cyberpunk open-world RPG, was also revealed. Hitting PS5 and PS4 this summer, the exploration and adventure title features a diverse real-time combat system with over 30 different weapons to choose from. These weapons define your combat style, and the Simulacrum Weapon system allows you to transform into a simulacrum character that corresponds to your weapon of choice, altering both your appearance and abilities. Each simulacrum character has its own rich backstory and unique set of skills, allowing for endless customization and creativity. It's coming to PS4 and PS5 this summer.
Square Enix announced and showed off Foamstars, a new online party shooter for PS5 and PS4. In this game, foam is the ultimate resource and can be used in multiple ways: to create slippery surfaces that players can use to surf around the arena at high speed; to build terrain, help players defend from enemy attacks or create high vantage points to take out opponents; and finally, to foam up the opposition and win the match. The game's development team will share more details about the game shortly.
Helldivers 2 drops on PC and PlayStation 5 later this year. A sequel to the 2015 release, the cooperative shooter boasts frantic, third-person action against massive enemies. Developed by Arrowhead, the sequel promises to be bigger, better, and more hellish. You'll step into the boots of an elite class of soldiers whose mission is to spread peace, liberty, and Managed Democracy. Team up with up to four friends and sock it to the aliens that threaten the safety of Super Earth.
During the showcase, a new Immortals of Aveum trailer was shown, highlighting the enemies of the realm. In the new trailer, you get a sight of Sandrakk, the Tyrant of Rasharn, and Grand Magnus of the Order of Masks. Sandrakk is protected by his champion: The Hand who masters the force magic and leads the Order of Masks. There's also Morbane, an Oathbroken of Kalthus who's now part of Rasharn's Order of Mask and Sandrakk's Butcher. There are other fearsome fantasy beasts and magical constructs in the game, such as the Brutes, originally created for the Kalthus campaigns, but now they're being used as shock troops.
Then, there's the Leylodons: creepy, worm-like creatures from the Shrouded Realm attracted to weakened leylines that come to feast on the last of the magic in the area. There's more to the trailer than enemies though, so give it a watch. The Ascendant Studios title releases July 20 on PlayStation 5, Xbox Series X/S, and PC via the EA App, Steam, and Epic Games Store.
Revenant Hill, from the makers of the excellent Night in the Woods, is a game set in 1919 that puts you in the footsteps of a future witch familiar. As Twigs the cat, you are living in a wet log near a graveyard. This is because the barn you were living in burned down, and now you have a crappy home and a snarky owl who is demanding rent from you. To help make ends meet, you will grow crops to sell at the secret market or use for your own purposes.
While doing this, you will put down roots, run through the fields and trees, watch seasons pass, make friends who become neighbors and even family and also make enemies. You will also need to figure out what the ghosts want, host parties for witches and demons, and end up building a community while also square dancing with a possum. Oh, and eat some mice. It is currently without a release date but is coming to Steam and PlayStation.
Street Fighter 6 is gearing up for release and showed off brand new scenes from World Tour, the new single-player story mode set within the Street Fighter universe. From interacting with all 18 legendary Masters like Chun-Li and Ryu to discovering the true meaning of strength, you will travel through open-world areas and customize your personal avatar by mixing and matching fighting styles and special moves. Street Fighter 6, releasing on June 2, is available for pre-order now.
Want some mind-bending puzzles? Then you will be interested to know The Talos Principle 2 was announced this evening. Croteam and Devolver Digital revealed the long-awaited sequel to 2014's philosophical puzzler during the PlayStation Showcase. Coming to PC, PlayStation 5, and Xbox Series X later this year, the game greatly expands on the beloved original with more mind-bending puzzles to solve, new puzzle mechanics, a richer storyline, more secrets to uncover, and the "biggest, weirdest world Croteam has ever built."
Set in a distant future where humankind has long been extinct, you will embark on a quest to investigate a mysterious megastructure. You will be confronted with questions about the nature of the cosmos, faith versus reason, the fear of repeating humankind's mistakes, and come across familiar puzzles from the first game. It also features mind transference and gravity manipulation and a character-driven story with multiple endings.
Introduced tonight was Sword of the Sea, a new game from Giant Squid. In development for PS5 and Steam, the game puts you in the shoes of Wraith who has been resurrected in a desolate world and tasked with restoring life to it. You will do this as you explore submerged ruins and the varied cultures within. Surf through sinking tombs, mysterious shipwrecks, and petrified battlefields, and bring giant shoals of fish and creatures back in the process. But beware - this land is also home to massive leviathans that will stand in your way. A release date was not provided.
Teardown hits PS5 and Xbox later this year. Already available for PC, the 2022 sandbox, puzzle, and action game from Tuxedo Labs revolves around the owner of a demolition company caught between helping police investigations and taking on rather unlawful assignments.
The game features levels made of destructible voxels, and you follow the campaign's various missions where you need to collect or destroy objects connected to a security system. You have plenty of upgradable tools, vehicles, and explosives at your disposal which can be used to create a path within the level that allows you to complete the objectives as quickly as possible. A timer starts as soon as the security alarm is triggered, so hurry and finish what you need to do to reach the getaway vehicle in time.
Phantom Blade Zero really caught our eye this during the showcase. Chinese developer S-Game announced during the show its action RPG would come to PC and PlayStation 5, but a date was not announced. The Phantom Blade started life as games for smartphones and never released outside of China, but not the team is working on a full-fledged game, and one it always wanted to make.
Phantom World, the semi-open world where the game is set, is a place where many kinds of powers converge. Here you'll find Chinese Kung-Fu, steampunk-ish machines, arts of the occult, and other elements. In Phantom Blade Zero, you play as Soul, an elite assassin serving an elusive but powerful organization known simply as "The Order." Soul is framed for the murder of The Order's patriarch, gravely injured in the ensuing manhunt, and, though his life is saved by a mystic healer, the makeshift cure will only last for 66 days. Now, he must fight against powerful foes and inhuman monstrosities, all while seeking out the mastermind behind it all before his time runs out.
Thanks for making us cry, Sony. Now we must play Neva so as to avenge the lovely antlered wolf. Seriously, we teared up a bit when we watched the trailer for the latest from Nomada Studio. From the team that brought you, Gris comes a tale of a young woman and her lifelong bond with a magnificent wolf cub as they embark on an adventure through a rapidly dying world. As Alba, you are bound to the curious wolf cub following a traumatic encounter with dark forces. Together you embark on a perilous journey through a once-beautiful world as it slowly decays around you.
Over time, your relationship will evolve as you learn to work together, helping one another to brave dangerous situations. The wolf will eventually grow into an imposing adult seeking to forge its own identity, testing your love and their commitment to one another. But, in the end, you and your companion will do whatever it takes to survive and make a new home, together. Neva is currently listed only as "coming soon" to PC, PlayStation, Switch, and Xbox.
Towers of Aghasba is an open-world builder game where you can build the fantasy island of your dreams by exploring the desolate land of Aghasba. You will do this by growing ecosystems full of strange and peculiar wildlife and build a town and quaint villages while nurturing the growth of both nature and civilization. Towers also provides a social PvE experience to enjoy with friends and families. It's coming to PlayStation and Steam in 2024.
Cat Quest: Pirates of the Purribean is coming to PC, PS5, Switch, and Xbox Series X/S. In it, you play as a swashbuckling privateer in this 2.5D open-world action RPG. Set in a fantastical, pirate-themed world, the archipelago is swarming with Pi-rats searching for a long-lost mythical treasure called the Northern Star. You will search for it alongside your spirit companion and set sail through the Purribean in your very own ship. But beware, the seas are dangerous, and mutiny is nigh as the hordes of Pi-rats under the order of the Pirate King are out to hunt you down in 2024.
Meet the friends and foes of The Plucky Squire's storybook world. In this action-adventure game, hero Jot can leap seamlessly from the 2D pages of a book into a 3D world. You can see this in action in the new trailer, which focuses on the many different ways to play the game: from 3D platforming to top-down dungeon crawling. Set in Mojo, a colorful realm of pure creativity under threat from a wizard named Humpgrump, it is up to you and a merry band of brave adventurers to save the realm. The Plucky Squire is coming to PC, PS5, Xbox Series X/S, and Nintendo Switch later this year.
Ultros was announced this evening, and it is a sci-fi exploration adventure, launching in 2024 on PC, PS4, and PS5. In this psychedelic tale from El Huervo, the visionary behind Hotline Miami, you wake up stranded on The Sarcophagus - a giant, cosmic uterus holding an ancient demonic being known as Ultros. Trapped in the eternal loop, you will explore The Sarcophagus and meet its inhabitants to understand your part in this cycle.
And that's a wrap!