Media Molecule was "worried" Kojima wouldn't like LBP's Metal Gear content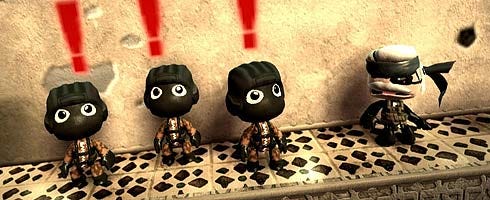 Media Molecule boss Mark Healy was worried the firm's take on Metal Gear Solid for LittleBigPlanet wasn't going to sit well with Kojima Productions, the developer's admitted to VG247.
"We were slightly worried that our first attempts weren't going to go down too well," he said.
"We see Metal Gear Solid as quite serious, a hardcore, intense thing. Obviously, what we did was quite cute, almost satirical. But they loved it. They've got a great sense of humour and they really embraced it."
Phew. Fellow MM mega-chief Kareem Ettouney added that the collaboration in general was glitch-free.
"It was really great," he said. "We met Mr Kojima in America, and he was telling us how excited he was, how much he liked the results.
"We got a lot of support from the Metal Gear Solid team - beautiful assets. Everyone was really excited. It was a very smooth example of collaboration which celebrated the two brands and retained the identity of the two."
Kareem and Mark were speaking to us at Develop in Brighton earlier this year. You can watch the full interview here.