Marvel's Avengers Has Yet to Make Back Its Development Costs
Square Enix is saying it will continue pushing toward making the game profitable, however.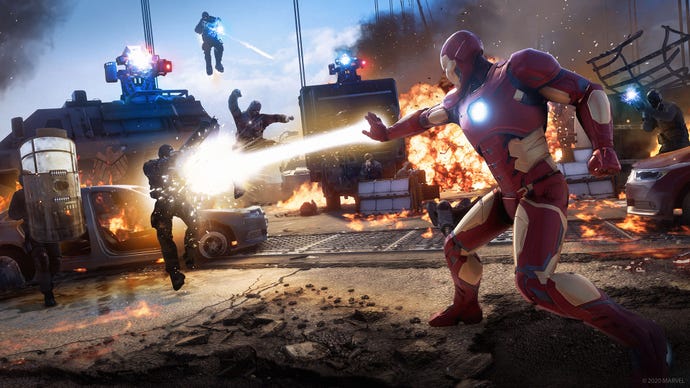 This article first appeared on USgamer, a partner publication of VG247. Some content, such as this article, has been migrated to VG247 for posterity after USgamer's closure - but it has not been edited or further vetted by the VG247 team.
It's been a tough year for Marvel's Avengers. Sales for Square Enix's co-op hero brawler haven't been as high as the publisher would hope, and the company is saying it has yet to recoup development costs for the game.
In a translated Q&A from Square Enix's quarterly meetings, President Yosuke Matsuda addressed the operating loss of around 7 billion yen in the second quarter. Matsuda says that, if not for factors associated with Marvel's Avengers, the quarter would have been in the black.
"In addition to the amortization of the game's development costs, another significant factor associated with [Marvel's Avengers] was the fact that we undertook a major advertising campaign at the time of its launch to make up for delays in our marketing efforts resulting from the COVID-19 pandemic," Matsuda says. "There is a certain amount of development costs still to be amortized in 3Q, but we want to recoup it by growing our sales going forward."
To that end, Matsuda says the company's intention is "first and foremost" to expand sales of Marvel's Avengers, in order to improve its profitability. Analysts have proposed that the sales volume of the game suggest Marvel's Avengers could have cost over $100 million to make, yet sold fewer copies than expected.
Marvel's Avengers has had a tough go of it, stretching back to its debut where its character designs received a fair deal of criticism. When Avengers launched, it felt like it came and went; as our reviewer noted at the time, both sides of the live-service and story-driven game fought with each other, ultimately bringing the whole thing down with it.
Going into the new year, Marvel's Avengers is planning a new Avenger launch on Dec. 8, and next-gen versions of Avengers have been pushed into 2021. There's no shortage of games that have rallied from rough launches this last generation, from Destiny to No Man's Sky. Matsuda's comments seem to imply Square Enix isn't dropping the Avengers just yet, so hopefully the year ahead holds some better tidings for Crystal Dynamics' game.