Kit Upgrade DLC coming to Battlefield: Bad Company 2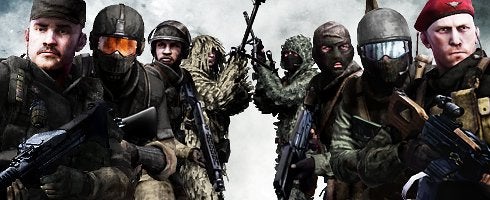 On April 21, Xbox 360 users will be able to change how their soldiers look in Battlefield: Bad Company 2 with the Kit Upgrade DLC.
Four will be made available, one for each class, with specific uniforms and camouflaged weapons like the SPECACT personal M16A2, UMP-45, MG3 and M95 SNIPER.
The pack also includes 12 new awards and 4 Achievements.
Players in North America obtaining the kit upgrades through the Dr. Pepper promotion, will not currently be able to obtain the new achievements, but DICE said that it's working on an update to fix this. Any Achievements made through the DLC will be counted when the fix goes into place.
In Europe and the UK you can get hold of the kit upgrades through XBL for 160 MSP per kit upgrade or
440 MSP for the full thing.
The upgrades will hit PC and PS3 PS3 and PC later, with DICE saying that an exact release date will be revealed on the game's official blog, soon.