Interview: Bungie's Lars Bakken on Halo: Reach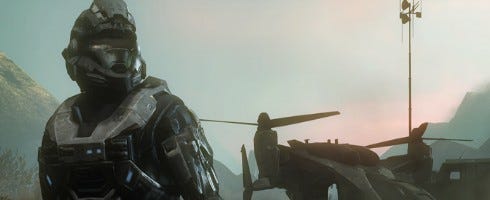 Halo: Reach was one of Microsoft's big titles on show at its press conference on Monday night, confirming that Firefight, which first debuted in Halo 3: ODST last September, would return for Reach.
Not to mention, for the first time ever in Halo, full space combat.
It looked awesome. So we wanted to know more, we needed to know more.
Up steps lead designer at Bungie Lars Bakken.
You can catch what he said about the latest reveals and thensome, how the studio feels to be handing the Halo IP off to 343 Industries and how excited he is for the new IP that the studio is working on with Activision (spoiler: "very").
Hit the break.
[Interview by Patrick Garratt]
VG247: Firefight, then. Your big reveal for the show.
Bakken: So the two things we're really talking about are the campaign reveal and we're showing some new things like space combat, which is pretty awesome. And then, Firefight is our other big reveal, it's coming to Reach. It's got full matchmaking support, full customizability and it's really taking Firefight to the next level for Reach.
VG247: Talking about the space combat. How's the reaction been? Have there been any worries that it might dilute the general Halo experience?
Bakken: You know, it's funny, because I think a lot of people were really excited and some people just didn't know what to think. But ultimately, we think of space combat as just one of many new ways you're going to experience Halo in Reach. It's a small piece of the game, its one part of one level.
You could think of it as... if you remember the tank level in Halo: Combat Evolved where you were on the ground, you found the tank, you kind of kicked the crap out of things for a while in the tank and then you get back out of it. You should think of space combat kind of like that, it's a chunk of the game, but it's still totally integrated into the sandbox.
VG247: Will there be space combat in multiplayer?
Bakken: No, no multiplayer in space combat. However, since Reach still has four player co-op through the campaign, you'll be able to play four players. Each person will have their own sabre, and you'll be dog fighting in outer space against the AI.
VG247: I've just played through Halo 3 for the first time, and it's amazing how sympathetic you've clearly been to the core gameplay. How loyal to history do you have to be when you're moving forward with an IP like this?
Bakken: It's tough because the strange thing about working on a really popular game or a sequel to a really popular game is that you really need to find that balance between changing too much and changing too little. If you change too little and the fans get angry and everyone says "oh they're not doing enough, they're being lazy". And if you change too much and you break it and then everyone gets angry and they don't want to play the game anymore.
So we're constantly fighting that struggle of what's too much and what's too little and ultimately, we tend to trust our guts and go with what we think is fun and what still works and what still brings that Halo feel back when you're playing it.
VG247: How long is the campaign itself?
Bakken: You know what; we're not talking about the length of it right now. I honestly don't know because I personally have not played through the whole campaign yet because I've been so busy on my own stuff with just Firefight and all the other systems. But yeah, I don't have a time for you because I don't actually even know.
VG247: The customisation options in the new version of Firefight are insane. Who are you trying to please? The core or yourselves?
Bakken: I think we're trying to please ourselves. You know, we hope the 'core is happy about it too, but when we sit down and we say "okay, what do we want to allow? What kind of customizability do I want as a player?" And that's where we start from because we say "okay, this is awesome, but what more can we do?", so that's when it became more and more. And we had crazy ideas like custom skulls and maps like. It's just ridiculous.
VG247: Obviously, this is Bungie's last Halo game. Are you trying to make the ultimate Halo product?
Bakken: Sure. I think in a lot of ways, Reach is ten years of Bungie experience fused into one game. We've got people who have been working on Halo now for over ten years because they were working on it for years before the first one was relapsed.
And now... yeah, it's absolutely us saying "this is our final Halo game, what can we do to make it the most amazing, awesome experience that we possibly can?"And that's why you see things like Firefight coming back better than ever, the campaign with all these crazy new things like space combat.
And then if you played the multiplayer beta, you saw what we were doing with multiplayer matchmaking. So yeah, it's really about us trying to make the best game we possibly can.
VG247: Did the Noble Team plot arise from a need to do four-way co-op?
Bakken: No. We wanted to tell the story of this group of Spartans and what happened to them on Reach as it was falling apart, as the Covenant were invading. And that's where it really came from. Because when you pay Reach co-operatively, you're actually playing from Noble Six's perspective, which is you. Like we showed in the beta, you have all this customisability of your individual Spartan.
You can choose whatever you're male or female and then from that point on, we give you an insane amount of things to buy and choose from [inaudible]. But no, I mean the story kind of came first, but we always knew we wanted to do four-player co-op because it's fun and it's Halo. So yeah, any way we can work these things together works best for us.
VG247: Is four-way co-op hard to implement? I know Epic tried it with Gears 2 and basically had to quit because it broke the story.
Bakken: Well at a certain point, you kind of say "yes, it doesn't make sense" for every four Noble Sixes or four Master Chiefs in this particular scenario. But then you kind of take a step back and you say "you know what, it's a game, it's designed to be a fun experience, its fun to sit on the couch or over Xbox Live with my friends. So let's be okay with breaking that part of the story and just letting people do it."
VG247: A lot of people claimed Reach was "the same" as Halo 3 during the beta, technically speaking. It's obviously come a very long way since then, though. Is there much more to go, do you think?
Bakken: Sure, that's a good question. I think at this point in the lifecycle, you're getting to [inaudible]. I think there's still more you can push it; but how much more I don't know. And I think it comes down to almost artistic style more than anything else.
So you see games doing different things like Borderlands, they kind of have a different look. And Call of Duty has a certain look, Uncharted has a certain look and Halo has a certain look. I think it's going to be more about artistic design and how you want the world to look more then out rapid and how the fidelity is rapidly, but I'm sure we can still push it further.
VG247: Are you worried about another team taking on the Halo IP?
Bakken: I don't know if we're worried about it. I think it's kind of bittersweet that we're having to say it's awesome that we're able to send it off with a game like Reach that we're really proud of. But it's going to be tough too; it'll be tough to say Goodbye.
VG247: Do you think there will be a few tears?
Bakken: I think there will be a few tears, probably. There'll be a few napkins wiped at the side of the cheek, but yeah, it's going to be interesting. We got total faith in the Microsoft crew, they're awesome.
Frankie [O'Connor, 343 Industries head]'s awesome. They're going to do great things and if they decide to carry on with Halo, which I'm assuming they will because it's an amazing franchise, they're going to do good things with it. They know that it's important not to ruin it as much as everybody else. [Inaudible]
VG247: Obviously, you've now announced your Activision deal. How excited are you about it?
Bakken: I'm very excited. I can't talk about it at all, but it's going to be amazing. I'm so excited to work on this, but right now, we're completely focused on Reach and getting it out the door. But I'm going to take some time off, have a little vacation and then I'm going to come back all refreshed and then we'll start working on the next thing.
VG247: Are you excited about working on PS3?
Bakken: Umm... PS3. What's that? I don't even know about it. I think we talked about other platforms, but we're not talking about that right now, we're just talking about Reach.
Halo: Reach releases on September 14 for Xbox 360. Hit this to watch the recent trailer introducing Firefight for Reach.