Bungie has owed this person a steak dinner for nine years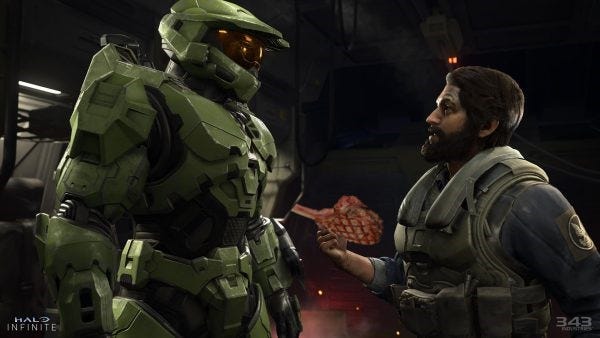 A Halo Reach player once won a competition that would supposedly entitle them to a steak dinner on Bungie's dime - nine years later, they're still waiting.

After almost a decade of waiting to state whether they preferred their steak medium rare or well done, said player decided it was finally time to raise the problem in the Halo community. They took to Reddit in order to share their grievances, publishing a post titled, "I know this is probably not the right subreddit for this, but I was supposed to get a steak from Bungie back in 2011 and it never came..."
"Back in the days of Halo Reach there was a Bungie day event where if you could beat the Bungie team you'd receive a bungie.net medal and 'supposedly' a steak in the mail," they wrote. "I remember winning against a Bungie team and checking online to see if I got the medal. Which I can confirm to this day I still have (Due to it being archived in Halo Waypoint)."
"It's been nearly 10 years and I was wondering if someone could please help me get my steak?"
Naturally, the community has rallied to their support. Although people were understandably skeptical at first, the Reddit user - who goes by the handle Bluepenguin053 - has kept receipts. The event page, called Bungie vs. The World Steaktacular, is actually still online, and we covered the event ourselves back in 2011.
Dubbed as the "Rumble with the Bungle," it genuinely features the following sentences:
"If you end up squaring off with any of our battle-hardened quartets and you can take them down by a margin of victory of 20 kills or more, we'll mail you a real steak. Hell, make it two steaks."
Bluepenguin also shared a photo of their steak medal on Imgur, which you can view below.
One Reddit user mentioned that they remember seeing people posting pictures of their steaks, but apparently they weren't very nice. Still, Bluepenguin has been waiting for nine long and arduous years. It's time to make a stand.
Commenters have tagged in the mods for the Halo subreddit to see if they can swing anything with Bungie. Given that 343 Industries owns the rights to Halo now, maybe Bungie no longer even has the ability to provide a steak cooked by John Halo. However, Bluepenguin would probably be happy enough with a nice Guardian-cooked steak. We'll update this post as the story develops.