GTA 5: everything new to the PC version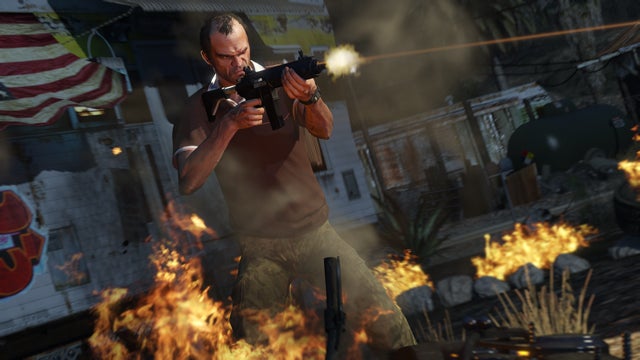 Less than a week until Rockstar's crime epic releases again, what's new in Los Santos for PC owners?

Grand Theft Auto 5 for PC releases April 14 and if you're buying you can start preloading now from Steam and Rockstar Warehouse.
While the PC version includes all the good shit from the console versions - the epic single-player storyline and the open-world chaos of GTA Online, including all DLC and Heists - it also holds a few more extra treats for those who have waited 18 months since the game was originally released.
Let's take a look at the features and specifications unique to GTA 5 on PC.
The specs
First up, let's see whether your rig can handle GTA 5.
Minimum specifications:
OS: Windows 8.1 64 Bit, Windows 8 64 Bit, Windows 7 64 Bit Service Pack 1, Windows Vista 64 Bit Service Pack 2 (NVIDIA video card recommended if running Vista OS)
Processor: Intel Core 2 Quad CPU Q6600 @ 2.40GHz (4 CPUs) / AMD Phenom 9850 Quad-Core Processor (4 CPUs) @ 2.5GHz
Memory: 4GB
Video Card: NVIDIA 9800 GT 1GB / AMD HD 4870 1GB (DX 10, 10.1, 11)
Sound Card: 100% DirectX 10 compatible
HDD Space: 65GB
DVD Drive
Recommended specifications:
OS: Windows 8.1 64 Bit, Windows 8 64 Bit, Windows 7 64 Bit Service Pack 1
Processor: Intel Core i5 3470 @ 3.2GHZ (4 CPUs) / AMD X8 FX-8350 @ 4GHZ (8 CPUs)
Memory: 8GB
Video Card: NVIDIA GTX 660 2GB / AMD HD7870 2GB
Sound Card: 100% DirectX 10 compatible
HDD Space: 65GB
DVD Drive
GTA 5 offers a variety of graphics options on PC, making it really very scalable. If you have a magnificent high-end gaming PC, you can really turn it up to 11. For the full rundown, there's a great set of screens over on PC Gamer displaying all the options, or get the summary right here.
Resolution and framerate
GTA 5 for PC runs at 1080p and 60 frames per second. Want to see that in action? Check out the video below:
The game also runs up to 4K resolution and triple monitor configurations - here's the hardware you'll need to hit 4K, if that's your bag. And there's support for NVIDIA's 3D Vision, again available on triple monitor setups. There's no doubt that this is going to be the best-looking version of Grand Theft Auto 5 to date. If in doubt, point your peepers at these glorious screenshots.
Editing tools
New to GTA 5 on PC is the Rockstar Editor, a suite of tools that will allow players to create, stage and edit their own movies to upload to YouTube and other social sharing sites. Given the vibrancy of the community and passion for photography, documentary and movie creation we're expecting big things to emerge once the game releases.
Users will be able to manipulate characters from the game and even use dialogue from GTA 5 in the director mode, as well as tinker with film speed, filters and more.
New soundtrack
There's not a lot of exclusive content for PC players (although this is the full game with all DLC updates added, as well as the recent and substantial Heists update) but there is an added radio station.
Produced, curated and hosted by Alchemist and Oh No, The Lab features another 14 tracks but this time they're all original songs, created specifically for the game. Check out Killer Mike and MNDR's Lock N Load below.
The other new addition is that players will be able to create their own custom soundtracks with music from their hard drive, although it's not quite the Spotify integration that some were hoping for.
Importing your character
Anyone who already has a GTA Online character can port it over to the PC version of the game in much the same way that it was possible to upgrade from last gen to Xbox One and PS4 consoles. It's important to note that you can only do this once, and there's no going back. If you're moving to PC, it's going to be your platform of choice going forward.
Want to read more about Grand Theft Auto 5? Here's everything added to the game since it was released in 2013 - all of which will be included in the PC release on April 14. You can read up on all the Heists here.