Fortnite: Season 2 - How to unlock the Deadpool skin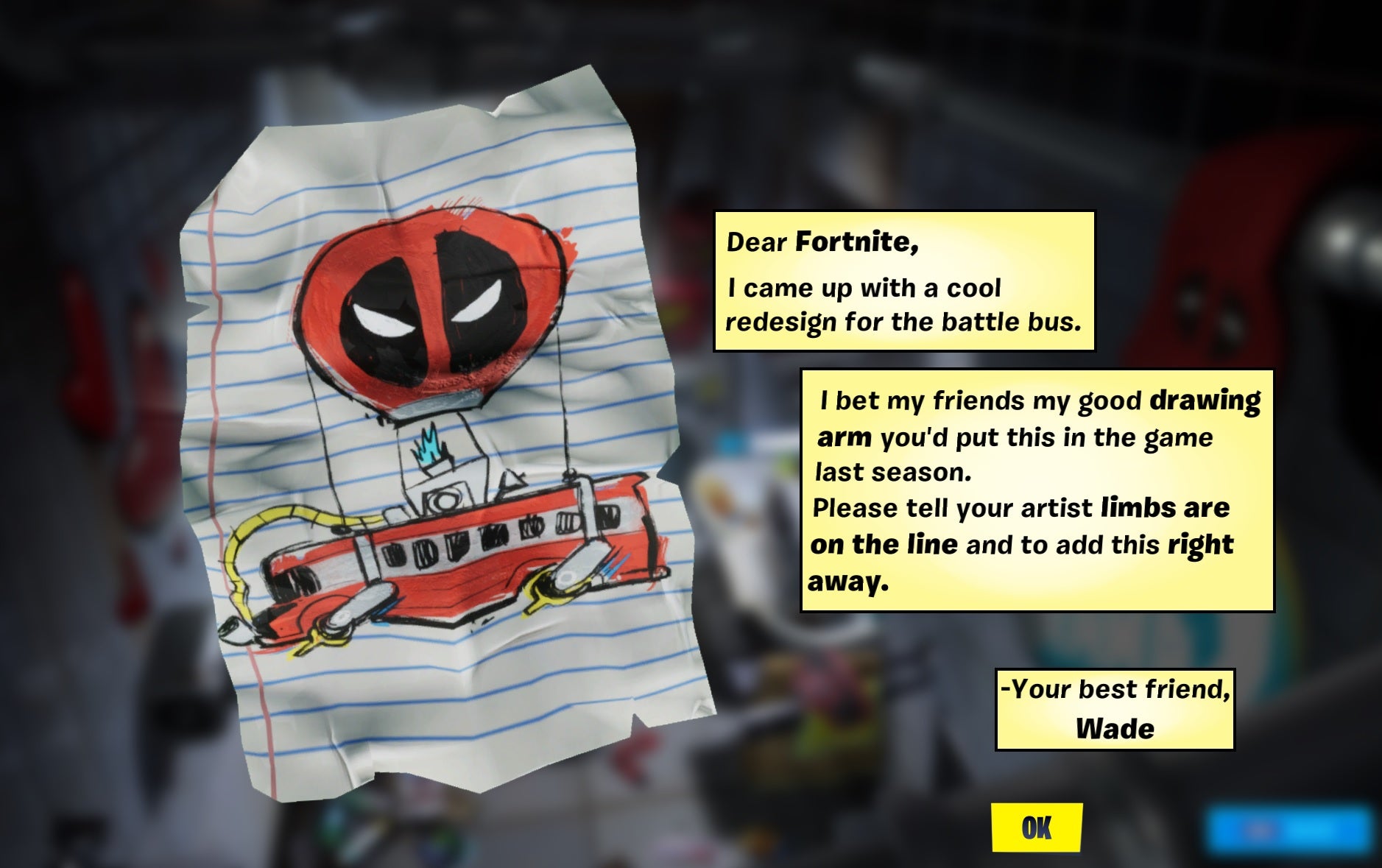 Fortnite: Chapter 2 Season 2 is now underway and there's a new Deadpool skin to earn over the next few weeks.
If you've purchased the new Fortnite Season 2 Battle Pass, you'll be able to access the new quest to unlock the Deadpool skin. Deadpool made a surprise appearance in the Season 2 Battle Pass trailer, and there are several clues you'll need to discover in order to find him.
Deadpool has finally started to appear in matches, so keep your eye out for him. If you've completed all the challenges, you should be able to access the Deadpool cosmetics collection, too. Once all the challenges are completed, enter a match and hide inside a Phone Booth or Port-a-potty to transform yourself into Deadpool. Remember: these challenges must be completed in order if you want to unlock the skin.
If you missed the Season 2 reveal, you can check out the trailer here, as well as all the new changes to the Fortnite map.
Fortnite: How to unlock the Deadpool skin
The first part of this quest involves purchasing the Battle Pass, which costs 950 V-Bucks. Once you've done that, head to the Battle Pass screen and look for the little Deadpool mask icon to the right of the Challenge Table. You'll see a little gold fan just below the icon. Click on it to enter a secret room where you'll be able to find a computer and a letter from Deadpool.
The letter is to the left on the floor. You can interact with either object first and reading the letter will complete the first challenge.
The next challenge says don't thank the bus driver, so at the start of your next match, feel free to do nothing and leap out of the bus. You might feel like a bit of an arse doing this, but it'll net you a Deadpool banner.
Where to find Deadpool's milk carton and chimichangas
Deadpool gives zero fucks about having a clean living space, so it's up to you to find his discarded milk carton and chimichangas around HQ. Fortunately, they are quite easy to spot and you'll get a reward for your troubles.
The milk carton can be found in Deadpool's hideout, on the toilet. Click on it to collect it and head back out to find his chimichangas.
The chimichangas can be found:
At Tntina's feet
On Brutus' desk, in the area to the left of the Challenge Table
In Maya's locker
Do all this and you'll get the Ride the Corn spray for your troubles.
Where to find Deadpool's toilet plunger
This week's challenge is peak toilet humour: find Deadpool's plunger and destroy lavvies around the Fortnite map. The plunger can be found on the wall in TNTina's briefing room.
After that, you'll need to destroy three toilets around the map. You can find toilets in houses and buildings all over, so just watch your back for opponents.
Where to find Deadpool's katana
For this challenge, you need to find Deadpool's missing katana and destroy your opponent's structures.
The katana can be found in his hideout room sticking out of the wall.
For the second part, you'll need to deal 10,000 damage to whatever structures you opponents build but this can be done over several matches.
Where to find Deadpool's stuffed unicorn
This week, you'll need to head into Agent Meowscles briefing room to find the unicorn. After that, you need to visit red, yellow, green, blue and purple steel bridges around the Fortnite map. You can find the bridges:
North of Salty Springs
South of Weeping Woods
East of Misty Meadows
Southwest of Frenzy Farm
East of Plesant Park
Where to find Deadpool's big black marker and deface posters
You'll find the marker in Brutus' agent room on the desk. After that, you'll need to deface Ghost and Shadow posters by interacting with any you find around the map, such as near HQ, Weeping Woods and the like.
Where to find Deadpool's pistols
There are two pistols to find, which can be located underneath the challenge table. After that, hop in a match and transform yourself into Deadpool by inside a Phone Booth or Port-a-potty.
You can check our Henchman challenge guide here, which tells you where to find Henchmen, bosses and how to open ID Scanner doors and chests. You can also check out our guides on where to find Lockie's Lighthouse, Apres Ski and Mount Kay, where to find secret passages, Shadow safe houses and how to visit Coral Cove, Stack Shack and Crash Site without swimming in a single match.