Fortnite: Season 6 | New skins, map changes, and more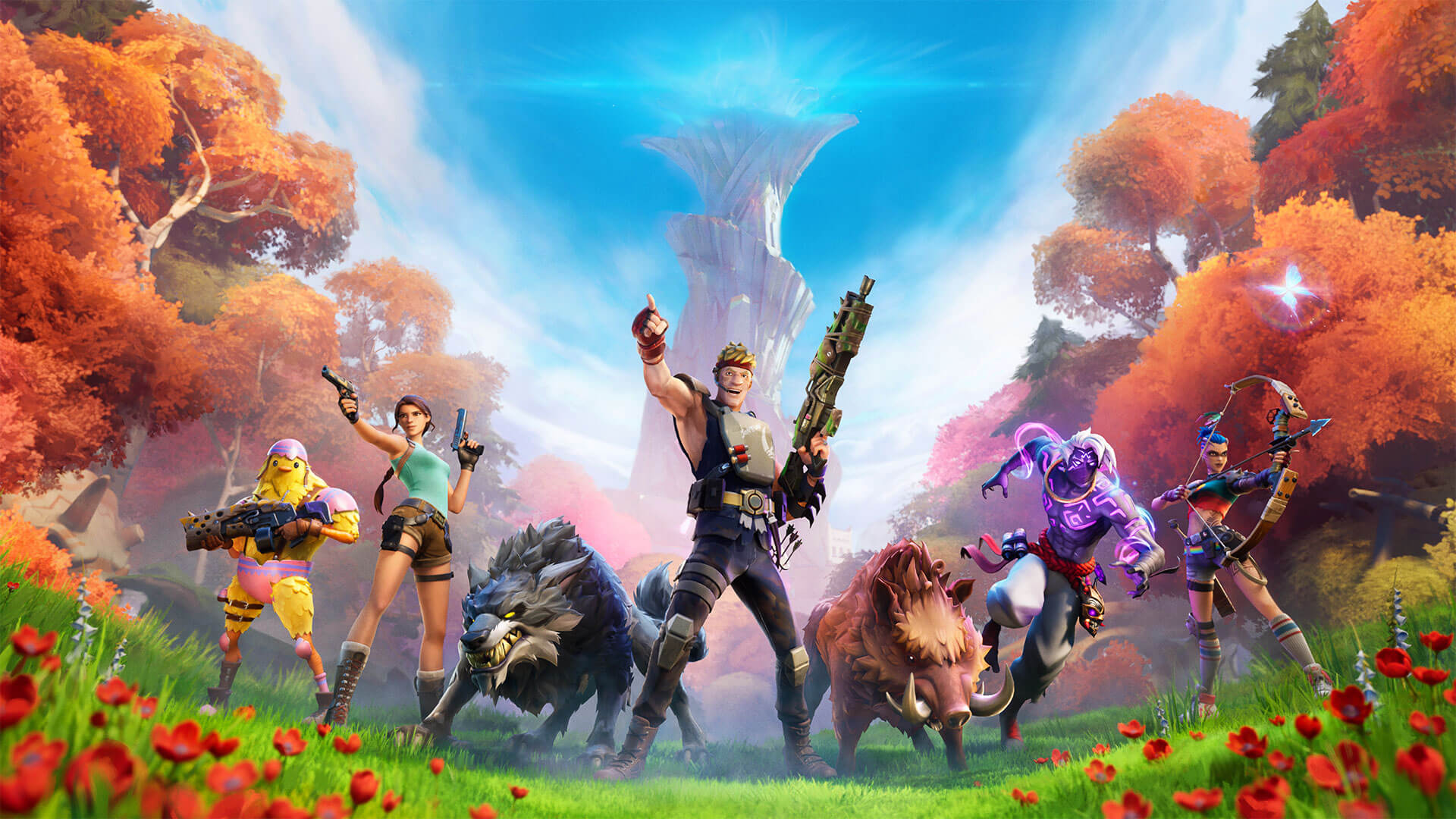 Fortnite: Chapter 2 Season 6 begins today, with a new set of collaborative skins based on Tomb Raider's Lara Croft garnering the most attention.
There's still more to see, however, as the season also introduces weapon crafting, the game's first single-player story segment, and a whole host of other new skins which are worth looking out for (even if they're maybe not Tomb Raider levels of cool).
The season's theme is wilderness, with the subtitle Primal giving you some hints as to what changes to expect on the map.
New skins in Fortnite: Chapter 2 Season 6
The new season battle pass includes a number of unlockable skins. The headline is undoubtedly the Tomb Raider crossover celebrating the franchise's 25th anniversary, but there are a couple of other licensed skins as well. DC's Teen Titans character Raven and footballer Neymar also feature in the new season.
This is the second most licensed characters ever to feature in a Fortnite season, only bested by Season 4's huge Marvel crossover.
There are also a number of skins for returning and original Fortnite characters. Agent Jones gets a couple of new looks, and there's a new Tier 100 skin to unlock.
How to unlock the new skins
You'll need to own the Battle Pass to access the new skins. They won't be coming to the Item Shop, and furthermore won't be available to unlock again after the season ends.
Most of the new skins can be unlocked through tier progression:
Tier 1: Agent Jones
Tier 15: Lara Croft (Tomb Raider crossover character)
Tier 29: Tarana
Tier 50: Raz
Tier 68: Cluck
Tier 77: Raven (DC's Teen Titans crossover character)
Tier 100: Spire Assassin
Further progression through the tiers will unlock alternate outfits for several characters. Currently, we can confirm that reaching Tier 22 unlocks the Lara Croft (25th anniversary) outfit, styled after the character's PS2-era appearance.
The season also includes at least three challenge skins and outfits. Expect more alternate outfits to become available through challenges over the course of the season.
Completing 31 Epic Quests (and reaching the Tier 15 requirement or above) will net you the Lara Croft (Classic) skin. Those of us ancient enough to recall how the character looked in the 1990s will get a powerful hit of nostalgia off this one, even if the edges are considerably smoother than you might remember.
Footballer Neymar Jr joins the game as the season's secret skin. You'll need to complete weekly challenges to unlock this one. More details when we have them.
Finally, we know that there's a fourth Tomb Raider outfit variant called Lara Croft (Gold Anniversary). In a double reference to a fate that can befall Lara in the original 1996 game and its 2007 remake, as well as to Fortnite's own Midas skins, this recolour of the 25th Anniversary outfit is entirely gold. We don't have any information yet how you go about unlocking this one, but we'll be sure to let you know once we do.
What do the new skins look like?
It's still early enough in the season that we haven't seen all the skins yet — in fact, some of these won't be legitimately viewable in-game for some weeks. Details on the Neymar Jr skin in particular seem to be quite tightly guarded by Epic.
But thanks to the intrepid community of Fortnite data miners, we've already got some pretty good previews to enjoy.
First up, the one everyone's hyped for: the full Tomb Raider set — featuring Lara Croft as she appears in all three franchise continuities, plus that elusive Golden Lara:
All 4 styles for Lara croft skin
# fortnite#FortniteSeason6 #FortniteSeason6 #season6 pic.twitter.com/ULftqiP1HE

— Predator_wm (@predator_wm) March 16, 2021
Meanwhile, here's the version of Agent Jones you'll have as soon as you start the new season at Tier 1:
— FortTory - Fortnite Leaks & News (@FortTory) March 16, 2021
Plus all variant Agent Jones outfits you'll be able to unlock in the future:
— FortTory - Fortnite Leaks & News (@FortTory) March 16, 2021
New characters, from left to right: Tarana; Raven (Rachel Roth variant); Raz (alternate style); and the Spire Assassin:
More new skins! pic.twitter.com/xOJJUG9oJw

— HYPEX (@HYPEX) March 16, 2021
And, just because the internet seems to be becoming a little bit obsessed, here's a couple of Cluck. First up, in their default outfit with Lara Croft (Cluck's the one on the right):
— FortTory - Fortnite Leaks & News (@FortTory) March 16, 2021
And in two outfit variants:
The Chicken skin has edit styles! pic.twitter.com/kYhgrwhe44

— HYPEX (@HYPEX) March 16, 2021
Below you can see all the current (non-secret) skins as they appear on the main screen: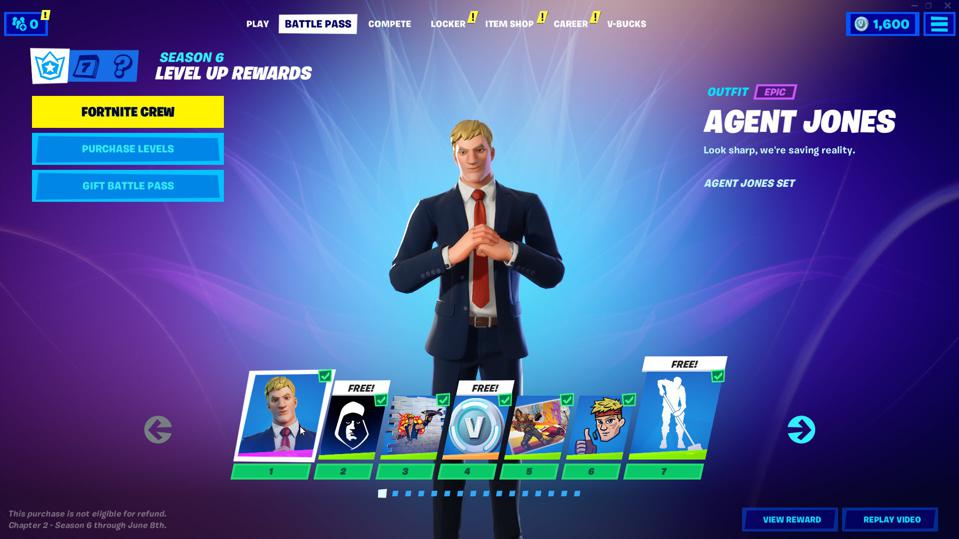 Zero Crisis Finale: Fortnite's first single-player story section
In a first for Fortnite, this season features a short single-player experience to set up the story. You'll play through this section — called Zero Crisis Finale — the first time you log on to the season.
You can watch the short cinematic introduction to the mission now:
New mechanics in Fortnite: Chapter 2 Season 6
Keeping with the season's Primal theme, there are a few brand-new mechanics to play with this time around.
After the events of Zero Crisis Finale, a number of changes have come to the island. It's all gone a bit survival game as wild animals now roam the area, and you can hunt them with makeshift weapons. You can also use the resources you gather from animals to craft new weapons and items.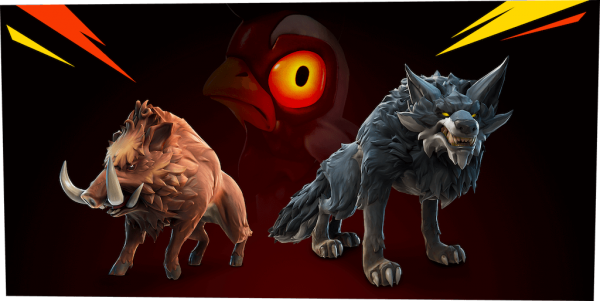 The season's roster of new weapons is suitably heavy on bows and arrows, though you'll also be able to cobble together guns and other gear.
It seems you'll also have the option to try taming some of the wild animals you encounter. We don't have many details on that feature just yet, but leaked trailer footage does contain a tantalising hint that you'll be able to glide with the aid of a chicken (somehow).
What's new on the map in Fortnite: Chapter 2 Season 6
Dominating the map this season is The Spire, a new point-of-interest that appears as a direct result of events in the prologue.
The Spire is a key location for the first set of weekly challenges, and it seems set to be a hotspot for Golden Artifacts and other drops throughout the season.
A few of last season's locations have been replaced, with on-theme POIs turning up in roughly the same spots on the map. Salty Towers is now the Boney Burbs, the Colossal Coliseum is now the site of the Colossal Crops, and Hunter's Haven has given way to Primal Pond.
Looking at the map, many of the areas that see major changes this season are identifiable by the orange colour that denotes the 'Primal' zone.
There are also five smaller spires at the outskirts of the map. These are Guardian outposts, where you can currently eliminate a Guardian in exchange for some loot.
When does Fortnite: Chapter 2 Season 6 end?
Information on the official Epic Games website indicates that the season will run until June 7th or 8th.