Destiny 2: Bad Juju Exotic Quest guide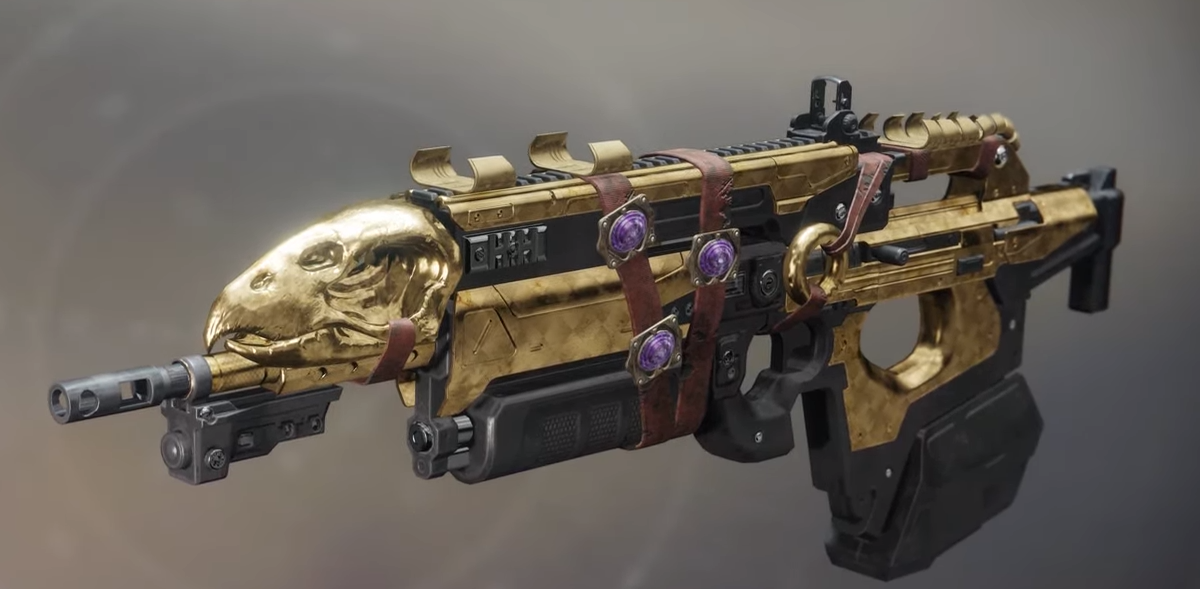 The Bad Juju Exotic Pulse Rifle is now available in Destiny 2, so here's how to get your hands on it.
Bad Juju is a Destiny Exotic that fans have been calling for since Destiny 2 first launched. As with most Exotics, there's a lot of grinding involved, though you could be closer to getting it than you think depending on what Triumphs and Trophies you have already unlocked.
Destiny 2: Bad Juju Exotic Quest
To begin, you'll need to unlock the Tribute Hall, so check out our guide here. You'll need to hand over 18 Tributes to get Bad Juju from Emperor Calus. Give him 45 Tributes and you'll get its Catalyst.
The more Champion Bounties you complete, the bigger the discount for Trophies you'll receive, meaning you'll lose fewer resources. It would be a good idea to bash out a few days worth of Bounties over the next week to get a better discount, and you've got until August 27 to claim all your rewards.
If you've been completing lots of activities and hunting Triumphs over the last year, you might be further along in progress than you think. Go to your Tribute Hall Triumphs page and claim your Tributes to place them around the hall.
Once you've placed all 18, you'll have a new Triumph to unlock and Tribute to place. Then head to the glowing green chest in the centre of the Tribute Hall and you'll see a prompt that says Reality Shudders. Interact with the chest and an Ascendant Portal will appear, so jump in to begin the Other Side quest.
This quest has a Power rating of 350 Power, so you can easily tackle it yourself if you want. There's no time limit or fail state, so just power through until you reach the Cabal boss and Thralls.
After the boss has been dealt with, a new portal will appear. Jump through and pick Bad Juju up from the chest. Its intrinsic perk is String of Curses, where kills refill the magazine, increase damage for a short duration and refill your Super bar.
There's also a Catalyst that increases the duration of the String of Curses, but you'll need to place 45 Tributes and pay seven Legendary Shards to get it. To unlock the Catalyst, you'll need to defeat enemies using Bad Juju and fill the progress bar to 100%. This will make it a Masterwork item with an additional perk. It'll also generate Orbs of Light on Multikills and track how many enemies you've killed with it.
You can also buy Bad Juju Ornaments from the Eververse store to make it fancier.
Destiny 2: Shadowkeep releases on September 17, beginning with Season of the Undying. The new expansion is going to feature a little bit of psychological horror, making it a much darker experience than in previous years.
Want more? Then check out our Destiny 2: Forsaken guide for more on the Season of Opulence and how to succeed in the Menagerie , how to farm Imperials, and how to get the new Pinnacle weapons and the Truth Exotic Rocket Launcher and Lumina Exotic Hand Cannon.