Destiny 2: Season of Opulence - start time, The Menagerie, Pinnacle weapons and more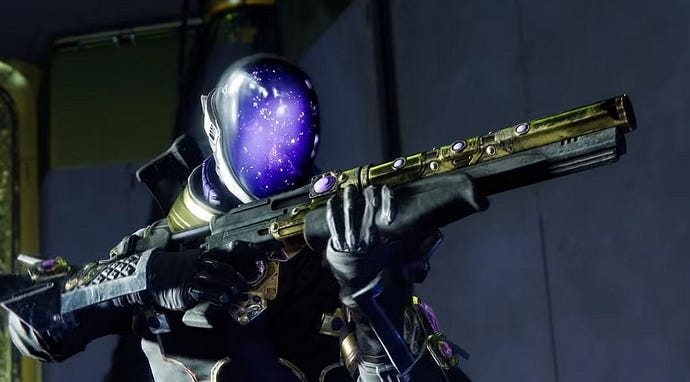 The Season of Opulence begins later today in Destiny 2, bringing with it a new in-game event, a raid and even more Pinnacle weapons.
The latest trailer for Destiny 2's Season 7 shows off some new weapons and armour that will be yours after completing the likes of the new Crown of Sorrow raid and the latest 6-player activity, The Menagerie.
Of course, there's a tonne of new loot to earn and a new in-game event, Solstice of Heroes, which kicks off in a few weeks.
Annual Pass owners will be able to tackle the raid straight away, but players above 700-720 Power won't have any additional advantage in a bid to make the competitive raid a little fairer in a new mode called Contest. This mode will be active for the first 24 hours of the raid before switching back to regular raid rules, where you'll be able to leverage your Power to overcome the raid's challenges.
New quests are also coming, including the Truth and Lumina Exotic Quests. Each week, Guardians will be able to accept new quests and hunt for treasure, with powerful rewards which will eventually see you hit the new 750 Power limit.
Sharp-eyed Guardians might have noticed that Benedict 99-40 is currently overheating a little and is bearing a message saying "Treasures from the emperor". Maintenance has now started and most players will be booted from Destiny 2 shortly.
With all that at mind, let's take a closer look at what's coming.
Destiny 2: Season of Opulence - start time
Destiny 2: Season of Opulence begins at 6pm BST/ 1pm ET/ 10 am PT, and the raid goes live at 7 pm ET/ 4 pm PT, which means that UK players will need to wait until midnight tonight to join the raid. The Contest mode will be open for 24 hours from this point.
There's also a new Power Surge bounty that will boost you to 690 Power that you'll need to complete before you access the raid or The Menagerie.
Destiny 2: Season of Opulence - The Menagerie
Last Season, we saw the addition of Gambit Prime and The Reckoning added to the PvPvE playlist, which added a new challenge for players who had excelled in both the Crucible and Gambit. This Season, we're getting a new 6-player activity called The Menagerie.
Gold-loving Emperor Calus has created a maze of challenges in one of his lost vaults where you'll need to assemble and upgrade your Chalice of Opulence, confront new challenges and Leviathan secrets and you even get to pick your own rewards.
As you collect runes and upgrade your Chalice, you'll be able to unlock better gear and weapons and hopefully avoid any repeat offenders like a new, but ultimately still unwanted Edge Transit.
Here's how it works.
Each player will choose a Chalice at the start of the Season through the introductory questline. You can then share this between your Guardians provided they are on the same account.
Much like The Reckoning, new activities and ways to upgrade your Chalice will be introduced over the first few weeks of the new Season, with new bosses coming on June 11 and 18 and a Heroic mode on June 25.
What you will do is earn runes to slot in your Chalice through the following activities, per Bungie:
Completing weekly bounties
Opening up the weekly chests on the new Nessus Barge
Using a consumable that will reward you a rune after a strike, Crucible, or Gambit completion

The same consumable will also give other players in your fireteam a chance to earn an additional rune

Slot the runes into your Chalice before you enter the Menagerie
Play the Menagerie to earn your rewards
Completing the Menagerie will award you the gear you chose with your rune selections

Each rune affects what you receive and some of its properties, depending on how you slot them
Your Chalice can also be upgraded. New Triumphs and bounties will reward a new currency called Imperials, which will then be used to upgrade your Chalice to acquire a variety of perks with a various range of effects. You can earn more powerful rewards per week allowing you to choose a specific weapon and Masterwork stat you acquire through the Menagerie.
Imperials can be earned in the following ways:
Completing weekly bounties
Completing certain Triumphs
Using special consumables that allows for Imperial acquisition
Chalice upgrades that allow you to earn Imperials through playlist activities
You can also choose which upgrades you wish to unlock first:
Unlock additional rune slots to allow more control of an item's specialization
Upgrade it so you earn more runes, or more rune variety
Upgrade to allow for additional powerful rewards from the Menagerie
To further explain things, Bungie used the lovely Beloved Sniper Rifle as an example.
Say you want to earn a random roll of the Beloved with Handling as the Masterwork trait. You would use the Rune of Jubilation, any red rune, and any purple rune. This rune configuration is your free use. Bungie said you will "still have to grind to get that perfect roll," but at least you will have the option to target the item you want to optimize and Masterwork.
Destiny 2: Season of Opulence - new quests
There are at least two new Exotic weapons coming to Destiny 2 this Season: the Truth Exotic rocket launcher from Destiny, and Lumina, which fans have quickly compared to Rose, a sister gun of Thorn. There are also rumours of the Destiny 2 Reddit that the Hawkmoon Hand Cannon from Destiny might be making a return, as there's a gun in the trailer that looks quite like it.
Alongside new weekly bounties, there will also be the Tribute Hall and Moments of Triumph to explore and complete, with new challenges returning in Solstice of Heroes.
It's likely that a new, unannounced quest will also be in the works like we saw with Outbreak Perfected and Zero Hour.
The Truth and Lumina quests will become available on June 11 and July 2 respectively, and the Tribute Hall and Moments of Triumph unlock on July 9.
Destiny 2: Season of Opulence - Pinnacle weapons
There are three new Pinnacle weapons this Season that you'll be able to get from Crucible, Vanguard and Gambit missions.
Crucible - Revoker - Kinetic Sniper Rifle - Missed shots are returned to the magazine after a short duration.
Revoker's unique perk is Reversal of Fortune - missing a shot returns the bullet to the magazine after a short duration
Reversal of Fortune can only return a single bullet at a time
Features a custom low zoom Ambush SLH25 scope and Snapshot for close quarters battles
Acquiring Revoker will not require reaching Fabled rank in Competitive

Players will need to earn 3500 total Glory points
You do not lose progress when losing a match
Vanguard - Wendigo GL3 - Arc Grenade Launcher - Orbs of Light increase blast radius and damage.
Wendigo-GL3's unique perk is Explosive Light—Picking up an Orb of Light increases the next grenade's blast radius and damage"
Comes with Blinding Grenades as its magazine option for some added utility
You can carry up to six grenades enhanced by Explosive Light, so be sure to not let any Orbs of Light slip through your fingers while weapon equipped
Gambit - Hush Bow - Solar Combat Bow - Hipfired precision shots give a massive draw-speed bonus.
Hush's unique perk is Archer's Gambit—Hipfire precision hits grant a massive draw speed bonus for a short duration
Archer's Gambit pays out significantly better than Archer's Tempo, but it's going to take a more skilled hand to get the most out of it
Make all shots count
As usual, there will be a lot of grinding involved in order to get these weapons, with more details becoming available in next week's patch notes.
Destiny 2: Season of Opulence - in-game events
The Solstice of Heroes begins on July 30 and you'll be visiting Eva Levante again in order to get your Year 2 Solstice Armour. You'll also be creating Elemental Orbs by matching your elemental damage to the daily element, kind of like Arc Week. Collect all 30 Orbs to get the Empowerment buff, which will optimise your pursuit of glory and loot in Moments of Triumph, which launches July 9.
There are also quite a number of nerf's coming in Season of Opulence, with Whisper of the Worm and Ace of Spades seeing significant changes.
It doesn't look like the lore train is about to stop in the upcoming season, either. Players are hearing what sounds like the Emissary's voice whispering "I saw it happen" in various locations such as Skydock 4 and Io, so we may hear from the Nine again in the Season of Opulence.
In a recent post, we were treated to some of the lore behind the Crown of Sorrow, where a new Hive-like boss Gahlran looks to be waiting for us. Created by Calus to cast a shadow, this Boss could prove the most challenging raid boss yet.
There was also a bit of Cabal lore released that references the Menagerie and how his Loyalists will teach Guardians the meaning of pain. Ouch.
In the meantime, check out our Destiny 2: Forsaken guide for more tips and walkthroughs.