Captivate 2010: Dead Rising 2 gets Co-Op; Prologue story details [Update]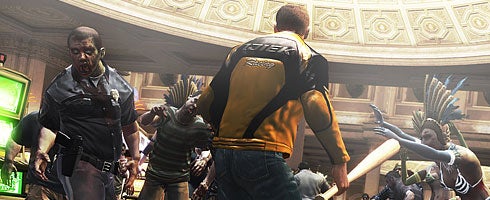 Update: Artwork, including some for a pimp and some 'ho's, has been added along with the PR detailing the story a bit more, below the break.
Original: Capcom has announced story details for Dead Rising 2's Prologue, which is to be released exclusively through Xbox Live ahead of the game's release, along with co-op coming to the game.
Dead Rising 2: Case Zero will "give fans the full experience" while introducing the player to what unfolds for Chuck Greene when the core game is released - along with a drug called Zombex and a pimp and some 'hos.
Apparently, Chuck and his daughter find themselves caught in the desert town of Small Creek which has been overrun with zombies. It's set two years after the Wilammete incident, and three before the action of Dead Rising 2.
Then, there's Dead Rising 2 Co-op which is new to the series. Players can invite their friends to partner up with them at any time to take on the zombie massacre. Full info on all this is available in the PR below.
Terror becomes reality on August 31st, 2010 in North America. Bring a friend.

Release Date: North America – August 31st, 2010 Japan – September 2nd, 2010 Europe – September 3rd, 2010

Platform: Xbox 360, PlayStation 3, PC

Rating: "M" (Anticipated)

Developer: Blue Castle Games

Story:

The sequel to the million-plus selling Dead Rising, Dead Rising 2 sees the player take on the role of forner Motocross champion Chuck Greene, who has come to Fortune City, America's newest gambling paradise, to compete in "Terror is Reality," a gruesome game show that dares contestants to survive zombie-filled environments for the delight of TV audiences around the globe. Chuck's motivation for taking part and risking life and limb is his daughter Katey who has been bitten by a zombie. She requires a daily dose of Zombrex to prevent her from turning into a zombie. There's no denying that Zombrex works, but since its the only drug of its kind on the market, its price is high. During his time in Fortune City a zombie outbreak occurs and Chuck must survive the onslaught of the undead for 72 hours. Pitted against two fearsome threats – tens of thousands of zombies and the constant countdown of the clock – while potentially rescuing other survivors of the zombie apocalypse, players must also unravel the greater conspiracy behind the outbreak and as importantly find the Zombrex necessary to stop Katey from joining the ever growing zombie horde. Players will shoot, stab, carve and drive their way through enemies in order to beat the clock and survive 72hours in the darkly comedic, no holds-barred confines of Fortune City.

Gameplay:

Dead Rising 2 will deliver more of the signature gameplay that the series is known for plus a number of new features.

Players who might need some help or simply want to share the zombie bashing fun with a friend will now be able to play in online 2-player co-op. Simply use the in-game transceiver to call for assistance at any time and once your partner has accepted, they will arrive by the player's side for double the action.

With hundreds of zombies on screen at any one time, the original Dead Rising forced gamers to take everyday objects they found in the Mall and use them as weapons. But now, in Dead Rising 2 with thousands of zombies filling every square inch of Fortune City, Chuck is going to need to be even more resourceful and inventive by combining weapons in order to save the day.

Players will be able to take two objects, a roll of tape and with a little inventiveness create an advanced zombie-killing combo weapon - a piece of wood and a lawnmower become Portamower, the handheld mower that cuts zombies down to size in an instant, while a garden rake and car battery combine to create an electrified zombie prod. The more combo weapons a player uses, the more Prestige Points (PPs) they will gain along the way in order to level up Chuck.

Ahead of the full game, Capcom will release original downloadable content exclusively on Xbox Live with Dead Rising 2: CASE ZERO. This Prologue consists of unique content not available in the full retail release of Dead Rising 2 will introduce new protagonist Chuck Greene as he and his daughter find themselves caught in the desert town of Still Creek thathas been overrun with zombies. Set two years after the Willamette incident and three before the action of Dead Rising 2, Dead Rising 2: CASE ZERO will help bridge the gap between the two titles and give players a taste of the new gameplay they will experience in Dead Rising 2 as they create combo weapons, rescue survivors and take on a ruthless Psychos before making their escape.

Dead Rising 2 is being developed by Canadian developer Blue Castle Games in close collaboration with Capcom. A number of members from the original Dead Rising team will be working alongside Blue Castle Games throughout the development process, including Capcom's global head of research and development, Keiji Inafune, who as the game's Producer, is playing an active role in the project.

Features

+ Thousands of Zombies On Screen: The undead are everywhere creating a dynamic and challenging zombie-killing experience for the player as weapons will be created to kill massive amounts of zombies at one time!

+ New Storyline and Characters: A new protagonist, Chuck Greene, is just the beginning in a long list of new characters, new survivors and new more vicious psychos that will be introduced to fans in the new world of Dead Rising

+ 2-Player Co-Op: Co-op play is introduced to the Dead Rising universe for the first time as players can invite their friends to partner up with them at any time to take on the zombie massacre- tag-team style! Play with a friend and have even more fun as you lure zombies in using strategic items like a toy helicopter or a firecracker. Once the zombies have gathered, your friend can rain bullets from above or shoot at a strategically-placed gas tank to create a deadly explosion that will take out masses of the enemy. Killing zombies with a friend is always more fun!

+ Terror is Reality: Allows 4 players to compete in a gladiator type show that pits zombies against a group of players in the ultimate Vs. multiplayer blood bath

+ Combo Weapons; Players can combine two everyday items using duct tape to create the ultimate zombie killing creations such as the Portamower and Paddlesaw. Unlocking combo cards along the way will give players the advantage as the helpful cards will show you what items are best for combining. The more zombies you destroy using your creative combo's, the more Prestige Points you can earn which levels up Chuck along the way.

+ Prologue: Compelling new content that will be released ahead of the game launch, Dead Rising 2: Case Zero will give fans a taste of the experience while introducing you to the new characters and story that will unfold in Dead Rising 2