Bungie says goodbye to Halo, says hello to Activision - everything in one place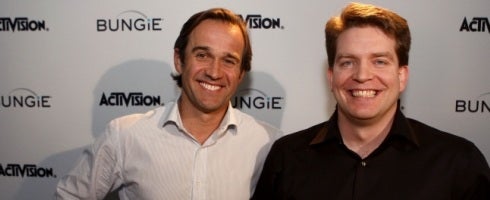 Activision announced yesterday it had teamed up with Bungie on a ten-year deal to publish the developer's new IP, while the studio will keep all rights to the property.
We interviewed Bungie in the announcement's wake. Get a round-up of the entire story, start to finish, below.
Soon after the release of Halo 3 in 2007, Microsoft announced it had allowed Bungie to split off from Microsoft Games Studios to become an independent developer once again. To this day, however, the firm still owns a minority stake in the studio, as well as full rights to the Halo IP.
Since then, Bungie's released one other Halo title, Halo 3: ODST, with 2010's Halo: Reach to be Bungie's last Halo game. 343 Industries, a studio built by Microsoft on all things Halo, now manages the IP.
Fast forward three years. Activision was, and still is, going through troublesome times. It has now fired Infinity Ward bosses Vince Zampella and Jason West for "insubordination".
Weeks after the move, which had seen both sides sued and counter-sued, EA announced the formation of Respawn Entertainment from Zampella and West, with the firm publishing and distributing its first title. Respawn would maintain full control over the IP.
Then we come to yesterday. Activision announced it had entered into a ten-year deal with Bungie on its next "universe". Again, like Respawn, Bungie would maintain full control over the IP. Studio boss Harold Ryan said the deal was to give its fans "the best possible gaming experiences", while Activision COO Thomas Tippl said the deal enabled the company to "broaden our pipeline of exciting new games as we continue to strengthen our industry position and pursue long-term growth opportunities."
Wedbush Morgan analyst Michael Pachter then chimed in on the move, saying the project was "well along in its development", adding the studio will now release games every two years because of the deal. He said, however, the move won't "fully offset" the ongoing drama at Infinity Ward.
Bungie later added on its website, just in case it wasn't made perfectly clear in the Activision press release, that it remains an independent developer. It also adds that co-founder Jason Jones will be project lead on the game.
Microsoft later releases a statement to VG247, saying that its relationship with the studio as a first-party developer "remains unchanged", adding it was "deeply engaged with them on the development of Halo Reach".
By now, the interviews start to come in. To begin with, Bungie's community boss Brian Jarrard talks with us on the deal, saying whatever's happening at Infinity Ward hasn't had a negative effect on the studio. He also says the first time the new IP makes an appearance "might be" at E3 and that, for "all intents and purposes, Halo: Reach would be its last bungie game in the shooter series.
Sony adds its two cents, saying the new IP was "Halo on steroids", according to SCEA comms boss Patrick Seybold on Twitter. He later releases a more formal statement, saying the deal was "great news for all gamers".
Thomas Tippl mentions later on in the evening to Kotaku that online "should be expected to be a big part of their next game", while Bungie's Brian Jarrard refuses to confirm or deny to us if the new IP is, in fact, an MMO.
Studio writer Joe Staten tells Joystiq it had to "break through" the "noise" of what was going on at Infinity Ward to formally announce the deal.
Jarrard tells Eurogamer that with the deal properly locked down this week, the announcement was done due to worries it wouldn't hold out for a gigaton E3 reveal.
Analyst Arvind Bhatia of Sterne Agee reckons the Halo dev is actually a "very good fit" to replace IW as a potential developer of future Modern Warfare titles.
And that's pretty much all that's happened so far to this point. Activision's Q1 financial call takes place next week, so expect more details from the deal to drop then.