Bodycount to "to rip apart the FPS" - first screens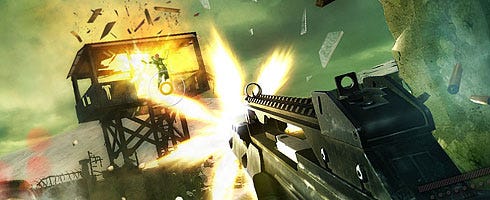 Codemasters just chucked over the announce press release and first shots of just-announced Stuart Black FPS Bodycount, saying the game will be "genre-defining".
"Our core focus for Bodycount is to deliver best-in-class gun play that places the gamer at the heart of the experience," said EP Tom Gillo.
"From the jaw-dropping devastation caused by firing into enemies or shredding the world around you in a hail of bullets, Bodycount will crystallise that moment of pulling the trigger into an exhilarating sensory overload of action."
As confirmed earlier this morning, the game will release for PS3 and 360 in 2010's Q1. Dev lead Black put together Criterion's Black. Black also featured guns.
Bodycount will give the player contemporary weapons and feature a story based on whacking 'Targets' at the behest of the 'Network'. Destructible cover's the order of the day, from the look of this.
The game first popped up as an OXM cover yesterday.
PR and shots below.
BODYCOUNT™ REVEALED AS CODEMASTERS STUDIOS GUILDFORD'S NEW SHOOTER IP

New game from Creative Director Stuart Black set to reboot shooter gun play.

BLAH (2pm UK TIME) – Set to rip apart the First Person Shooter and deliver genre-defining gun play that comes alive in an orgy of bullets and destruction, Codemasters today confirmed that Bodycount™ is the new IP in production at Codemasters Studios Guildford.

Designed by Creative Director Stuart Black (co-creator and designer of Black, 2006), Bodycount is being created by an all-star development team using the EGO® Game Technology Platform, an evolution of Codemasters' award-winning engine, for the Xbox 360® video game and entertainment system from Microsoft® and PlayStation®3 computer entertainment system and scheduled for release in Q1 of 2011.

"Our core focus for Bodycount is to deliver best-in-class gun play that places the gamer at the heart of the experience," said Executive Producer Tom Gillo. "From the jaw-dropping devastation caused by firing into enemies or shredding the world around you in a hail of bullets, Bodycount will crystallise that moment of pulling the trigger into an exhilarating sensory overload of action."

In Bodycount players become ensnared in a clandestine global power struggle as a powerful combat asset with a green-light to eliminate enemies known only as 'Targets' on behalf of the 'Network'. Equipped with a mouth-watering selection of contemporary weapons, players and opponents tear through destructible cover to execute explosive kills in a shreddable world where operatives are encouraged to leave no witnesses. Complimented by online multiplayer and co-operative game modes, Bodycount will blast outrageous action and spectacular fire-fights from both barrels.

"We're all massive FPS fans," said Stuart Black, Creative Director on Bodycount "and believe that there's room for a refresh of the shooter experience. If Race Driver: GRID™ was all about the purity of racing, then everything in Bodycount is absolutely centred on the bullet and its impact on the world. Our shredding tech enables us to create a different kind of gameplay, where players and AI can't hide behind indestructible cover and rely on whack-a-mole mechanics. Here the environment is constantly changing as the game world is shot to hell; it's going to be a huge amount of fun."

Bodycount is being developed using the EGO Game Technology platform, evolved from the award winning EGO Engine. Enabling Codemasters development talent to share tools and technology across its Studios and Central Technology teams, the EGO Game Technology Platform empowers Codemasters game designers to realise their creative visions across multiple platforms featuring cutting edge graphics, powerful AI and advanced physics systems and integrated network play.

"By investing extensively in our people and tools, we have attracted an exciting team of development talent to Codemasters Studios Guildford, empowered with a mandate to create innovative, original games using award-winning technology," said Gavin Cheshire, Vice President, Codemasters development. "As our first internally produced new IP for many years, Bodycount will deliver a fresh FPS experience powered by intense combat, compelling narrative, advanced AI and engaging online multiplayer game modes."

In the UK, Bodycount debuts with a front cover of Xbox 360: The Official Xbox Magazine, which heralds the game as 'the ultimate shooter'; the magazine is on-sale March 11th. An extensive announcement feature is also running in PlayStation Official Magazine on-sale March 16th.

For all the latest on Bodycount follow @bodycountgame on Twitter (www.twitter.com/bodycountgame), become a fan on Facebook or visit www.codemasters.com/bodycount

# ENDS #