Best EAFC 24 Founders Evolution players
Take your starter striker to the next level with the Founders Evolution in EAFC 24!
It's the first full weekend of EAFC 24, where Evolutions let you upgrade the stats of lower-rated players and turn pack fodder into meta-breaking monsters.
However, since you can only choose only one player for each Evolution, it can be an agonising decision over who to pick.
Here are some of the best players to choose for the Founders Evolution we've come across so far, as well as some idea of why they're a great fit for a boost.
Who to pick for the Founders Evolution in EAFC 24
Morata - 83 overall - Atletico Madrid
With good links via Spain and La Liga, solid all-round stats and a great build for bustling through defenders, Alvaro Morata looks like a great candidate for your Founders Evolution in EAFC 24.
The level 2 boost gives him a 5-star weak foot, while an additional Hunter chem style pushes his pace and finishing to the mid-90s for a deadly early game combination.
Darwin Nunez - 82 overall - Liverpool
Darwin Nunez is already an exceptional starter card with great pace, shooting and physicals. However, upgrading him with an Evolution only serves to make him even more of a handful, particularly with the weak foot boost that is low-key one of the most important things you need on a striker (especially if they're the lone player in the middle).
He's probably the most popular pick you'll see in Rivals because of his insane stats, so maybe you should just pick him to not feel left out?
Dusan Vlahovic - 83 overall - Juventus
Dusan Vlahovic has seen a minus 1 downgrade in EAFC 24 after an up-and-down couple of seasons in Turin, however, he's still an exciting player in EAFC 24 with good lengthy pace, a rocket shot, powerful strength and underrated dribbling.
If you're building a Serie A team, he comes highly recommended. But being from Serbia you will likely need someone else from Juventus to get him on full chem - unless you choose Nikola Milenkovic for your Pacey Protector too, of course.
Beto - 81 overall - Everton
To call Beto a tank is like calling the Burj Khalifa tall. With amazing lengthy sprint speed, imperious strength and unbeatable jumping at 6ft 4", there's probably a picture of him in the dictionary next to the word, "presence".
With that said though, his technicals aren't half bad with 83 finishing and 77 dribbling. Pushing his pace and physical into the stratosphere with your Evolution frees up his chem style to further boost his shooting and dribbling and create a striker who's difficult to dispossess.
Arnaut Danjuma- 81 overall - Everton
Also at Everton and an early game favourite year-after-year, Arnaut Danjuma is quick and agile with a brilliant shot to match.
He's another player who benefits from the Evolution boost to receive a 5-star weak foot, while also having better passing than a lot of strikers to link up play.
Laura Freigang - 83 overall - Frankfurt
From the women's teams, check out Laura Freigang. A hunter chem style gives her 89 pace and 90 shooting, and that's even before the Evolution boost. German links aren't too difficult to come by and you would only need Mario Gotze or Kevin Trapp from the Frankfurt men's team alongside some compatriots to give her full chem.
80+ dribbling, ball control and short passing make her a brilliant forward option who can also play deeper at CAM.
Timo Werner - 82 overall - RB Leipzig
Maligned at Chelsea but still a deadly striker in-game, Timo Werner benefits from an Evolution boost more than most because of his low finishing stat.
Even after the boost you're still getting the whole benefit from a Finisher chem style, which gives him a mouthwatering combo of 90+ pace, shooting and dribbling at such an early stage of EAFC 24.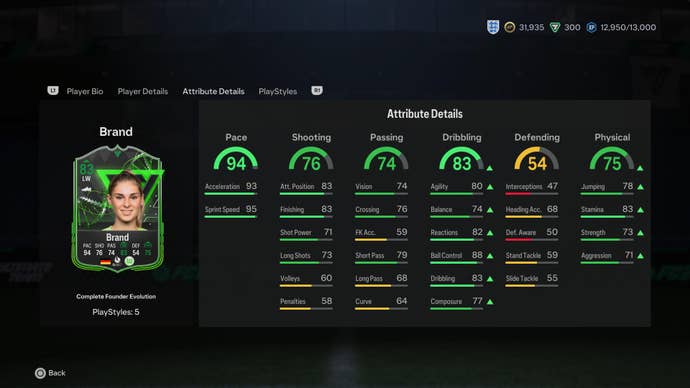 Jule Brand - 81 overall - Wolfsburg
Because of his notoriety, Timo Werner is expensive. However, Jule Brand is an almost identical option with 91 pace, 80 dribbling and 80 finishing (the latter of which is actually higher than Werner).
Wolfsburg are one of the best women's teams in the world, so you have some great options for chemistry besides Germany links. Alexandra Popp is in a lot of teams at the moment, while you could also use Wilms, the juiced RB in the season reward track.
Boulaye Dia- 82 overall - Salernitana
For a slightly more left-field option, Boulaye Dia is one of the few players in EAFC 24 to naturally have the coveted quartet of 80+ pace, shooting, dribbling and strength. Boost these key stats even further and you've got a handful of a striker leading your line.
However, being from Senegal might make links difficult unless you're running a Saudi League hybrid with Sadio Mane and Kalidou Koulibaly. That's actually not a bad idea…