Best EAFC 24 Pacey Protector Evolution players
Boost your back line with an injection of speed thanks to the Pacey Protector Evolution in EAFC 24!
Raw speed is very powerful in EAFC 24, where the new dribbling mechanics make agile and technically gifted players very difficult to tackle.
However, thanks to the Pacey Protector Evolution, one of your steadiest slowcoaches can receive a huge speed boost to help them keep up with even the slickest attackers.
But with so many great options, who should you choose to get the upgrade? Here are some of the best Pacey Protectors we've come across so far, as well as a bit of background on why they're worth investing in!
Who to pick for the Pacey Protector Evolution in EAFC 24
Edgar - 79 overall - Almeria
This guy is doing the rounds as an under-the-radar option for your Pacey Protector in EAFC 24, so it's probably a good idea to buy him now before he's extinct and price-locked off the market.
At 6ft 4" with really solid tackling and passing stats it's easy to understand the buzz.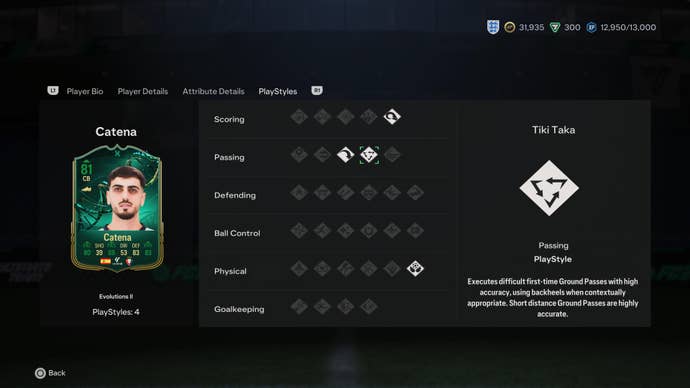 Alejandro Catena - 79 overall - Osasuna
But while everyone is on about Edgar, I really like the look of Alejandro Catena from Osasuna.
His defending is slightly lower, but because of awful crossing and free kick accuracy his 80+ short and long passing stats come in under the maximum for the Evolution. With the boost he 88 short passing and 89 long passing, but that's not all.
He also comes with the Tiki Taka Playstyle for playing out of the back and Long Ball Pass for spraying it too. But that's still not all!
Even though he's an inch shorter than Edgar, he has the Aerial and Power Header Playstyles to make his mark in both boxes from corners.
Georgio Chiellini - 80 overall - LAFC
For a more purely defensive option, look no further than the legendary centurion Georigio Chiellini - surely to be a popular choice just because he rules.
It's not all about sentiment though. Chiellini has brilliant tackling and strength, as well as the bruiser, slide tackle and block Playstyles to make use of new mechanics and animations. So the old dog has some new tricks in EAFC 24.
Joel Matip - 80 overall - Liverpool
Joel Matip isn't bad, even without the boost. A long-legged and dogged defender, with the Jockey and Block Playstyles to throw himself in front of everything, Matip is a great all-rounder with solid passing and jumping.
Sure to be expensive because of the Premier League versatility, I don't want to say he's a cheap Virgil, but he's a cheap Virgil isn't he?
Trevoh Chalobah - 77 overall - Chelsea
If Matip being from Cameroon is causing you chemistry issues, then another Premier League option is Chelsea's Trevoh Chalobah. He's very, very similar to Matip with comparable stats, just with better links to English players.
He has the Intercept and Slide Tackle Playstyles, which aren't quite as good, but they're better than nothing.
Nikola Milinkovic - 79 overall - Fiorentina
A cheap and solid choice for Serie A teams, particularly in partnership with Dusan Vlahovic as your Founders Evolution, Nikola Milinkovic is great physically and a beast in the air.
6ft 5", 88 jumping and the Aerial Playstyle mean that this guy might as well be using a stepladder.
Gabriel Paulista - 78 overall - Valencia
Another great option from La Liga who takes the boost very well is the ex-Arsenal defender Gabriel Paulista. He's really cheap to get, but gets a rock-solid 80 pace, 82 defending and 84 physical after the Evolution alongside a host of good Playstyles.
Samuel Umtiti - 79 overall - Lille
Here, the Pacey Protector Evolution lets you live out an alternate future where Samuel Umtiti didn't ruin his knees forever so he could play at the World Cup for France (it was still probably worth it though, wasn't it).
With great links, good technicals and an underrated hammer of a shot, if you're building around France then Umtiti is a solid choice.