APB formally announced for July 2 UK release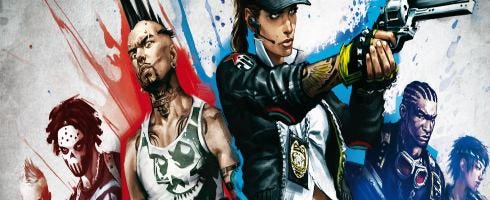 EA's formally announced APB will release on July 2 in the UK, with a June 29 release in the US.
The dates - and the MMO's pricing plan - jumped the gun earlier this morning after they were discovered in an FAQ for the RealTime Worlds game.
To celebrate the news, EA's also announced pre-order plans for it, such as exclusive access to the "Key to the City" demo, plus "VIP gametime" and more in-game items.
There's some shots and videos of it below.
"We're delighted to finally be announcing the release date for APB," said RTW creative director Dave Jones, "and we're looking forward to welcoming players on to the mean streets of San Paro."
"It's an honor to be working with Realtime Worlds to bring an exciting and original new IP to PC gamers," added EA Partners SVP, David DeMartini. "We're confident that the action and customization in the game will prove to be a huge hit."
Massive media blowout and press release are below.
Realtime Worlds and EA Announce Global Ship Dates for APB (All Points Bulletin(TM)), Pre-Order Incentives and Evolutionary Payment Model

Summer Global Release Set for the Year's Hottest Online Action Game

DUNDEE, Scotland, Apr 30, 2010 (BUSINESS WIRE) -- Realtime Worlds, Inc. and Electronic Arts Inc. (NASDAQ: ERTS), today announced that APB (All Points Bulletin(TM)) will be released for the PC on June 29th in North America, July 1st in mainland Europe and July 2nd in the UK. APB takes the universal theme of Criminals and Enforcers and brings it to a persistent, open-world, online multiplayer setting in the modern, crime-ridden fictional city of San Paro. Some players will achieve notoriety by feeding on the city, its people and its businesses...the Criminals. Some will live by a higher code and instead feed on the criminals and their organizations...the Enforcers. This dynamic where players become the core content for other players is one of the many unique features of APB.

David Jones, Creative Director of Realtime Worlds said: "We're delighted to finally be announcing the release date for APB, and we're looking forward to welcoming players on to the mean streets of San Paro. Gamers will soon get to experience a world of unparalleled customization, conflict and celebrity - whether they choose to be a Criminal or an Enforcer."

Founded by industry legend David Jones, creator of Lemmings, Grand Theft Auto 1 & 2 and Crackdown, Realtime Worlds' latest project, APB, introduces a unique payment model defined by three core concepts: value, flexibility and no commitments. Players pay precisely for time spent in the game's action districts.

Gamers can purchase a retail version of APB either in-store or via digital download at standard retail price of SRP $49.99. The game includes 50 hours of action gameplay out of the box plus unlimited time in APB's social districts customizing, socializing and trading in the marketplace. Once the 50-hours are up, players have flexibility: top up their game time from as little as SRP $6.99 for an additional 20 hours, or opt to purchase a 30-day unlimited package for only SRP $9.99 with discounts available for 90 and 180 days. In addition to this flexible payment model, players can also earn game time by actually playing the game. APB provides avenues for accomplished gamers or creators to earn rewards for their creativity and subsidize their ongoing costs with their in-game efforts.

David Jones added: "We wanted to provide a simple and flexible way for occasional and core players alike to pay for their play without being financially tethered to the game. The model also provides an opportunity for customers to subsidize their costs by leveraging their talent or market savvy in the 'points' Marketplace. Highly talented players could potentially even play for free in this way."

Customers can pre-order the game from leading retailers and online from www.apb.com and www.eastore.com. Pre-order incentives include early access 'APB VIP' game time, access to the 'Key to the City' demo, exclusive in-game Asylum Upgraded Criminal Car and Enforcer upgraded Patrol Car, C.S.A Enforcer and Asylum Criminal clothing, 'Chicken' and 'Strike-a-pose' exclusive Emotes.

David DeMartini, Senior Vice-President and General Manager, EA Partners, added: "It's an honor to be working with Realtime Worlds to bring an exciting and original new IP to PC gamers. We're confident that the action and customization in the game will prove to be a huge hit."

APB is rated 18 by PEGI and is not yet rated by the ESRB. Please visit www.pegi.info for more information. For more information on APB, please visit www.apb.com. Follow us on Twitter at http://twitter.com/apbgame and Facebook www.facebook.com/apbgame.

* Internet connection required