There's no passive mode in the Red Dead Online beta – but you can still stay safe
If you're looking for safety in the wild west, you're shit out of luck.

The Red Dead Online beta went live this week, opening the world of Red Dead Redemption 2 up to multiplayer modes, as well as a whole series of new single-player and co-op missions.
Red Dead Online supports 32 players in each instance, and every one of them is a potential enemy.
Read Dead Online passive mode
Players looking for a passive mode in Red Dead Online beta are in for a bit of a shock – there is no passive mode… yet. Whether this will be added to Red Dead Online by developer Rockstar Games remains to be seen.
GTA Online – Rockstar's other massively multiplayer online game – includes a passive mode that can be accessed from the in-game menu easily enough, and enables players to do their own thing without the hassle of getting shot or player griefing.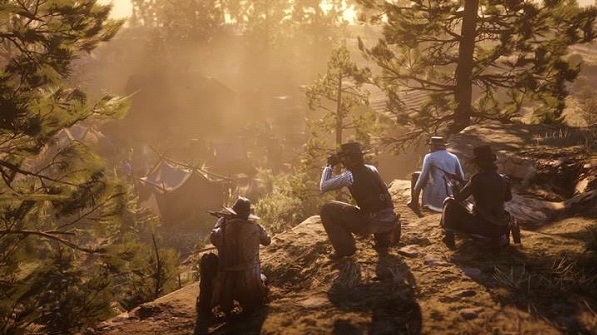 Although there's no passive mode in Red Dead Online, there are a few options to improve your chances of staying alive in the beta.
At your camp you're able to Raise the White Flag. Just go up to the flag and interact with it. Having the White Flag raised means other players won't be able to attack while you're milling about in camp, although it offers no protection on the wider map.
Lower the White Flag and you're vulnerable to attack, and you won't be able to raise it again for another 30 seconds.
Your other option is just to use safety in numbers. Players can form a Posse in the Red Dead Online beta for up to 8 people.
This can be a temporary Posse for the duration of your game, or a Persistent Posse that lasts longer. With your posse around you become less of a target from opportunistic attacks and griefers are less likely to hassle you knowing they could be dealing with seven others keen to retaliate.