Red Dead Call to Arms Payouts, Posse, best builds, and more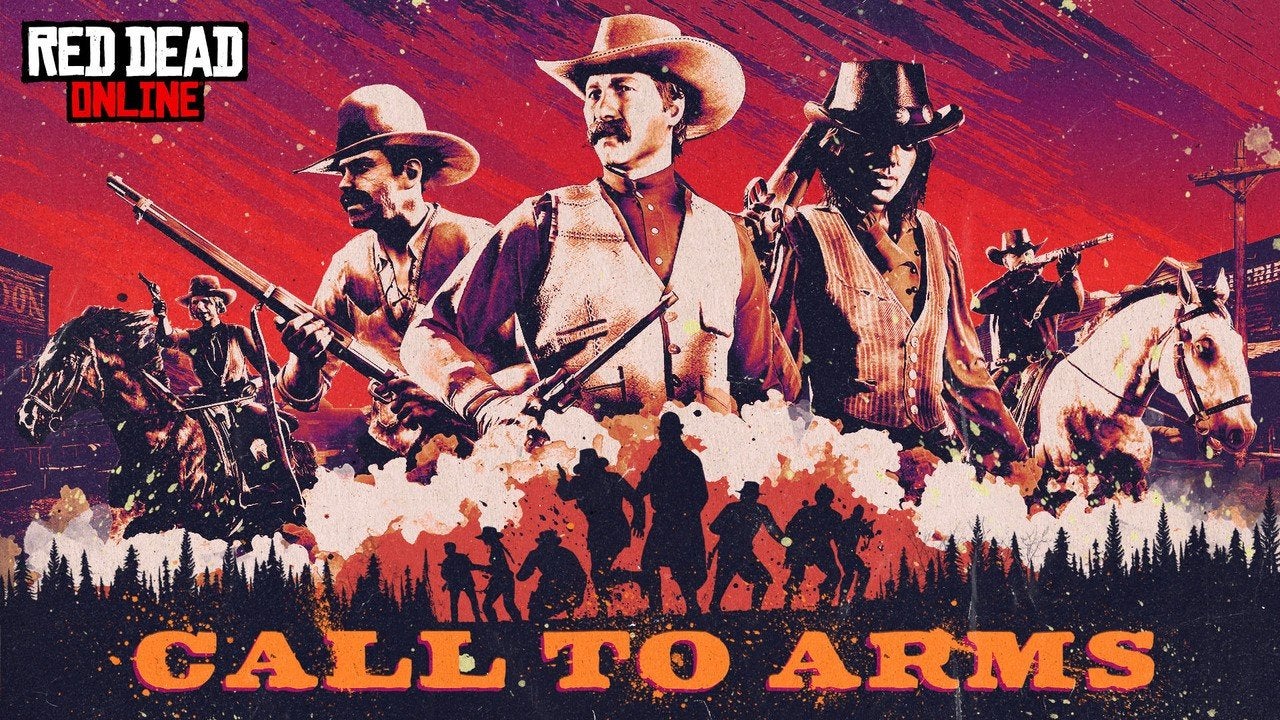 Red Dead Call to Arms is Red Dead Online's new survival mode with plenty of chances to earn sweet loot.
How much you get depends on how many waves of enemies you make it through. Call to Arms is tough, but there are ways you can make it easier even if you have to stand your ground alone.
Red Dead Call to Arms | How to start Call to Arms
Assuming you've download the latest update, head to the post office or just spawn at camp. Among your deliveries is a new telegram from "J" with the subject "Call To Arms." You'll find the telegram under "Documents" in your satchel.
Pick your map from the four listed in the message (Blackwater, MacFarlane's Ranch, Fort Mercer, Strawberry, or Valentine) to start your Call to Arms round. Unless Rockstar streamlines it in future updates, this is how you'll start Call to Arms each time.
Red Dead Call to Arms | How many waves in Call to Arms
The goal is surviving 10 waves in Call to Arms. You'll earn rewards no matter how long you survive, though of course, the most RDO$ comes from clearing all 10 waves.
You can retry immediately if you fail. However, there's a cooldown period of 35 minutes if you clear a mission or exit the mode.
Red Dead Call to Arms | Call to Arms payouts
Red Dead Online's survival mode is generous with its payouts. For the first week, ending August 17, you'll get three times the usual rewards, including Gold Bars and cash.
Rewards are still hefty after the multipliers expire, though. These are the full amounts:
1 Gold Bar
300 RDO$
2,300 XP
They scale down the fewer waves you manage to clear before calling it quits.
Red Dead Call to Arms | Posse matchmaking
So far, Call to Arms matchmaking doesn't exist. You'll enter a short period where other players can join, before getting five minutes to prepare for the first wave. No other players can join during that five minutes, and most players report getting chucked into a match before anyone else can join.
In other words, expect to play Call to Arms solo quite a bit.
Red Dead Call to Arms | Tips for solo
Enemy numbers and strength remain the same whether you're in a party or alone. However, Call to Arms is still manageable even solo, especially if you play on the standard difficulty.
If you're tackling it by yourself, make sure to keep up with the NPCs. Heal them between waves and make sure they've got weapons. They'll probably die in later waves anyway, but you might as well let them take some of the pressure off you until then.
Keep to the roofs at first, and pay attention to the indicators warning you of snipers. Snipers are your worst enemy whether in solo mode or in a Posse, but NPCs won't go out of their way to seek and destroy snipers. Take them out first.
Keeping off the streets saves you from the berserker-style enemies that roam below and wield machetes. They don't climb ladders for whatever reason.
There's no telling if you'll land in a party, so go into Call to Arms with plenty of food and tonics. Be liberal with you fire too. You can restock ammo from supply crates between waves.
Red Dead Call to Arms | Best build for solo
Paint It Black shines as your Dead Eye ability in solo. Headshots make quick work of enemies, and you'll want to focus on landing those as much as possible if you have no human support in a match.
Passive cards are a bit more flexible, but Fool Me Once is a solid choice. You'll ideally not have enemies close enough to land consecutive shots, but it's a good safeguard if you land in trouble.
Strange Medicine is a must, since it heals you every time you deal damage.
Red Dead Call to Arms | Tips for Posse
The biggest difference when playing in a Posse is positioning. You'll move around a fair bit once the round starts, but placing characters in key locations helps deal with mobs and dangerous enemies before they make nuisances of themselves.
Planning ahead is nearly impossible until Rockstar adds proper matchmaking, but try and make sure at least one player is using a sniper rifle. You'll need it to take out the armored carriage drivers.
You can revive fallen party members, so don't stray too far from the group in case someone needs assistance.
Otherwise, the same guidelines apply. Use your food liberally, restock on ammo, and focus on high priority enemies first.
Red Dead Call to Arms | Best build for Posse
Playing in a Posse gives you some extra leeway with your build, though we recommend using Quite An Inspiration for your Dead Eye. This one restores health to the entire party, though the effects don't stack.
Again, it's difficult planning with any efficiency until Rockstar adds matchmaking, but it's also better to equip this one anyway just in case no one else does.
There's no point building your weapons around the possibility of Posse or not just yet, so don't worry too much about optimizing guns. Take the Carcano Rifle for long-range headshots and a repeating shotgun for close-up combat, and you should be fine.
If you're looking for more high-stakes adventures in the wild west, make sure to check out Red Dead's other big new feature, Blood Money. We've also detailed how to get the most out of the Naturalist occupation if you haven't dabbled in that yet.