Black Ops multiplayer: new modes, bots, gun customization, Wager Match video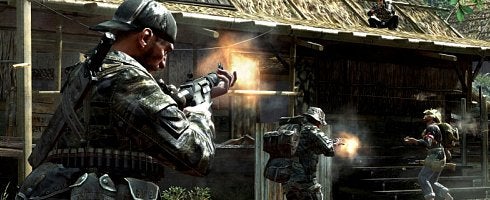 Hey, isn't Black Ops the sequel to some kind of multiplayer thingamajig? Call of Something or Other? Modern Whatsit? So, what's new? Well, Treyarch's been pretty tight-lipped.
Until now.
During a recent press event, Treyarch finally decided the time was right to take the wraps off Black Ops' sure-to-be-ludicrously-popular multiplayer mode. Here's everything you need to know.
First up, if you're not ready to fire rounds into real, flesh-and-blood virtual people, bots are now an option. The mode's called Combat Training, and it's even got its own progression system. So basically, it's all the fun of an online match without any of the self-esteem anihilating 12 year-olds.
Care packages are also filled with new goodies, including a new type of grenade launcher and a friggin' minigun. We likey.
Black Ops packs a new currency system as well, known as COD Points. These points are earned as you play, and can be spent on specialized challenges or gambled on Wager matches. Watch the video above for all the details on Wager gameplay. It's designed for "adrenaline junkie fun," apparently.
There are also four new game modes, which are separate from normal online progression. So far, two have been revealed: "Sticks and Stones" and "Gun Game." If you're an old-fashioned type and prefer your murder to be simple and idyllic, you'll dig Sticks and Stones, which gives everyone crossbows and knives - no guns, no pesky grenades. Gun Game, meanwhile, hands players a progressive series of weapons based on kills.
Last but not least is gun customization, which has made the leap from practical to "should have its own reality show starring Xzibit." In Black Ops, you can coat your no-longer-naked guns in decals, clan tags, and more - all of which can be resized and rotated. Because there's no greater canvas on which to spill your artistic soul than something that spills people's guts and brains.
We're going hands-on with Black Ops' new digs right now. We'll get our impressions live as soon as we can.