The Witcher 3: Blood and Wine - how to get the best ending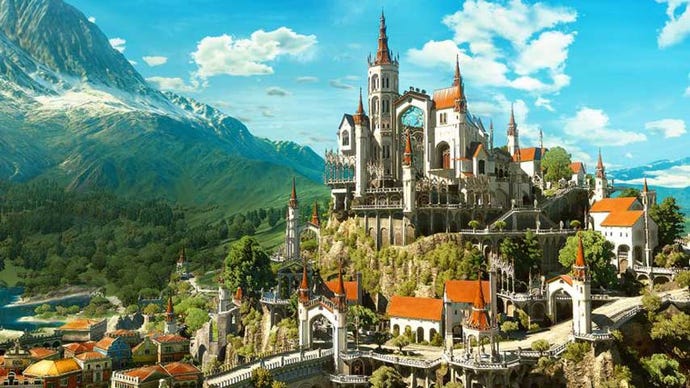 A tangle of choices, none of them good, determine Toussaint's fate at the conclusion of Blood and Wine.
The Witcher 3 comes to the Nintendo Switch this week, giving you the perfect excuse to jump back in and play one of the best DLCs of all time.
This guide, along with our Blood and Wine walkthrough, will help you bring the second expansion to a satisfying conclusion.
The story is more linear in Blood and Wine, but there are still a few endgame states you can aim for. Blood and Wine has three main endings, which boil down to the fate of the two leading ladies:
Ending 1:
Anna and Syanna both die.
Ending 2:
Anna and Syanna both live.
Ending 3:
Anna lives. Syanna dies.
Regardless of which ending you see, the story concludes with a final scene near Regis's graveyard lair - it varies depending on what ending you saw, and what choices you made in the final missions. There is only one significant differentiator:
Regis is hounded out of Toussaint by vampires
This occurs with Ending 1, Ending 2 and if you choose to kill Detlaff in the events leading to Ending 3.
Regis is left in peace
Only occurs in Ending 3 if you allow Detlaff to go free after he kills Syanna.
Viewing the scene with Regis triggers the quest Be It Ever So Humble, which wraps up the Blood and Wine main quest line. Secondary quests and all other Toussaint activities remain open, except those ended by events of the main story line.
As you can see there doesn't seem to be a happy ending for everyone - which is very Witcher - although Ending 2 is certainly the most cheerful. Which one you see depends on your actions in The Night of Long Fangs and subsequent quests:
Ending 1: Tragedy
There are at least two paths to this ending, and it's the one most people will see by accident. Complete all steps on either path to reach it.
Ending 2: Happily Ever After
We've only found one path to this ending - so far. Complete all steps below to trigger it reliably.
Ending 3: Whoops
This ending occurs if you let Syanna die before her trial.
During The Night of Long Fangs, you must complete one of these two options:

Track down Damien's unit.
Track down Orianna and proceed through Blood Simple, but tell Regis you change your mind at the end, which pushes you back to the path you'd be on if you had gone after Damien's unit.

During Beyond Hill and Dale, do not retrieve Syanna's ribbon from Flint, the vendor.
Complete Burlap is the New Stripe.
More information on what specific actions to take in each quest are available in the linked walkthroughs. In the meantime, let us know if you see something we missed, and we'll update whenever we have new information.
You can also check out our The Witcher 3: Wild hunt main quest and Hearts of Stone guides.