Why some of the team behind Dead Space are returning to sci-fi horror with The Callisto Protocol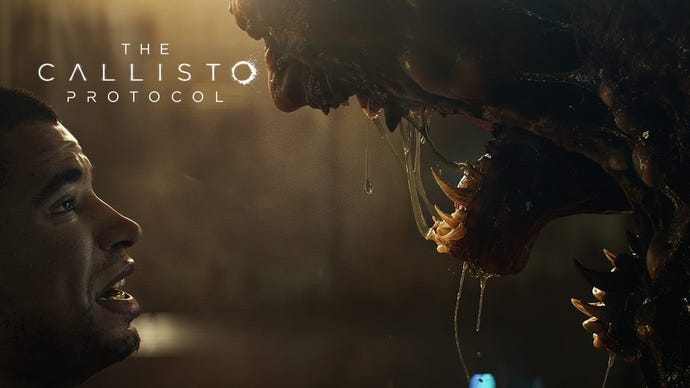 We talk about pushing the genre forward, life after triple-A and whether the death of single-player games has been overstated.
The Callisto Protocol isn't the game that many of us were expecting from Striking Distance, but it's not exactly a surprise.
The studio was founded last year by Playerunknown's Battlegrounds maker PUBG Corp with Visceral and Sledgehammer vet Glen Schofield at the helm. The outfit said that it was working on an "original narrative experience" set in the same world as the company's battle royale hit.
So it was a bit of a shock when the trailer for its debut project – sci-fi survival horror project The Callisto Protocol – rolled at The Game Awards. But then again, it's hardly surprising given that many of the studio's staff previously worked at EA's Visceral studio on the Dead Space series.
We caught up with Striking Distance's chief development officer – and former Visceral general manager – Steve Papoutsis to find out a bit more about this new project.
VG247: So, when you started out with The Callisto Protocol, what was the core idea?

Steve Papoutsis: There's just a passion here for horror games from me, Glen and some of the wonderful team we have assembled. We were hoping to do something that was single-player driven, story-focused that provided a lot of opportunities for scares. We had some cool ideas around the theme in terms of where it's going to take place – on a prison colony on Jupiter's dead moon, Callisto. That was literally the top-line lift pitch.
VG247: Is it fair to say you have unfinished business with the sci-fi horror genre? The trailer has massive Dead Space vibes.
Papoutsis: It's not surprising given that a lot of the people that are working on the project also worked on the Dead Space series. It's interesting that people are putting that together. We're passionate about the game we're working on and it's nice to hear people reminiscing about those games that many of us have fond memories around.
VG247: Schofield has said that the studio is working on a narrative game set in the same universe as Playerunknown's Battlegrounds. I think it's fair to say that The Callisto Protocol wasn't exactly what we had in mind when we pictured that. Has there been a change of plan? Is that this game or do you have another project in the works?
Papoutsis: We're not really going to get too deep into the story or anything that we are doing outside of what we showed the other night. Stay tuned. We'll be able to dig into that one more in the future.
VG247: How are you pushing the sci-fi horror genre with The Callisto Protocol?
Papoutsis: What we're really trying to do is tell a story that immerses the player and uses the backdrop in a way that supports the narrative, rather than detracting from it. It's about the sum of its parts, so to speak. It's all about combining all the various aspects of game making to do something really memorable. That's what we're focusing on; that intersection of art, design and technology and wrapping that all together in a cool setting with a great story. Hopefully, that will push the genre forward.
VG247: Where are you drawing inspirations from for this game? For almost any sci-fi horror game, it's hard to get away from something like Alien and – especially in your case – Dead Space.
Papoutsis: Sci-fi and horror are awesome. There's a lot of derivative works out there, I guess you could say, in terms of settings and themes and so on. We're looking at how we take a cool setting that is relatable, but also scary in itself. Our setting is a prison, which is certainly scary to me. That's a dangerous place. We've set it up with that kind of a backdrop, as well as all the other kinds of trappings that we hope to unveil as we go. We're hoping that combination and relatability will feed into the tension and excitement someone might have as they dive in and invest in the story as they go through it. Along that path, without giving away too much, we hope to have a lot of things that stand out and maybe are not as expected.
VG247: How does development for The Callisto Protocol compare to something like Dead Space? The impression a lot of people had of that project was Visceral had a load of interesting ideas, but a publisher like EA wanted to make something safer. Krafton, by comparison, seems a bit more laid back and not quite as risk-averse.

Papoutsis: I was very fortunate and thankful to have had the opportunity to work for many years at EA. Krafton, as you point out, is very different. They really are great and genuinely want to support creatives in their endeavours and what they do. It's an awesome experience. They're very interested in the creative vision of what teams want to do. Not to say that other places are not, but Krafton has definitely shown a real affinity to support the creative process.
VG247: What kind of relationship does Striking Distance have with PUBG Studio? Again, you're meant to be working on the same universe so I'm curious what kinds of conversations you're having with them.
Papoutsis: Thus far, it's been amazing to be working with the folks at PUBG and Krafton. They're super nice and collaborative. That's been wonderful. In terms of anything regarding the universe, we're going to be talking more about the lore and the story next year.
VG247: There's an on-going debate about the state of single-player games; whether they are a dying breed as multiplayer and games-as-a-service projects become more popular. What are your thoughts on the so-called death of the single-player game?
Papoutsis: I've read a lot of articles on this, but from my perspective, there will always be a place for storytelling and narrative-driven games. One of the best forms of doing that is in the single-player type of experience that you can have. I'd say that while there's a propensity for a lot of wonderful kinds of multiplayer-based games, there's always going to be a spot for story-focused titles. That goes back all the way back to the genesis of storytelling; it's been around for so long and I think it is going to persist. I'm very hopeful about that because I enjoy a great story.
VG247: Do you feel there's any pressure on the game due to all the conversations about the death of single-player games?
Papoutsis: I don't think there's any more pressure from that particular topic than we already put on ourselves. Coming together as a new studio as Striking Distance and trying to put out our very first game, while we're having a fun time doing it, everyone understands that the stakes are pretty high. We have one chance to make a first impression. We want to do a great job and have fun doing it. We want to enjoy the journey as we try to get to an awesome game. There's always going to be a level of pressure, but I wouldn't say necessarily say it's the result of the decline in single-player games.
VG247: Developers like yourself and Schofield clearly want to be working on interesting, new and different projects. Is there a sense of relief now that you're working at this new studio and appear to have more freedom?

Papoutsis: The exciting part about what we're doing is the people. It was about getting another chance to work with Glen. We've worked together on and off for almost 23 years. We go way back. Getting to work with him again and a lot of the people we have assembled was the big motivator. The ability to be able to do the type of game that we want absolutely was absolutely right there at the top in terms of motivation to do what we're doing. Having done this for a really long time, it's about the journey. It's about the experience of making something together with wonderfully talented people that you enjoy working with. When you have a shared vision or goal, that makes it really fun, too. It's an amazing opportunity that we're hoping to seize and make something memorable that players are going to enjoy.
VG247: What kinds of lessons have you taken away from your time in triple-A?
Papoutsis: Making games and these kinds of experiences is all about the people that you are making them for and the folks you are making them with. That's so important. People prioritising people. More specifically, you really need to respect and honour the creative process and give people opportunities to do things and experiment and see where those things go. Lastly, I've never learnt anything talking. The more you can listen, the more opportunities you have to learn.
VG247: How did you react when you heard Visceral was closing at the end of 2017?
Papoutsis: I was sad. I had a lot of great memories; we had a lot of fun times and a lot of fantastic games were made there. Certainly, I was sad and disappointed for my fellow colleagues when that happened.
VG247: Do you feel you are carrying the Visceral torch with Striking Distance? As I've said, The Callisto Protocol bears many of the same hallmarks as some of the games you worked on at that studio.

Papoutsis: Every project is a new opportunity and Striking Distance is a new chance for all of us. Instead of diminishing either of the studios, whether it's Visceral or Striking Distance, each of these moments in time where we get to build a game should really be about that. That should be the sole focus. If you start carrying the weight of what came before, you're not really honouring the group and the effort that's being put forth in the present.