Study - Move and Natal purchase intent below 10%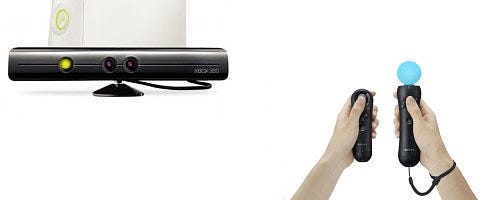 A study conducted by US research firm OTX has found that 8 percent of Xbox 360's market intends to use Natal and 6 percent of PS3's intend to use Move.
Those that intend on purchasing the controllers, 25 percent plan to pre-order it.
With both firms set to reveal the respective controllers at E3 next week, these numbers should go up a bit once more information becomes available to the public.
The study also found that 15 percent of both PS3's and Xbox 360's market were aware of the controllers, and that the average age for intended purchasers was 28 and 25, respectively.
When it came to female participants in the study, 30 percent of those planned on purchasing Move, and 20 percent planned on buying Natal.
"While we are still months away from launch, the current data suggests that Natal gamers are definitely Xbox 360 purists, while Move gamers have a stronger interest in other platforms," said OTX.
The top three preferred genres for Move varied between action, RPGs and shooters, while those who intend to get Natal - four out of five prefer shooters.
Titles with strongest overlap among planned Natal purchases:
Gears of War 3 – X360 (47%)
Fable III – X360 (42%)
Call of Duty: Black Ops – X360 (38%)
Halo: Reach – X360 (34%)
Dead Space 2 – X360 (26%)
Titles with strongest overlap among planned purchases of Move:
LittleBigPlanet 2 – PS3 (42%)
Gran Turismo 5 – PS3 (32%)
SOCOM 4: U.S. Navy SEALs – PS3 (30%)
The Legend of Zelda 2 – Wii (26%)
Super Mario Galaxy 2 – Wii (21%)
The GamePlan Insights poll was conducted between May 23 and June 5 and had 2,000 participants.
Thanks, Gamasutra.