SPECACT kits hit PS3 in Europe for BFBC2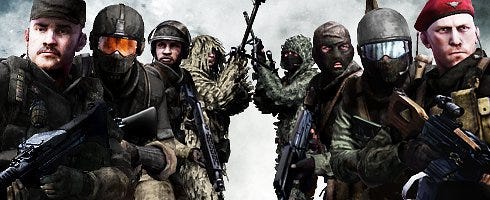 BFBC2 players in Europe wanting to get their hands on the SPECACT kit should just start up the game, and a notice will pop up letting you know update 1.02 is ready.
Once you download it, head over to the in-game store to view the SPECACT kits.
The update and kits will hit North America "in the very near future", it states over on the Battlefield Blog.
The kit includes 12 new awards, and four Trophies with each individual kit upgrade opening one trophy and four new awards.
The four kit "specific unique uniforms and the camouflaged SPECACT personal M16A2, UMP-45, MG3 and a gun metal black M95 SNIPER" will also give you a "visual edge on the Battlefield".
Each are available individually or as a bundle for the following:
Kit Upgrade (individual kits): $2.00/£1.19/€1.49
Kit Upgrade Bundle Pack: $5.50/£3.99/€4.99
Update 1.02 also fixed crashes to XMB which could occur when creating Private Matches.
The blog notes that these kits are not available as part of the Dr Pepper promotion.