Sony press releases Ghostbusters capture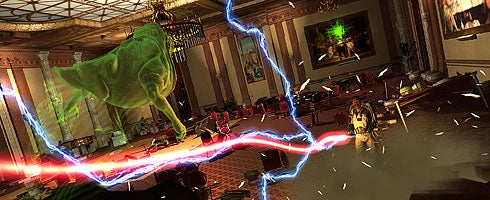 Sony just confirmed by press release that it's to publish the PlayStation platform versions of Ghostbusters in PAL territories.
The PS3 and PS2 SKUs will hit in June. The PSP outing will follow in the "autumn".
Atari told us this morning that the DS, Wii and 360 versions will follow later in the year.
Get the full thing after the break.
WHO YOU GONNA CALL? PLAYSTATION®!
SONY COMPUTER ENTERTAINMENT EUROPE TO PUBLISH 'GHOSTBUSTERS: THE VIDEO GAME' ON PLAYSTATION® 3, PLAYSTATION® 2 AND PSP™ (PlayStation®Portable) IN EUROPE AND PAL REGIONS
- Eagerly Anticipated Software Releasing Exclusively on Two PlayStation Platforms in June for the 25th Anniversary of Original Hit Movie –
- Original Cast of the Hit Movie Come Back Together to Do Battle With the Supernatural on the Streets of Manhattan -
- PSP Version Coming Autumn 2009 -
LONDON, UK – 6th May 2009 – Sony Computer Entertainment Europe (SCEE) , Sony Pictures Consumer Products, and Atari Europe today announced that Ghostbusters: The Video Game for PLAYSTATION®3 (PS3™) and PlayStation®2 is to be published in PAL territories by Sony Computer Entertainment Europe in June, meaning that owners of PS3 and PlayStation 2 will get their hands on the game that reunites the cast of the hit movies. To mark the 25th anniversary of the well-loved franchise, the game will launch in coordination with the Blu-ray™ release of the original hit movie and licensing programs from Sony Pictures Consumer Products Inc. Ghostbusters: The Video Game will launch in Europe and PAL regions on June 19th 2009 exclusively for PS3 and PlayStation 2.
"We're committed to bringing the PlayStation family the biggest and best gaming experiences first," says Mark Hardy, European Product Marketing Director at SCEE, "and it doesn't get any bigger and better than this blockbuster title. This summer, PlayStation owners will be the first to grab their proton packs and fight the spirit world. We'd like to wish them the best of luck in their ghostbusting endeavours and, of course, to remind them not to cross the streams!"
"With our colleagues at Sony Computer Entertainment Europe publishing Ghostbusters: The Video Game, we are thrilled by the dynamic new Ghostbusters game. We think it will have tremendous appeal to gamers and we can't think of a better way to celebrate the 25th anniversary of this beloved franchise." said Mark Caplan, Vice President of Licensing-Interactive for Sony Pictures Consumer Products Inc. "With this superb game launching alongside the Blu-ray release, we will reach existing fans and the next generation, bringing them all into the irresistible Ghostbusters universe."
"Atari is committed to maximizing the launch of the Ghostbusters videogame across Europe," Said Jim Wilson, VP Worldwide Marketing, Atari. "In partnership with both Sony Pictures Consumer Products, Inc and Sony Computer Entertainment Europe, we have a unique opportunity to add new game products and expand marketing opportunities to reach Ghostbusters fans in Europe."
In Ghostbusters: The Video Game, players can grab a proton pack and turn their ghostbusting fantasies into reality as the new recruit to the Ghostbusters team in a story set two years after the Ghostbusters 2 movie. Once again, the city of Manhattan has been overrun with ghouls, ghosts and all things foul – and it's down to the Ghostbusters team to capture them all and regain control.
The game has been written by original Ghostbusters writers Harold Ramis and Dan Aykroyd and reunites members of the original cast for the first time in 20 years. Bill Murray, Dan Aykroyd, Harold Ramis, and Ernie Hudson lend their voices and in-game likenesses to the game, which also features performances from favourites including William Atherton (Walter Peck), Annie Potts (Janine) and Brian Doyle-Murray (Mayor Jock Mulligan).
Developed by Terminal Reality and Red Fly Studios Ghostbusters: The Video Game will arrive on PS3 and PS2 this June. PSP version of the game is scheduled for launch in autumn 2009. To find out more, visit eu.playstation.com.