Screens - RE5: Gold's Rebecca and Barry in action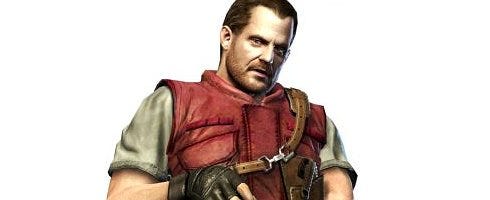 Capcom has sent over some screens of Rebecca Chambers and Barry Burton, which were revealed yesterday.
The screens are posted below.
It also sent over a outline of what and who is unlockable in each bit of DLC - just in case there was any confusion.
Lost in Nightmares: Barry Burton, Excella Gionne
Character Pack 1 outfits: Chris Redfield -Heavy Metal; Sheva Alomar - Business
Desperate Escape: Rebecca Chambers, Josh Stone
Character Pack 2 outfits: Chris Redfield - Warrior; Sheva Alomar - Fairytale
Lost in Nightmares takes you back to Spencer's mansion and you can relive it with Rebecca and Barry from the original Resident Evil with the Mercenaries Reunion. Each is equipped with their own customized weapon load-outs, too.
Gold Edition, known as the Alternative Edition in Japan, hits Japanese PS3 consoles next week and on March 9 in the US on 360 and PS3 with all content available to current RE5 owners via DLC.