Red Steel 3 revealed, uses Vitality Sensor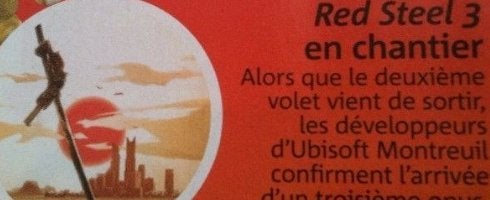 Over on the French site LiveWii, a scan of the cover of the French Nintendo Magazine shows Red Steel 3, plus the fact that it will use the vitality sensor.
Here's the translation, courtesy of NeverKnowTech:
Despite a slow start of the second game, the Red Steel series is going to be a trilogy. It is still unclear if we can fully rely on the information, but it's credibility comes from the newest issue of French Nintendo magazine.

Filed under "Hot News" this confirmation comes with an important detail: the game is compatible with the Wii Vitality Sensor as told in an interview Jason Vandenberghe, Art Director of Red Steel 2 at Ubisoft Montreal.
What the devs plan to do with the Vitality Sensor is anyone's guess, but it could be very cool.
Maybe more will be revealed at E3, but we'll ask Ubi what's going on anyway.
Red Steel 2 was released on March 23 in the US.
Thanks, mington, Dutch.