PUBG: PC test patch hits live servers today, comes with 2 new crates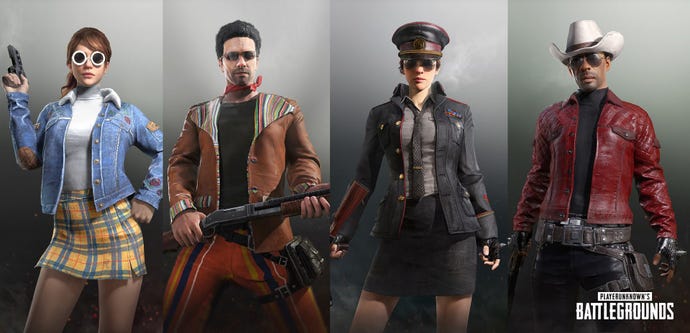 This week's PlayerUnknown's Battlegrounds patch, which only just released on test servers, will be making its way to live servers later today.
The patch added new features to PUBG's player reporting through the replay, and removed the ability to see the remaining passengers on the plane to improve early-game performance.
Earlier today, the test server was updated once again, though this time with no new fixes or changes. Instead, PUBG Corp added two new crates to the roster. Like the previous Biker, and Desperado crates, the two new ones come with a host of cosmetic items.
The Militia crate will join the existing roster, and it'll be free to open. It has a 40% drop rate, which is the highest among the rest of the free crates. The Fever crate, on the other hand, will get its own placement on the game's crates page, and you'll need an Early Bird key to unlock it. Both can be bought using BP.
Like it did with the Biker, and Desperado crates, PUBG Corp also published the odds for every item included in the Fever, as well as the Militia crates. There are four outfits in total you can assemble from the various clothing items.
PUBG Fever crate drop rates
Zest Turtleneck (White): 15%
School Shoes (Beige): 15%
Mesh Polo Shirt: 10%
Combat Gloves (Khaki): 10%
Checkered Shirt (Coral): 10%
Hi-top Canvas Sneakers (Pink): 10%
Retro Polo Shirt: 5%
Combat Pants (Coral): 5%
Zest Sunglasses: 4.5%
Zest Loafers with Socks: 4.5%
Denim Bootcut Pants: 4.5%
Zest Bootcut Pants: 2.5%
Zest Silk Scarf: 1.3%
Floral Retro Jacket: 1.3%
Zest Retro Jacket: 0.6%
Zest Denim Jacket: 0.32%
Cropped Corset: 0.32%
Zest Checkered Skirt: 0.16%
PUBG Militia crate drop rates
Tank Top (Gray): 20%
Raglan T-shirt (Red/White): 20%
Polo Shirt (Pink): 20%
Vintage Polo Shirt: 20%
Military Shirt (Gray): 6.5%
Military Trousers (Black): 6.5%
Long Sleeved Turtleneck (Black): 3%
Utility Belt (Brown): 1.4%
Camo Tank Top (Red): 1.4%
Military Boots (Black): 0.4%
Battle Belt: 0.28%
Vintage Gas Mask: 0.28%
Leather Bootcut Pants: 0.08%
Military Jacket (Black): 0.05%
Military Cap (Black): 0.05%
Cowboy Hat (Brown): 0.028%
Faux Leather Jacket: 0.0128%
Cowboy Hat (White): 0.0128%
Military Skirt (Black): 0.0064%
All of this will be available on live servers when the patch hits later tonight, following three hours of maintenance that kick off at 6pm PT, 9pm ET, 2am (Feb. 22) UK.
In other PUBG news, the game's developer promised to share actual details about what's to come in March. The plan so far includes a new map, which should be released in the first half of this year.