PUBG Creator Brendan Greene: "Region Locking Just Doesn't Work"
Cheating's an epidemic in PlayerUnknown's Battlegrounds, but the team are working fast to try and stop it.

This article first appeared on USgamer, a partner publication of VG247. Some content, such as this article, has been migrated to VG247 for posterity after USgamer's closure - but it has not been edited or further vetted by the VG247 team.
Ever since PlayerUnknown's Battlegrounds (PUBG) launched nearly a year ago, an epidemic of cheating has plagued it. The PUBG Corp. team has moved alongside it too, combatting cheaters at every turn by adding reporting features to the game, including its semi-recently implemented kill cams and replay features. Reporting in those avenues makes it so that when players discover they are mysteriously sniped through a glitched-out wall, they can point the wrongdoing player in PUBG Corp.'s stern direction.
In January 2018 alone, PUBG Corp. banned one million players for cheating. In the day to day though, PUBG Corp. is remaining tight-lipped on the specifics of their anti-cheating counter measurements. "We don't talk too in-depth about what we're actually doing to combat cheating because it just gives the cheaters a leg up," PUBG Creative Director Brendan "PlayerUnknown" Greene tells me during this year's Game Developer's Conference. "We have anti-cheating testing internally and we're working to build systems to really get a handle on the guys that don't want to play fair. You know, it's an ongoing battle. It will continue long into the future, I'm sure. But I'm seeing some promising results internally and over the next few months I really hope we're going to get a better handle on it."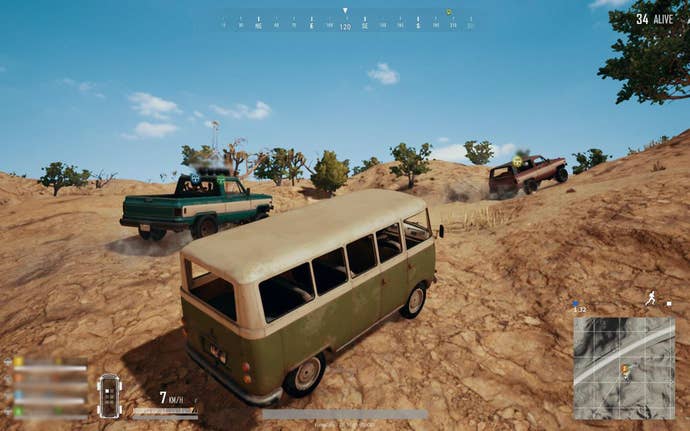 Recently, there were whispers of PUBG potentially exploring region locking servers to amend "poor matchmaking" like cheating, what some players have noted is a potentially xenophobic solution. Greene and PUBG Corp. CEO Chang Han Kim deny region locking to be in the works.
"I mean everyone that [suggests] region locking [is forgetting about] VPN. It just doesn't work," says Greene. "We just implemented ping-based matchmaking which really has improved the gameplay experience for a lot of players. It's working out quite well and we're still doing research. We have the data team looking into it and trying to improve it. And that's the goal with the game, to keep improving it over this year and the next year and the next ten years."
PUBG recently unveiled a roadmap of future improvements on the game for the rest of the year, though with no concrete dates to give the team flexibility in their future more frequent updates. Greene himself will be giving a talk about the runaway success of PUBG on Friday at GDC 2018 at 10 a.m. PDT. In addition, PUBG Community Manager Sammie Kang is giving a separate talk on Wednesday at 3:30 p.m. PDT about how the game's community bloomed from Early Access to the over-20 million that play today.
Stay tuned for more GDC news all week long. Also, if you find yourself stuck in a PUBG rut, our PUBG guides may help you out.