Pokemon Go Tourism event: shiny Seviper, Zangoose, Mime Jr and regional Pokemon spawns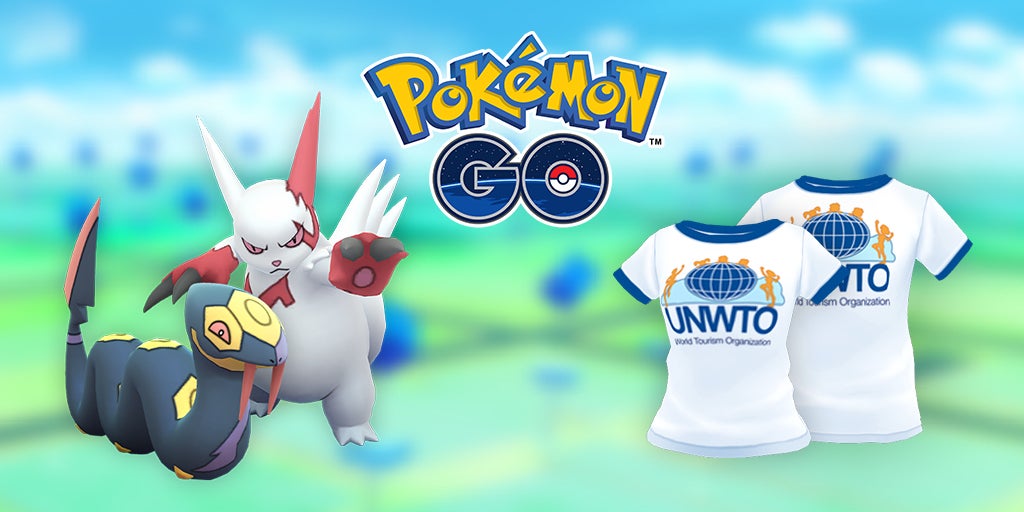 World Tourism Day is taking place and Pokemon is getting involved with a special Pokemon Go Tourism event that brings with it new shiny Pokemon and regional Pokemon changes.
Pokemon Go is partnering with the United Nations World Tourism Organization - UNWTO - to celebrate World Tourism Day in this new special Tourism-themed event. The event aims to encourage exploration, bringing with it a variety of new features and changes to the game for a limited time. Naturally, we're going to detail them all on this page.
Pokemon Go Tourism Event Start and End Time
First thing's first - you need to know when this event kicks off and when it ends, so you know how long you've got to make the most of the event bonuses.
The Pokemon Go World Tourism Day event kicks off on Thursday, September 26 at 9pm British Summertime. That's 8pm in Central Europe, 4pm in US Eastern and 1pm US Pacific.
The event runs until Tuesday October 1st, 2019. It ends at the same times - so 9pm BST, 8pm in Central Europe, 4pm US Eastern and 1pm US Pacific. That makes the event inclusive of the real-life World Tourism Day, which takes place on Friday 27 September.
World Tourism Day Event Rewards: Bonus Pokestop XP, Stardust Trade Discount & More
As part of the Pokemon Go Tourism event there's a variety of rewards. One such reward is that there's double XP for spinning Pokestops during the duration of the event - a great way to encourage Pokemon Go players to get on out there and explore the world around them.
Another bonus during the Tourism event is a 25% discount on the Stardust required to trade Pokemon - meaning that when you meet strangers on your travels you can trade creatures far more easily!
If you head into the Pokemon Go gear style shop, you'll find a special United Nations World Tourism official t-shirt for your trainer.
There will also be some event-exclusive and specific Field Research Missions, but we don't know what they are just yet. Those are the base bonuses - but really, we're all here for the Pokemon, right? About that...
Shiny Zangoose and shiny Zeviper
Throughout the duration of the Pokemon Go Tourism event, there'll be increased spawn rates for both Zangoose and Seviper - rival Pokemon that are of course referencing the Snake and the Mongoose.
In addition to this, Shiny Zangoose and Shiny Seviper are also arriving in Pokemon Go as part of the Tourism event. They'll start spawning during the event duration, and continue to spawn afterwards. There's a chance that spawn rates might also be increased for these shiny Pokemon during the event, but we haven't yet confirmed that.
The two Pokemon are region-exclusive: Zangoose and its shiny variant will spawn in Europe, Asia and Oceania. Seviper and it shiny variant will show up in the Americas and Africa.
Shiny Mime Jr. appears in 5km eggs alongside other regional Pokemon
Finally, one major new change to Pokemon Go is making its debut as part of the Tourism Event to celebrate World Tourism Day - region-exclusive Pokemon are permanently coming to Pokemon Eggs. There's a range of region-exclusive Pokemon that are only available in certain parts of the world - and now they'll all be available within 5km eggs, but they'll only hatch in their native regions.
Included in this is shiny Mime Jr., the shiny variant of the baby form of classic first-gen Pokemon Mr. Mime. Mime Jr. hasn't been available as a shiny before, but it can now appear in Europe, its exclusive region, including out of 5km Pokemon Eggs.
For more on the potential hatches, check out our full Egg chart with potential hatches for all egg distances - but for the interests of this event, here's a list of region-exclusive Pokemon and where they might hatch:
Chatot - Southern Hemisphere
Corsola - Coastal Areas in Africa, Northern Australia, Asia-Pacific and South America
Durant - Eastern Hemisphere
Farfetch'd - Asia
Heatmor - Western Hemisphere
Heracross - Central and South America
Illumise - Americas, Africa
Kangaskhan - Oceania
Lunatone - Europe, Asia and Oceania
Mime Jr. - Europe
Pachirisu - Northern Canada, Russia and Alaska
Panpour - Americas
Pansage - Asia Pacific
Pansear - Europe, Africa
Relicanth - New Zealand
Seviper - Americas and Africa
Solrock - Americas, Africa
Tauros - North America
Torkoal - India and South-East Asia
Tropius - Africa
Volbeat - Europe, Asia, Oceania
Zangoose - Europe, Asia and Oceania