Pokemon Go Easter event: start time & rewards including Mega Lopunny, Shiny Bunnelby, Flower Crown Pokemon, more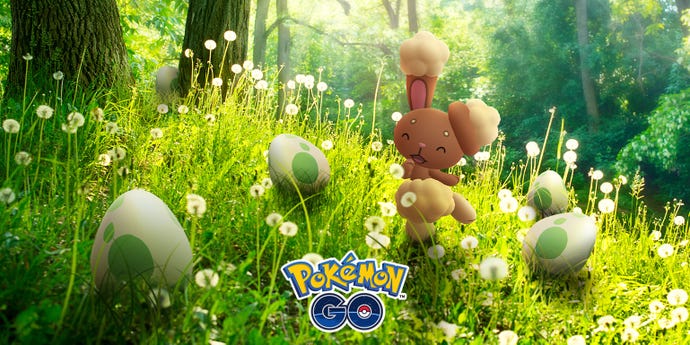 As we all know, major real-world dates and events don't pass by in Pokemon Go without being commemorated - and Easter 2021 will be marked with special limited-time events with some great rewards.
While we remain within the Season of Legends, Pokemon Go of course continues to add other events around the general seasonal festivities. This April, the yearly Easter Eggstravaganza returns, with brilliant bonuses for trainers around the bunny Pokemon Bunnelby and its evolution Lopunny, plus changes to egg hatches, and access to special forms of classic Pokemon wearing a flower crown.
On this page, we explain it all - broken into handy sections, of course:
Pokemon Go Easter 2021 Event start time, end time & date
All of the rewards and special circumstances listed below for the 2021 Easter Event will only run inside a very specific time - so you'll want to make sure you cram in a lot of Pokemon Go in those times to maximize your gains from this year's Easter event.
The Pokemon Go Easter 'Celebrate Spring' event for 2021 starts on April 4 at 10am local time. It goes on four days total, with the event ending on April 8th until 8pm local time.
After that time, none of the special event rewards will trigger, and you'll be back to the standard current field missions, egg hatches, raids, and so on. You've been warned!
Flower Crown Pokemon, Shiny Bunnelby, & Wild Spawn Changes
As part of the Easter Celebrations, several Pokemon will have their spawn rates adjusted, leading to these Pokemon appearing more frequently in the wild. Expect to see these Pokemon more during the Easter 2021 event dates:
Flower Crown Pikachu
Flower Crown Chansey
Exeggcute
Marill
Plusle
Minun
Buneary
Bunnelby (with shiny now available)
New for this Easter 2021 is Flower Crown Chansey. Pikachu has appeared wearing a cute little hat made of flowers before, in past Spring events, but this is new for Chansey. You can evolve into Blissey wearing a Flower Crown, and additionally Happiny can hatch from Pokemon Eggs wearing Flower Crowns during this event - so that entire evolutionary line is covered!
Easter Eggstravaganza: Egg Hatching adjustments
The existing current Pokemon Go Egg Chart will largely still be in place, but this year for the Easter Event certain Pokemon will start appearing more often from 2km distance eggs more frequently, including some baby Pokemon which will be wearing flower crowns again. That includes the debut of Flower Crown Happiny, who can of course evolve into Flower Crown Chansey, who also appears in the wild.
In addition, players will find egg hatch distances halved, meaning eggs will hatch twice as fast. Egg Hatch Candy is doubled, too. Here's who'll come popping out of those 2km eggs more often this easter:
Exeggcute
Flower Crown Eevee
Flower Crown Pichu
Togepi
Azurill
Buneary
Flower Crown Happiny
Munchlax
Rufflet
Bunnelby (with shiny now available)
Mega Lopunny

Making its debut as part the Pokemon Go Easter 2021 event is Mega Lopunny! Lopunny was first introduced in Pokemon's fourth generation, with its mega form arriving later on, of course. Mega Lopunny will function like other Mega Pokemon in Pokemon Go, meaning you'll need to gather special mega energy in order to be able to Mega Evolve into it.
During the Easter 2021 event, you'll be able to complete a special 'Spring-themed Collection Challenge' which will give you a head start on that, rewarding you with Mega Lopunny Energy, XP, and Lucky Eggs. There will also be special Mega Lopunny-themed avatar items available in the shop to mark its arrival in the game.
Lucky Eggs, Shadow Exeggcute, and other event changes
In addition to all of the above, you can expect to see several other minor changes as part of the Easter 2021 special event. We'll quickly list them off:
Shadow Exeggcute: the shadow form of Exeggcute will appear more frequently in Team Rocket encounters, giving you a chance to battle and then catch it.
Event-exclusive Field Research: there will be special field research missions themed around Easter with reward encounters with Azumarill, Rufflet, and more.
Event-exclusive Gift Stickers: Spring-themed gift stickers will be available at the store and in PokeStops for a limited time.