On sale in Nov: the Black Ops Jeep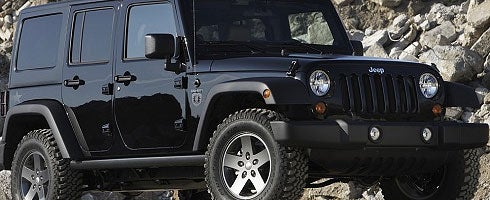 Forget racing games. The real crossover action between videogame and automotive industries is in first-person shooters. Just ask manufacturer Chrysler, who today announced it would release a special Jeep Wrangler to honour Treyarch's Call of Duty: Black Ops game.
Seriously. A car.
Promised in the 2011 Jeep Wrangler Call of Duty: Black Ops Edition are "aggressive 32-inch tires, unique military style and Call of Duty graphics".
Apart from the "squint and you'll miss it" graphics on the Jeep's front quarter panels, the car's roof is also adorned, which should hopefully aid aerial identification from overhead choppers when drivers inevitably go postal.
And when you park your Black Ops jeep in the garage, you'll be able to hop in one in-game. Jeep promises "in-game integration" in both single-player and multiplayer modes.
Treyarch studio head Mark Lamia is also quoted:
"Our work with the Jeep team focused around using the Jeep Wrangler in our levels, and gameplay experiences, and translating the style and look of the vehicle in Black Ops to the Jeep on the showroom floor that our fans can own."
Also promised is "reduced interior noise," increasing the chance of you hearing what your fellow motorists have to say about your CoD car.
The Black Ops Jeep will go on sale next month in the US for a bit over $30,000.